The past few weeks (OK, months) there was talk of a rumored TOM FORD Beauty Lip Color Collection that would be released sometime in December. There was a lot of speculation about this possible secret collection, and a lot of rumors, but no official comment from the brand save for a sexy "Lips & Boys" teaser video.
Until today.
Early this morning, Women's Wear Daily broke the news about LIPS AND BOYS, an exclusive limited-edition collection of 50 miniature sized lip colors inspired by (and named for) the men who have influenced Tom Ford's life — both past and present. There is a lot to say about this launch as it is something quite unique, especially coming from a luxury brand like TOM FORD Beauty. In fact, when I first heard the details it occurred to me that this collection might break the internet on Black Friday — it is innovative and exciting, and I – like many others – can't wait for the colors to become available!
EDITOR NOTE 12/3/14: PRE-ORDER ITEMS FROM THE COLLECTION ON NEIMAN MARCUS (INCLUDES BOX w/ORDER OF 3) OR BERGDORF GOODMAN. SCHEDULED TO SHIP NO LATER THAN 1/5/15
EDITOR NOTE 11/27/14: THE COLLECTION IS NOW LIVE ON TOMFORD.COM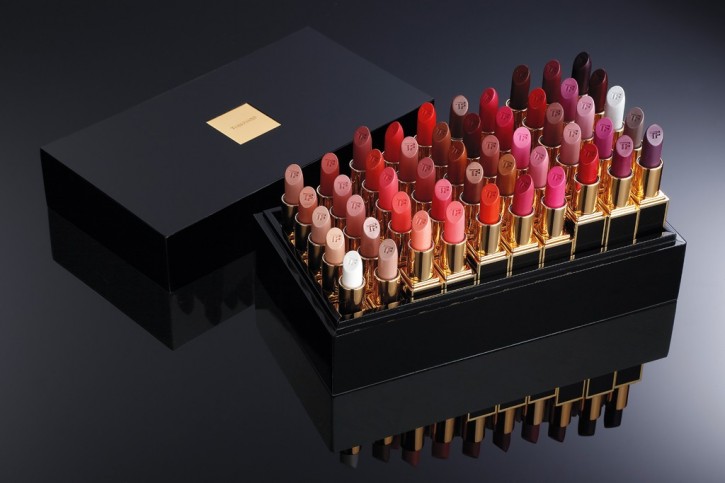 Photo By Thomas Iannaccone for WWD
Before we get to the details, a word from the brand:
"I like the idea of lipsticks named after boys. Why commit to one when you can have several?" — TOM FORD
TOM FORD presents LIPS AND BOYS, a first of its kind collection of lip colors named for the men he admires, from intimates to collaborators to men he finds inspiring.
Showcased in a sleek limited edition miniature lipstick case that is compact enough to fit inside the smallest of clutches, each lip transforming shade, from James to Henry and Stavros to Francesco, amplifies a woman's individuality while generating an insatiable desire to try more than one.
This decadent wardrobe of rich lip color shades delivers maximum impact. Rare and exotic ingredients including soja seed extract, brazilian murumuru butter and chamomilla flower oil create an ultra-creamy texture with an incredibly smooth application. Specially treated color pigments are blended to deliver pure color with just the right balance of luminosity.
Now, to break it down for you:
LAUNCH DATES
EDITOR NOTE 12/3/14: PRE-ORDER ITEMS FROM THE COLLECTION ON NEIMAN MARCUS (INCLUDES BOX w/ORDER OF 3) OR BERGDORF GOODMAN. SCHEDULED TO SHIP NO LATER THAN 1/5/15
December 26th: available in select stores and online for 8 weeks while supplies last.
Sign-up on tomford.com and Selfridges today to be notified by email.
COST (UPDATED 11/21/14 with additional trio/set info.)
Each miniature will retail for $32
Customers may purchase colors individually online.
Special, beautifully packaged sets of 3 (fully customizable) or a full set of 50 will be available Cyber Monday on Neiman Marcus only and in-stores beginning 12/26. Thanks to Cosmo's Leigh Cambell for the instagram preview of a set of three:
HOW MINI IS MINI?
The miniatures are 0.07 oz/2.0 g
Full size TOM FORD lip colors are 0.1 oz/3.0 g and sample size GWP lip colors are 0.03 oz/1.0 g
THE COLOR EDIT
10 different shade ranges (see images below for detailed information)

36 completely new shades
10 colors found in the existing color palette, renamed
4 re-promotes, renamed

Counters will have information on which colors are existing/re-promotes. When I learn that info myself, I promise to share.
Mr. Ford predicts that bestsellers will include Tomas, a coral hue; Matthew, a coral pink; Flynn, a light pink; Giacomo, a deep rose, and Patrick, a muted coral pink.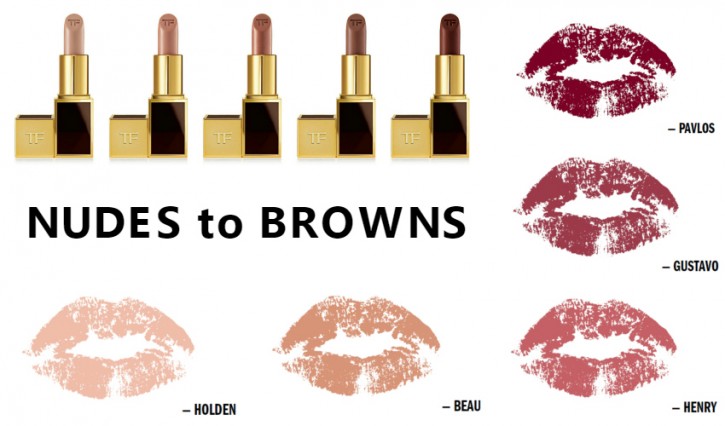 How are we supposed to choose?
Loving Henry and Gustavo above.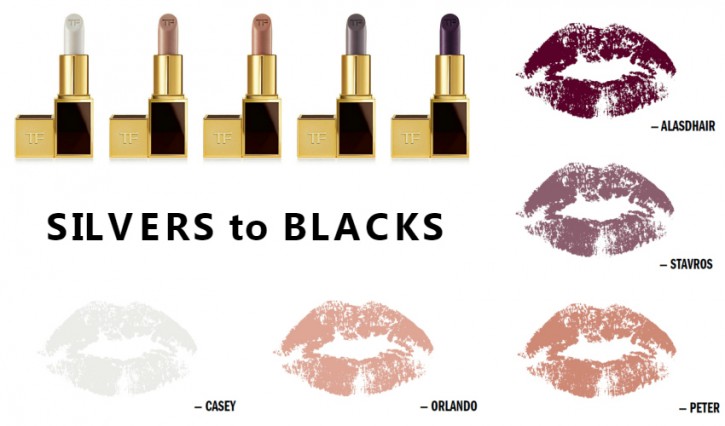 Um. Where do I begin?
Stavros? Alasdhair? Orlando?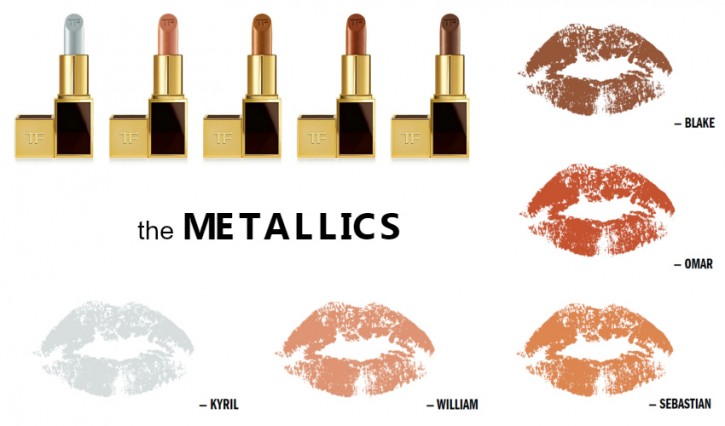 Omar is calling my name but I am intrigued by Kyril…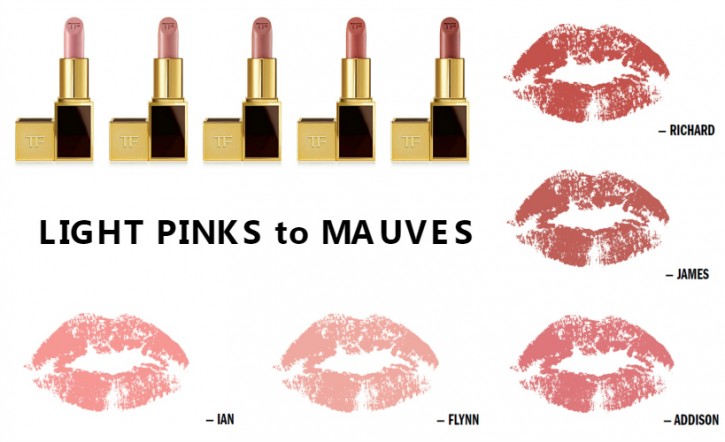 Addison was Mr. Ford's first crush; Richard is the love of his life and husband.
And I want all 5 of the pink/mauves.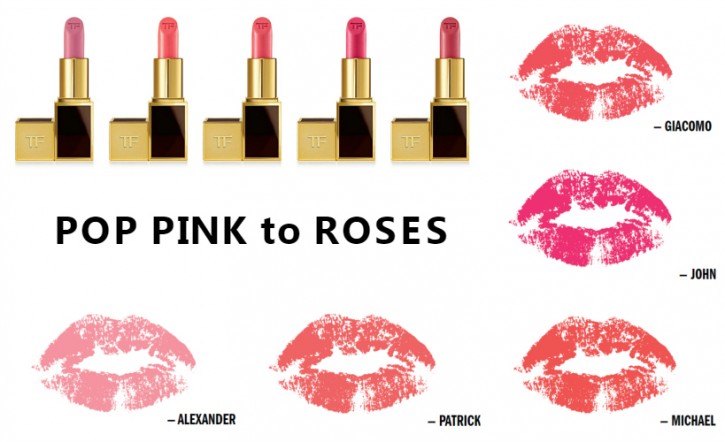 Alexander, named for and inspired by Mr. Ford's 2-year old son, Alexander John Buckley Ford.
And again, I want all 5 pink/roses.
Remember the ad campaign image above? Sabrina (and her boy!) are wearing Jack.
I am in trouble.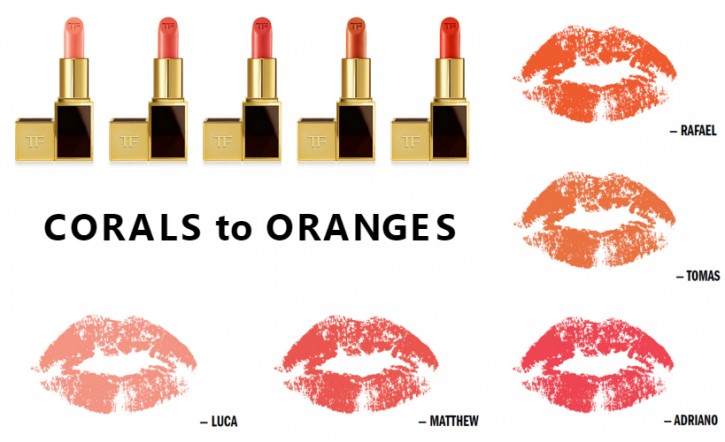 Tomas is Ford's nephew, and again, how am I supposed to choose??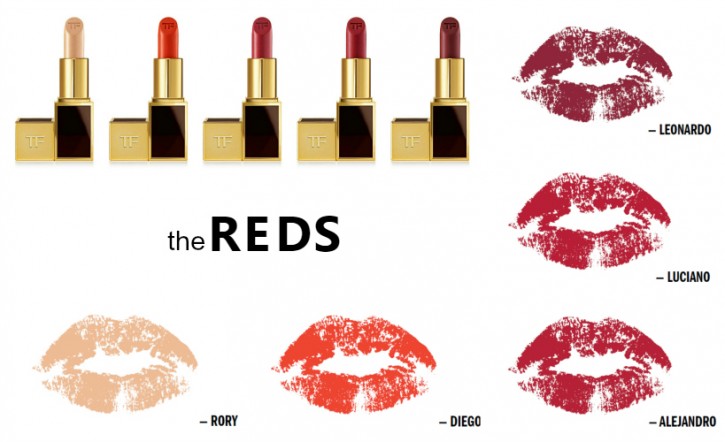 Rory is Mr. Ford's best friend.
And that color is mine.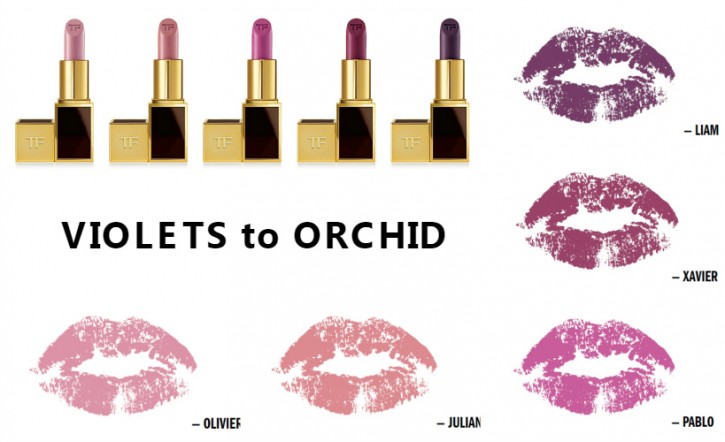 I am going to need more storage space.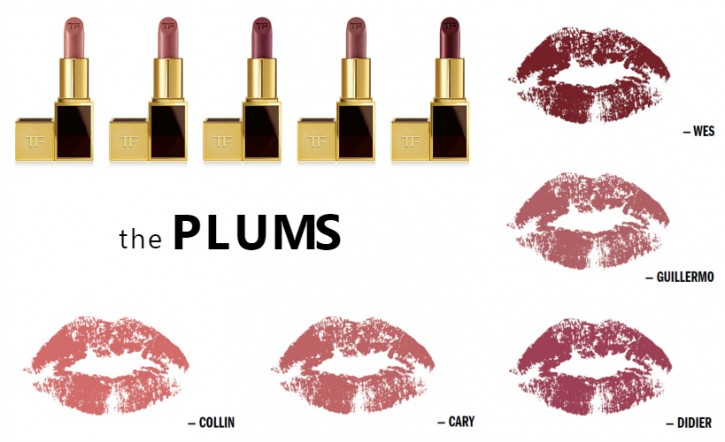 Who am I kidding?
I want all 50.
WHY MINI's?
I think the reasoning behind this collection of mini's is quite fascinating. Mr. Ford spoke to WWD about the desire to be one of the top five luxury brands in the world and how they might achieve that goal:
"I think you get [to be one of the top 5 luxury brands in the world]  by doing innovative, original things. Launching 50 shades of lipstick at once is already innovative, as is naming them after boys and making them miniature. People carry teeny-tiny little bags today, and are trying to fit their iPhone, money and a key. I think the idea of a small bag is modern, and you need to be able to fit a lipstick into that small space. It seems that there's a trend these days to miniaturize things."
WHY MEN?
"I've always loved that masculine-feminine thing," the designer told WWD. "Obviously I'm not expecting a lot of men to wear the lipsticks, but I liked the concept. I love seeing a woman in a man's suit. Why not have a lipstick named after a man? I could be perverse — and if I were still drinking a lot I'd be perverse, but I'm now a little more tame — but I'm not going to go there."
Ha.
Love.
THE AD CAMPAIGN
This is quite possibly one of my favorite advertising campaigns ever. It's fun. It's sexy. It's memorable. It's simply TOM FORD.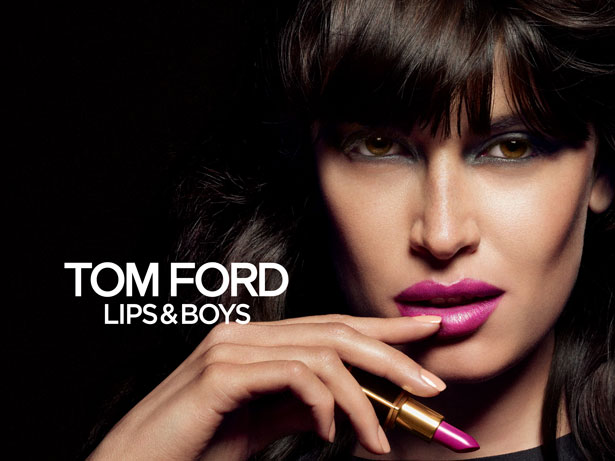 The official campaign images and most recent teaser video feature the beautiful Sabrina Ioffreda. The teaser especially is a beautifully done piece of marketing – provocatively asking "why choose one" while Sabrina shows of various lip colors as she locks lips with some gorgeous men. The earlier teaser trailer video features model Aline Weber in a similar scenario. Rumor has it a longer video is due to be released later this month. Can't wait!
WHAT DO YOU THINK?
Will you be indulging this holiday season?
Image credits: Thomas Iannaccone for WWD and TOM FORD