Happy New Year, everyone!  I hope 2014 brings each of you much joy, success, love and TOM FORD goodness!
One of the things I want to personally work on for 2014 is organization.  I think the words that best describe my organization style are "organized chaos".  I always know where everything is, but anyone else who takes a peek at my personal or office space would be at a loss.  I started making some improvements to that in 2013 and want to build on it moving forward.
What does this have to do with TOM FORD, you ask?
Quite a bit actually.
The first thing I decided to focus on "organizing"  is my cosmetics collection. I may not be a makeup artist, but I have amassed quite the personal collection. Since the launch of TOM FORD Beauty, a lot of my prior products have been replaced by TOM FORD and, as we all know, TOM FORD Beauty products are worthy of being displayed.  All of my makeup used to be divided among various cosmetics cases, re-purposed glossyboxes, and just scattered on my dresser.
This meant a few things:
I owned a lot of makeup and other products that went unloved simply because I never saw them again after deciding where they would be stored.
I would wear the same products over and over and over because they were the most easily accessible.
I couldn't display my products (especially gorgeous pieces like those from TOM FORD Beauty) in a way that did them justice.
It was just a bunch of clutter.
So, what can a beauty-product-junkie do to remedy this situation?
Simple. Invest in an acrylic storage solution.
The concept of acrylic cosmetics storage first became popular a few years ago thanks to Keeping up With the Kardashians.  Since that first glimpse of Kim's makeup collection, acrylic storage has become so popular that there appears to be an almost unlimited number of options to choose from, ranging from the very inexpensive to the absolutely luxurious, both is design and cost.
When I first decided to try acrylic storage for myself I did a lot of research online about my options. I ended up narrowing my choices down to 2 brands: MUJI and ICEbOX by Sherrieblossom.  Some people may say that acrylic is acrylic, but trust me when I say it most certainly is not.  MUJI and ICEbOX are at the opposite end of the quality spectrum, which means that they are also at the opposite end of the affordability spectrum.
So why choose one over the other?
MUJI Acrylic Storage
MUJI drawers are fairly inexpensive and a good option for someone who is either on a budget OR someone who is unsure whether this is the right storage option for them.  The quality is acceptable and they have enough drawer options available that you can create your own set-up pretty easily (Do you want a 5-drawer case?  A 2-drawer? Do you need a lid? etc. etc. etc.).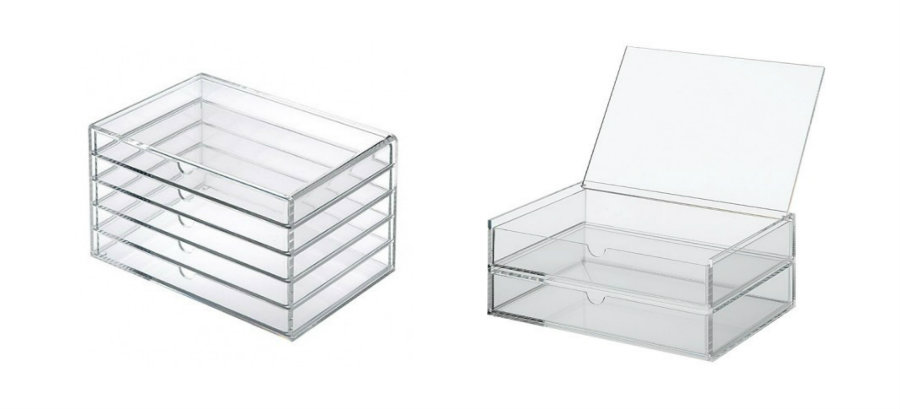 The price can't be beat, with most drawers available under $30.
THE ICEbOX by Sherrieblossom
The ICEbOX by Sherrieblosom, on the other hand, is something else altogether.
ICEbOXes are made from Lucite by Dupont, a high-end, name brand acrylic.  Think of Lucite as the Rolls Royce of acrylics. It is expensive to work with and isn't normally used in storage solutions because of the cost associated with it. However, it is also higher quality and more durable than other acrylics.
The Lucite is polished with a diamond polisher which uses a real diamond and gives the ICEbOX an incomparable luster.
Each ICEbOX is custom made in a process that requires over 400 individual and meticulous handmade steps.
The handles on the ICEbOX are streamlined to be flush with the organizer to promote a seamless, crystal clear effect.
The ICEbOX is the most "invisible" case on the market.
This is one of the only (if not the only) case designed and produced in the USA
It comes in a variety of styles, all significantly larger than the muji drawers, with prices ranging from $335 – $395
Because of the extensive and meticulous production process involved with each ICEbOX, only a limited quantity of each available style is produced with each base. This means that there is often a waiting list and ICEbOXes are produced and shipped in a sequential order from the date an order is placed. This means that wait time for an order could potentially be in the 4 – 6 week range.
My Choice
So, which one did I go with?
Truthfully, I wanted the ICEbOX.  Badly. Very, very badly. I still do. But I wasn't sure that acrylic storage was the way to go and I wasn't ready to spend that much on a storage solution I might not like.
So instead of going with my gut, I purchased 2 sets of MUJI drawers and supplemented them with an additional acrylic cosmetics storage case I found at Marshall's.
And you know what? While I LOVE the concept of acrylic storage and I like the MUJI drawers… I wish I had gone with the ICEbOX instead, and I'll tell you why below.  But before we get to that, here is what my makeup storage currently looks like: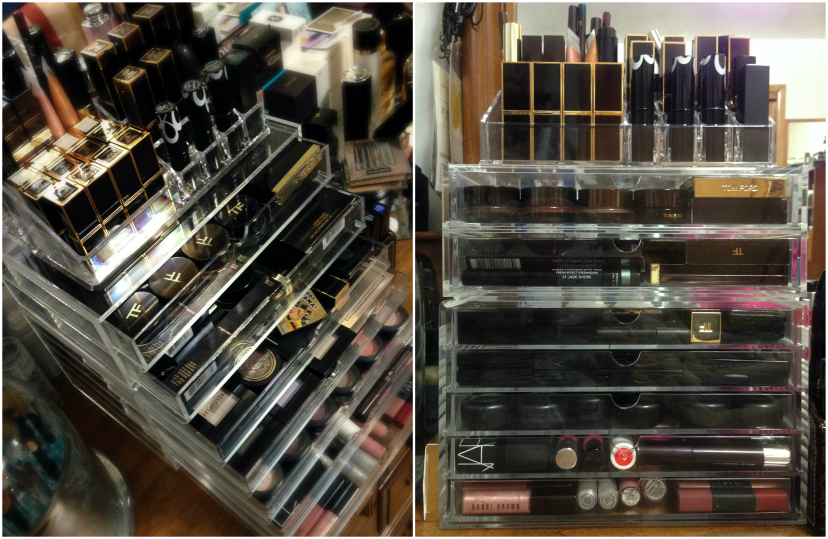 MUJI 5-drawer and 2-drawer wide stacked on top of eachother, along with the Marshall's' purchased lipstick organizer on top
Meanwhile, these are just a few of the many miscellaneous items that still need a home: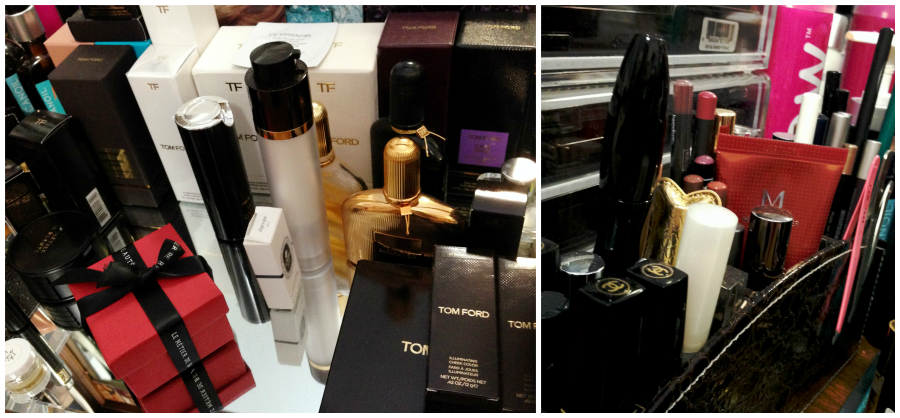 As you can see… the MUJI drawers just didn't cut it for me.
My Regrets
The MUJI drawers were a good introduction for me. They gave me a nice feel for what acrylic storage is like, and what my needs really are.  As it turns out, they are much greater than I originally anticipated. I need a lot more space for my products than I thought I would and the MUJI drawers are not enough for me. By the time I purchased all the MUJI drawers I would need the ICEbOX would more than pay for itself.
So what's a girl to do?
Well…
I know that I need something larger.
I want something with impeccable craftsmanship and something that is more invisible.
I want that Rolls Royce.
The ICEbOX is the way to go in the future.
In hindsight, I wish that I had gone with my gut and purchased the ICEbOX right away. As it stands, I plan to to do as soon as possible and repurpose my MUJI drawers into jewelry cases.
What about you?  How do you store your TOM FORD Beauty products? Any tips for your fellow beauty addicts?
Product Images via MUJI Online and Sherrieblossom. Other images owned by Full Time Ford.
Some affiliate links are found in this post for a product that I wholeheartedly support.