It's hard to believe that the holidays are almost upon us but here we are. It seems like the Fall Color Collection was just released a few weeks ago and… oh wait. That's because it was just released (and with quite a bit of drama, to boot)! We had just started to enjoy our Nude Dip quads, Softcore Cheek Duos and Negligee lippies when the first sneak peek of Holiday 2014 hit instagram.
There isn't a ton of information available yet on this release, and the official news is yet to come, but I wanted to share what I know so far with my fellow TOM FORD Beauty lovers.
Just as I did for Fall, I will continue to update this post as I learn more. For now, here is what I know.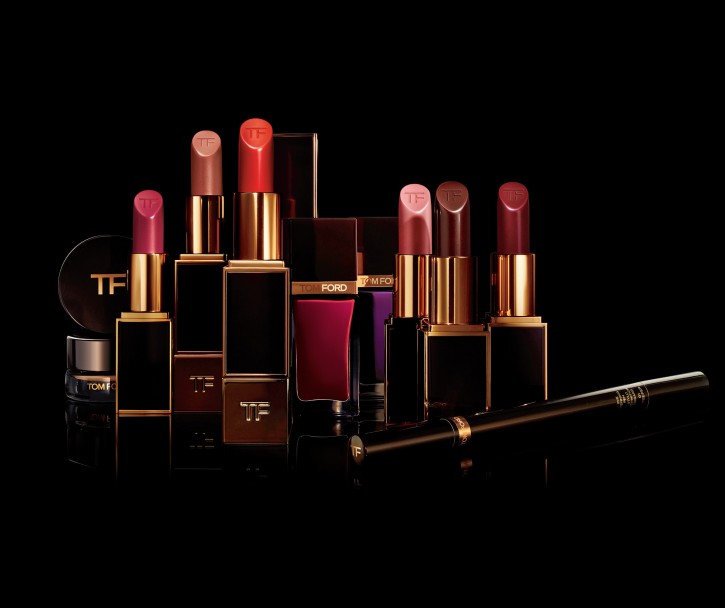 MATTE LIP COLOR COLLECTION
This is what I can tell you about the new matte lip colors that are being released as part of the 2014 Holiday Collection:
It appears that there will be a total of 8 new lip colors released in a matte formula. Of these, 6 are expected to be permanent additions and 2 limited-edition. Now available for purchase – find out where to get them here! Swatches of 7 of these can be seen all the way at the bottom of this post in the instagram feed.
Six are completely NEW colors in a matte formula and will be named as follows: Pink Tease, Pussycat, Plum Lush, Flame, Ruby Rush and Velvet Cherry.
The 2 limited-edition shades are named First Tease and Black Dahlia

All but Black Dahlia pictured above

These will be sold at the same price as the regular Private Blend Lip Colors ($50 USD).
They are expected to hit stores in the U.S. sometime in October.
I was lucky enough to get my hands on a few of these (thank you, fairy godmother) and can share a quick preview of 2 of the shades to start with. This isn't the best photo in terms of lighting, but the colors are fairly accurate: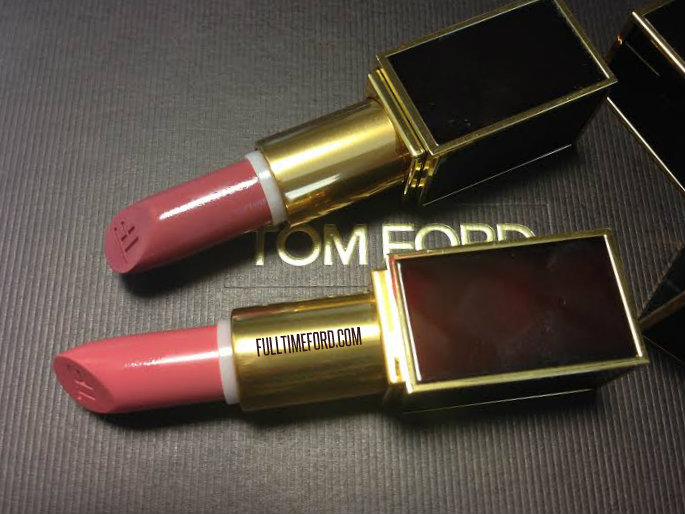 Pussycat (top) and Pink Tease (bottom)
And a quick swatch: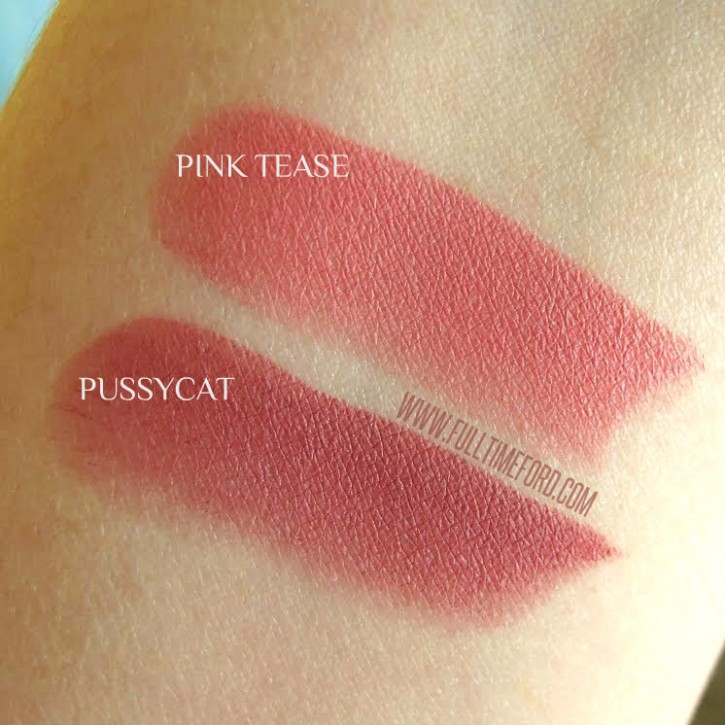 Full review to come later but I can tell you this: the matte formula is AMAZING. Love.
CREAM COLOR FOR EYES
The 2014 holiday release will also include two cream eyeshadows.  The shades are Platinum and Spice, which were originally released as limited-edition colors back in spring 2012. These are currently available at TOM FORD Chicago. Contact information can be found here.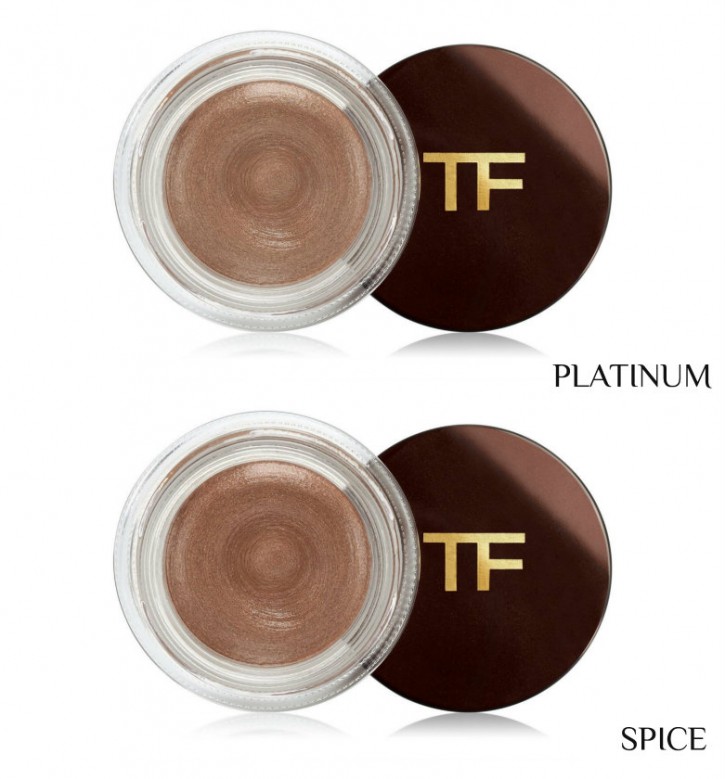 The cream shadows were used in campaign image for the Holiday Collection (below), along with what is rumored to be the Flame Matte Lip Color.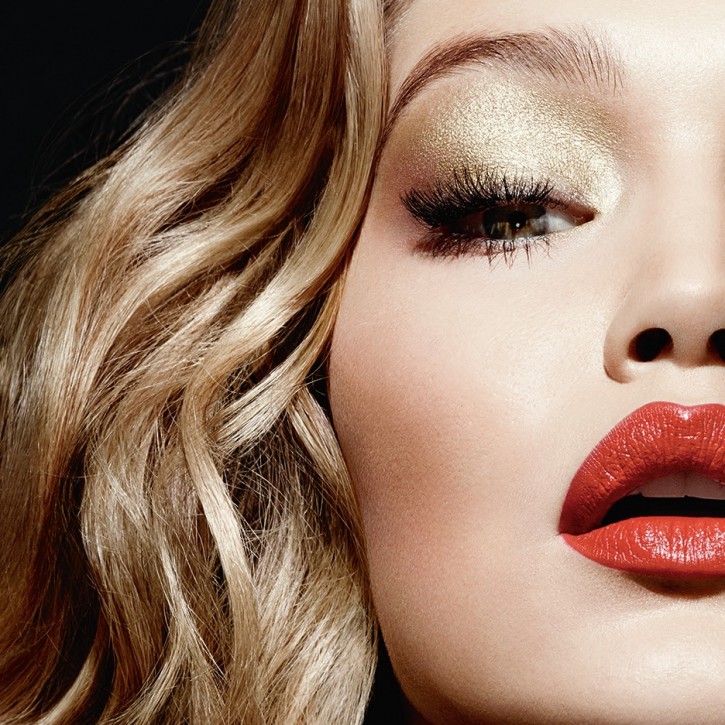 NAIL LACQUER
There are 2 nail lacquers being promoted as part of the Holiday Collection: Viper and Bordeaux
EYE DEFINING PEN

This is the same pen currently offered except I am told this one will be in a brown color.
MEN'S SKINCARE
A TOM FORD BEAUTY Beard Oil and Comb will be added to the men's line. Wayne Goss, if you are reading this, you should add these to your holiday wish list!
GIFT SETS
As expected, there will be a number of luxurious gift options available for the holiday season. These include:
First, there will be a 16-piece Lip Color and Nail Lacquer set (8 of each). Yes, please. $656. But it Now at Neiman Marcus
How about a 2 piece Lip Color/2 piece Nail Lacquer set?
No? Maybe the Private Blend Fragrance and Lip Color set is more up your ally?
Another option for Santa? A Private Blend Fragrance miniature collectors set (6/12ml flacons in an elegant collectors box). The set contains 6 iconic fragrances from the collection: Neroli Portofino, Jasmin Rouge, Oud Wood, Tuscan leather, Tobacco Vanille and Noir de Noir. So cute. ($335). Buy it Now: TOM FORD Online / Bergdorf Goodman / Neiman Marcus

My personal favorite? The TOM FORD Beauty Trousseau:
Fully customizable and exclusive to Selfridges.
This baby is expected to retail for £1,200, but it is every TOM FORD Beauty addicts dream and WILL sell out.Santa? Are you seeing this?
Santa? Are you seeing this?
*****************************************************
PRIVATE BLEND FRAGRANCE IN PATCHOULI ABSOLU ($215/$295/$525)
The official word: "Iconic. Provocative. Urbane. Tom Ford reinvents one of his most beloved perfumery ingredients, Patchouli, in a visionary new fragrance of alluring depth. Patchouli Absolu transforms the iconic raw material – famed for its rich and mysterious sensuality and its long history in perfumery – into a hypnotic, modern fragrance."
Available now: TOM FORD Online / Bergdorf Goodman / Bloomingdales / Harrods / House of Fraser / Neiman Marcus / Saks Fifth Avenue / Selfridges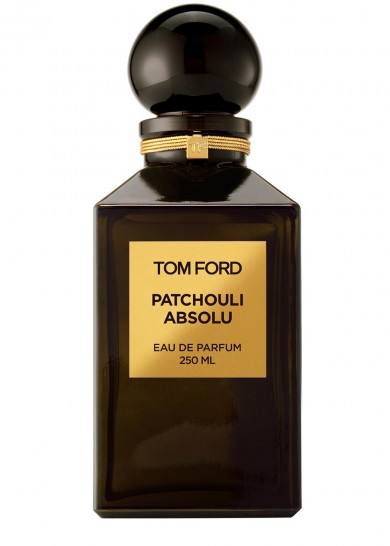 JASMIN ROUGE BODY COLLECTION
TOM FORD Jasmin Rouge is a voluptous, saturated, spiced floral that is a favorite of the TOM FORD Private Blend Collection. Originally launched to compliment the TOM FORD Color Collection, Jasmin Rouge captures a very specific mood and look of the TOM FORD Woman: seductive and dramatic, with decadent color on her eyes, lips, and cheeks.
This holiday, TOM FORD presents a number of new ancillaries infused with the feminine and decadently spice fragrance.
Jasmin Rouge Body Moisturizer is a rich cream that nourishes and moisturizes the skin, leaving it hydrated and smooth.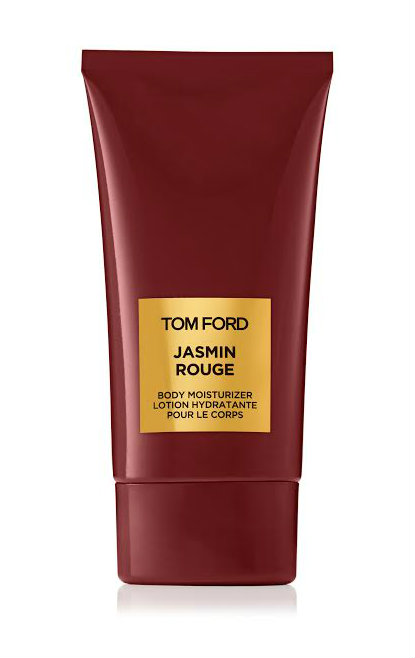 The Body Moisturizer ($65) is available on TOM FORD Online / Bloomingdales / Saks Fifth Avenue
Jasmin Rouge Bath Soap is a luxurious, hard-milled bar soap that cleanes the skin with an indulgent, creamy lather. After rinsing clean, the skin will be delicately scented with the intoxicating Jasim Rouge fragrance.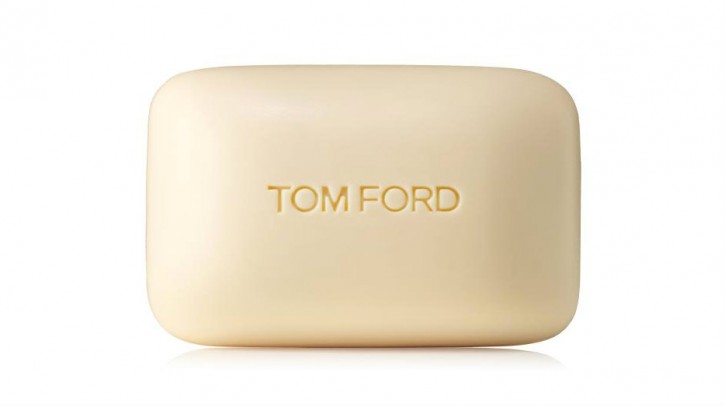 Bath Soap ($35): TOM FORD Online / Bloomingdales / Saks Fifth Avenue
Jasmin Rouge Shower Gel is infused with the voluptuous, spiced floral scent of Jasmin Rouge and leaves skin hydrated and smooth.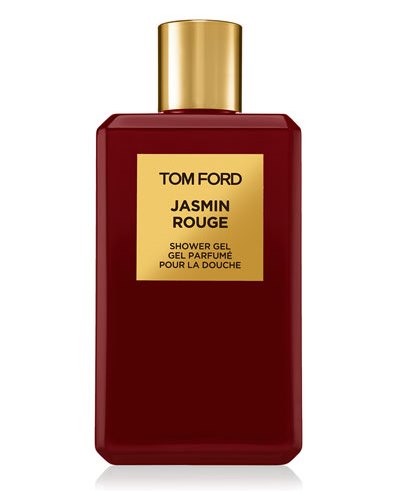 Shower Gel ($65): Bergdorf Goodman / Neiman Marcus
HOLIDAY COLLECTION SNEAK PEEK IMAGES
Check out the images below for a look at the collection, and many thanks to cstefa2, suzzlesscott, arabella.dupont, feeplaya, elleuk, juniormagazineonline, beautisserie, philippapearne, louffebus and teenvogue for sharing them!
Sorry:

- Instagram feed not found.
Official product images courtesy of TOM FORD