Suddenly I feel a desperate need to go to London Fashion Week in September.
The official (albeit provisional) London Fashion Week schedule has been released and amongst the usual suspects there was a surprise this time around: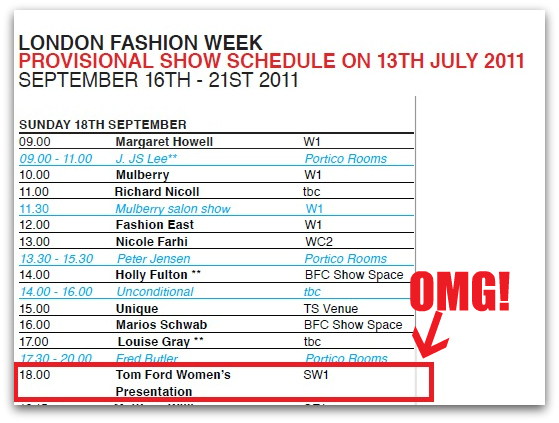 Could it be? Are we actually going to be blessed with a Full Runway Presentation from Ford this time around?
Ford's showcases have been shrouded in secrecy since his 2010 return to womenswear.  Access has been severely limited and he has insisted on near media black-outs.   His first showing, in New York City, was a small, intimate, invitation-only affair.  The second collection did show in London, but access was only granted through private appointments.  No outside crews were in attendance to document either event.
No further details are available yet for the September line-up, but it is worth noting that all of the presentations on the schedule are listed in blue italics.  Ford's show is listed in black boldface type.  You know what else is listed in black boldface type?
Full Runway Shows.
Please, fashion gods, make it so.
In case you aren't sure what a Tom Ford runway show is like, check this tribute out:
Are you as excited about the possibility as I am?
Source: Vogue