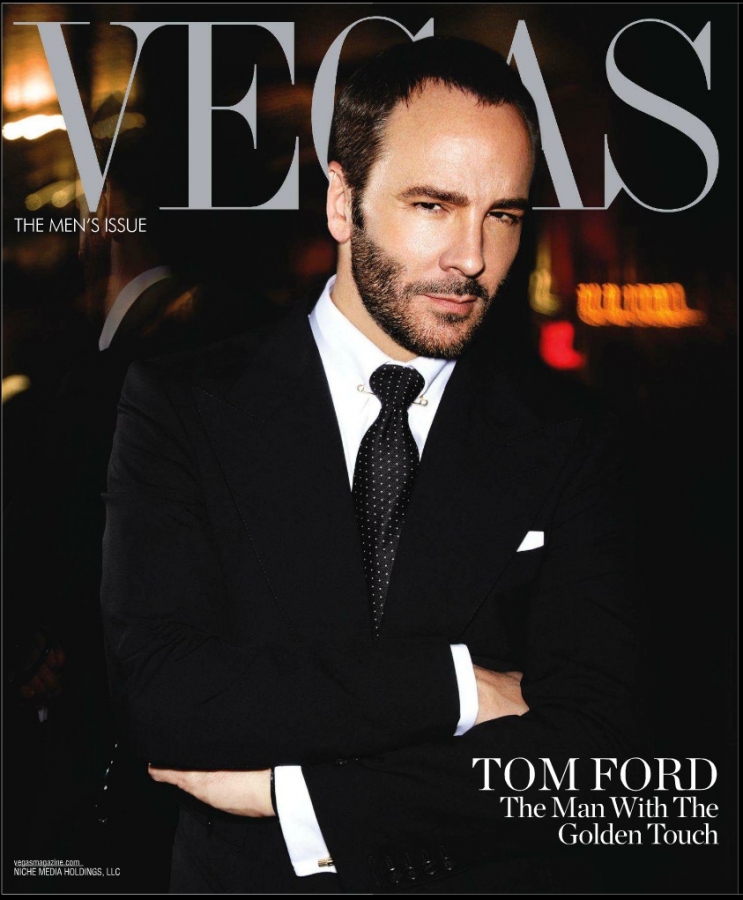 Tom Ford recently visited Las Vegas to attend a cocktail party at the TOM FORD store located in the striking Crystals at City Center shopping center.  He spoke about the visit briefly on Facebook and now Vegas Magazine has featured him in their latest issue as well.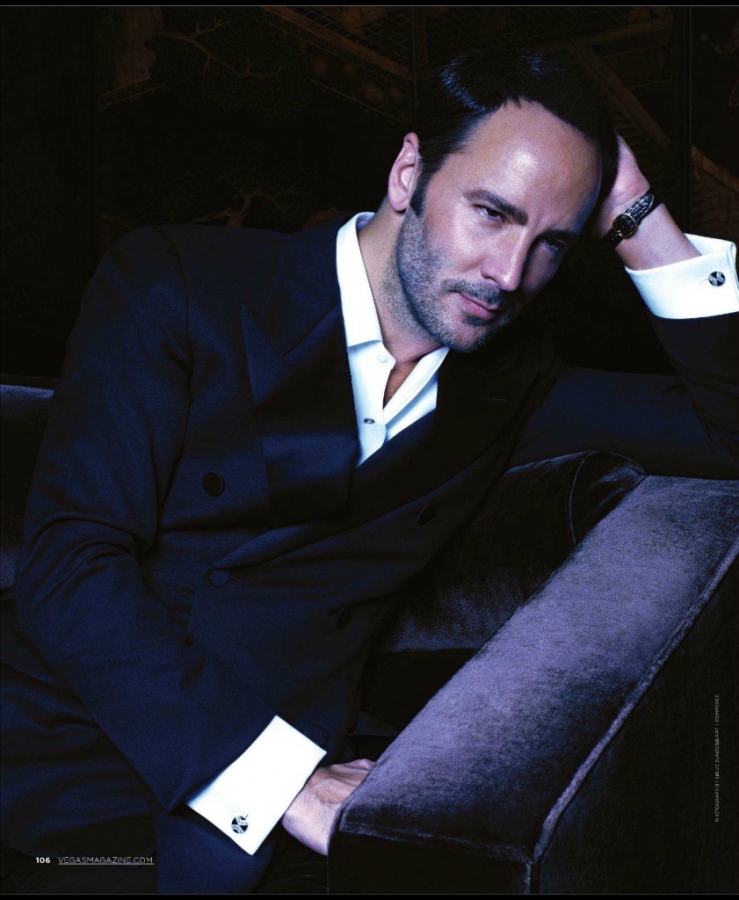 The article, written by Laurie Brookins, doesn't contain a ton of new information, but it does delve into the new TOM FORD Complete Beauty Collection and offers some insight into the advertising campaign, what it takes to be a well-dressed woman, and explores Ford's thoughts on being "vain", among other things.  Some of the best snippets are below.
On what it takes to be a well-dressed woman:
"Every woman needs a perfectly cut, tailored suit for day, a black cocktail dress, a smoking, a perfect pair of pumps with high heels. The most important key to being well-dressed, however, is for a woman to wear something that suits her style and body shape.  A woman who is confident and knows what looks best will always look great."
On what sets TOM FORD Beauty apart from other cosmetic lines:
"When I started designing the skincare and cosmetics collection, like with anything else I design, I did a lot of research… [I] designed products that were practical. My formulas are proprietary and really the best that money can buy. The colors are rich and original and the finishes flawless. That is what sets us apart: quality and straightforward products to help every woman amplify her beauty."
On why he is featured, with model Lara Stone, in the TOM FORD Beauty Ad Campaign:
"I am a very practical and pragmatic person, and the reality is that I am in the ads because I am still in the phase of brand development where I need to make sure that people realize that there is an actual person behind the brand, designing literally everything we make and creating the language of the brand. I am not in the ads because I am vain. A lot of people do not know who I am, and the product sells better with me in the ads, which we know from the men's perfume ads that I have appeared in."
On the idea that he is "vain":
"I believe in being myself. 'Vain' is a funny word. Maybe I have that reputation because there are so many images of me in the press, but it's not like I sit around looking in the mirror, admiring myself. I realize the value of my looks as the physical embodiment of a brand. I am very visual and very critical and very self-critical. If my jacket gets too toght, it doesn't mean I get another size; it means I eat vegetables that day and go for a run. I am very disciplined, but I don't think of myself as vain. I think of myself as a realist."
On whether he'd ever sign on to be the creative director of another brand:
"Why? Been there, done that. I have my own brand. Why would I need anything else?"
**********
You can read the article in its entirety here.
Have you read the article? 
What do you think about Ford's ideas on vanity?  What about his thoughts on marketing the TOM FORD Brand?
Image credits: Images by Simon Perry via Vegas Magazine