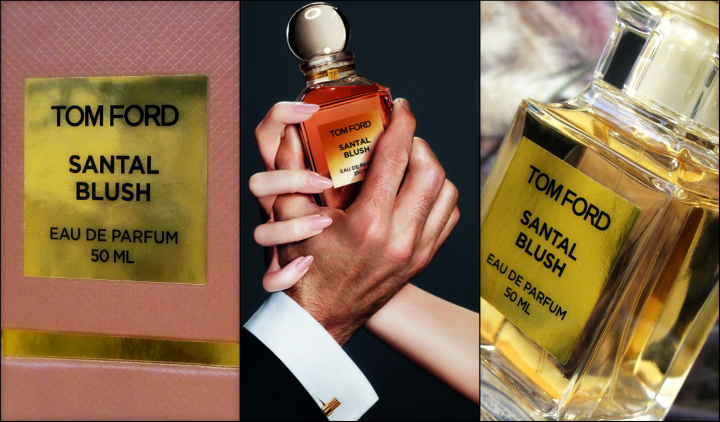 When the news of the TOM FORD Beauty Collection first broke on WWD a few months back, one of the items that immediately caught my attention was Santal Blush Private Blend.   One of three new fragrances launching alongside the collection, it was described as a woody fragrance with notes of ylang ylang, cumin, cinnamon bark, carrot seed, jasmine, rose, cedarwood, Australian sandalwood, oud, musk, benzoin.   As someone who loves spicy, woody scents, and has a soft spot for sandalwood, it seemed like it was right up my ally.
When I received a package from TOM FORD Beauty and found a bottle of Santal Blush nestled inside (thank you TFB!), I could not believe my luck!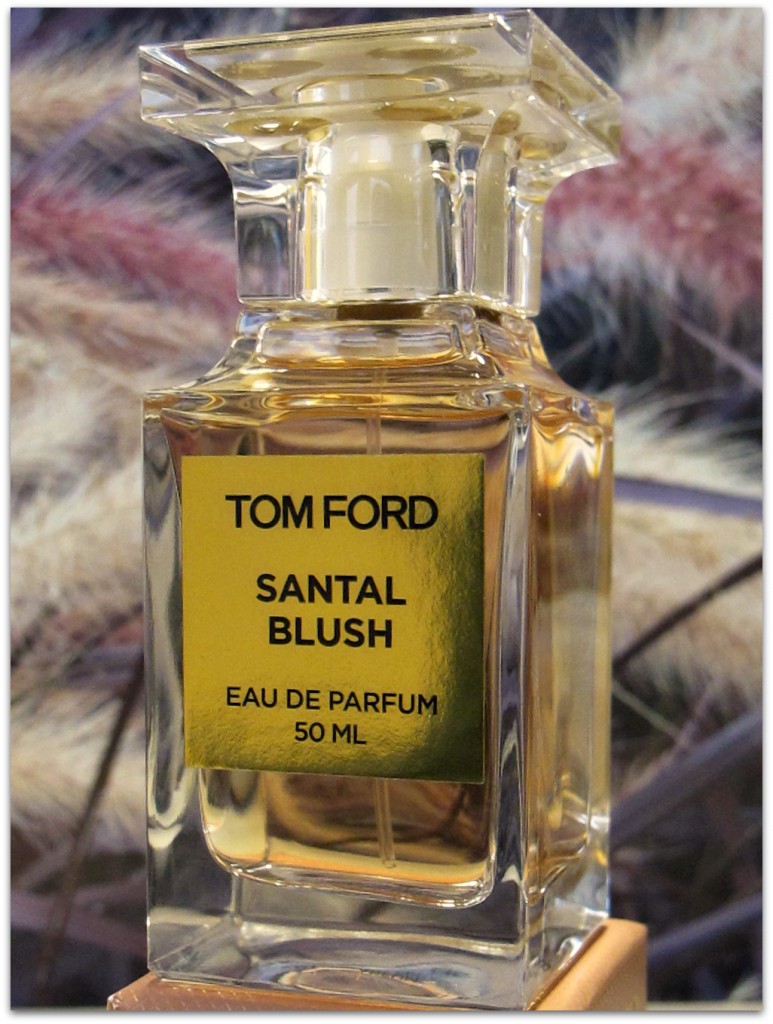 Some might say that, aesthetically, the Jasmin Rouge is the most striking of the three fragrances, but I disagree. I was immediately captivated by the beautiful simplicity of this bottle.  The transparent design was the perfect choice; it would have been a crime to hide the rich nude color of the fragrance behind anything else!  The gold plating adds the perfect amount of sexiness.
But let's get to the heart of the matter: the fragrance itself.
The official description states that "TOM FORD SANTAL BLUSH is a mesmerizing, spicy wood oriental designed around the richly textured creaminess of Sandalwood, and contrasted with exotic Eastern spices, intoxicating florals, and sumptuous woods. This is a complex scent with a hypnotic and mysterious pull. Masala spices from India, Cinnamon Bark Oil Sri Lanka ORPUR™, Cumin Seed Oil, Fenugrec Absolute and Carrot Seed Oil, are enriched by a floral blend of Jasmine Absolute, Rose Absolute and Ylang Madagascar. An infusion of richly textured Sandalwood captives, Australian Sandalwood, Benzoin, Agarbois™ and Skin Musks, transport the scent to another level. A nude colored juice displayed in a transparent bottle, Santal Blush expresses a modern earthiness. It is as sensual as beautifully contoured nude skin."
Here are my thoughts:  The first time I tried Santal Blush I actually thought I wasn't going to like it.  At all.  The scent starts off almost overwhelmingly strong with initial notes that are very sharp and somewhat metallic… not the soft and creamy opening I expected of a sandalwood-based perfume.  I was truly disappointed.
Thankfully, I soon began to see it nuances.  The strong opening dissipates rather quickly.  After about 15 or 20 seconds, the fragrance becomes softer as some of the sweeter notes begin to unfold.   I actually breathed a sigh of relief at this point, because I knew it would be a keeper after all.
Once you get into the base notes the sensual and creamy sandalwood and spices finally become the star of the show.  And it is absolutely gorgeous.  The base is sensual yet soft – exactly what you expect from a sandalwood-based fragrance.  Eventually this gives way to a more woody drydown with hints of oud and leather which I also loved.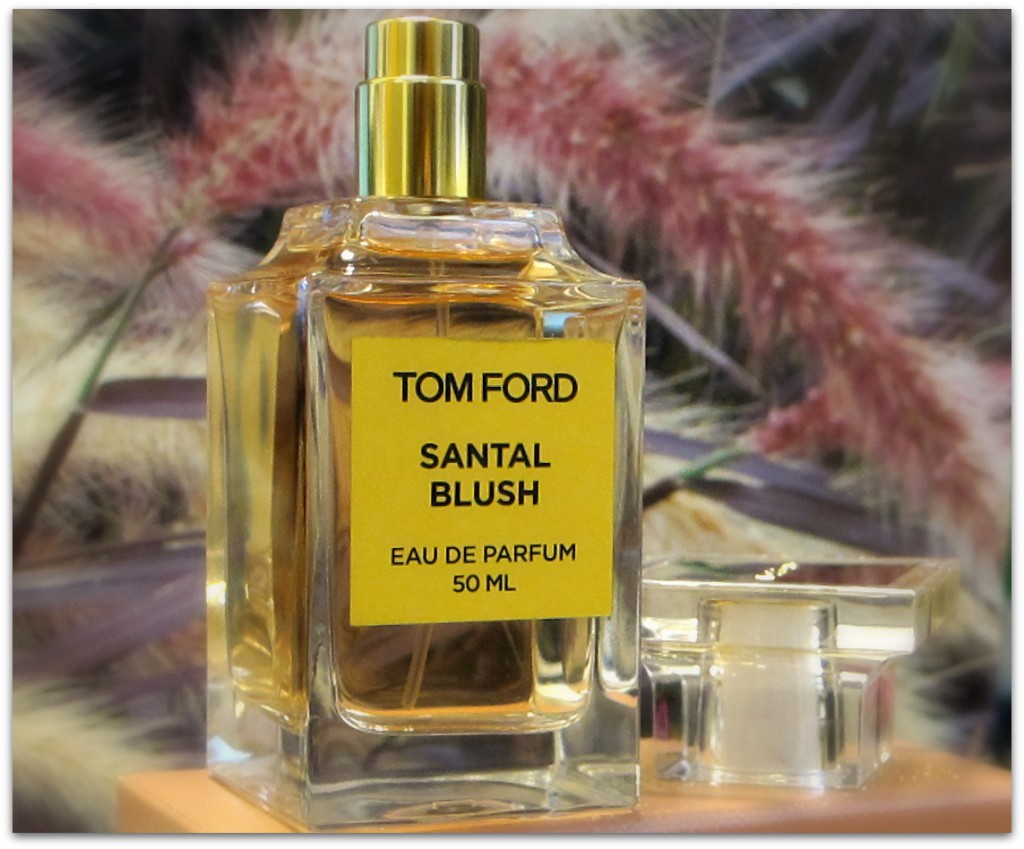 The bottom line?  It starts off loud, but after that initial burst of headiness, Santal Blush becomes everything you want in a sandalwood.  If you can get past the first 15 – 20 seconds, it's a winner.  It has secured a spot right between Violet Blonde and Jasmin Rouge on my dresser!
Santal Blush is available at your closest TOM FORD Beauty counter and online at Bergdorf Goodman, Neiman Marcus, Saks Fifth Avenue, Nordstrom and other fine retailers.
Image credits: all taken by me except for Santal Blush Ad via tomford.com
TOM FORD Santal Blush: courtesy of TOM FORD Beauty