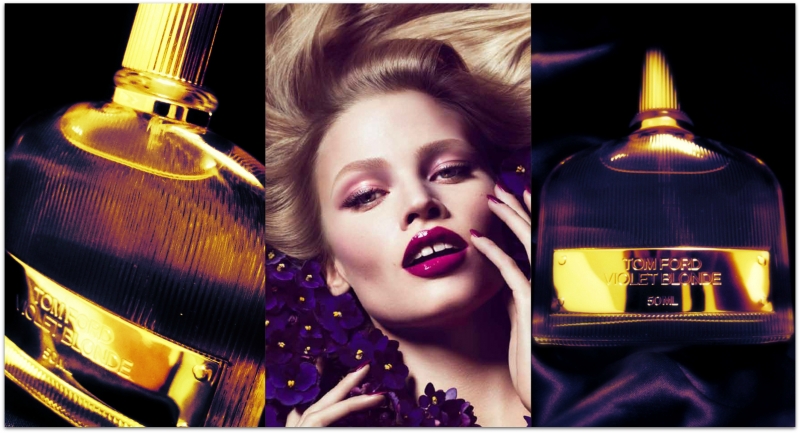 When it comes to perfume I tend to be a creature of habit.  I have alternated between two go-to scents – Burberry Brit and Chanel Allure – for years now.  For extra special occasions I reach for TOM FORD's Black Orchid, but for the most part, the Brit and the Allure are what get the most play from me, and I never really thought much about changing them.
Despite that, I can't really say that I ever considered either a true signature scent for me and lately they have become a fragrances that I am bored with.  Now, Black Orchid is something altogether different… it's a unique and stunning fragrance, but one that I use quite sparingly… I treat it like liquid gold and ration it.  But even it isn't something I could see myself wearing every day.
Given my love of Black Orchid, I couldn't help but get excited when I heard three new fragrances were being released as part of the Complete TOM FORD Beauty Collection.  I loved the advertising campaign for the new Signature Fragrance, Violet Blonde, but was most looking forward to the release of the two new Private Blend Fragrances – Santal Blush and Jasmin Rouge.  Violets have never been a huge love of mine so I didn't think Violet Blonde would be all that appealing to me.
And then, thanks to the generous people at TOM FORD Beauty, I was able to try it…. and fell madly, passionately, unequivocally in love.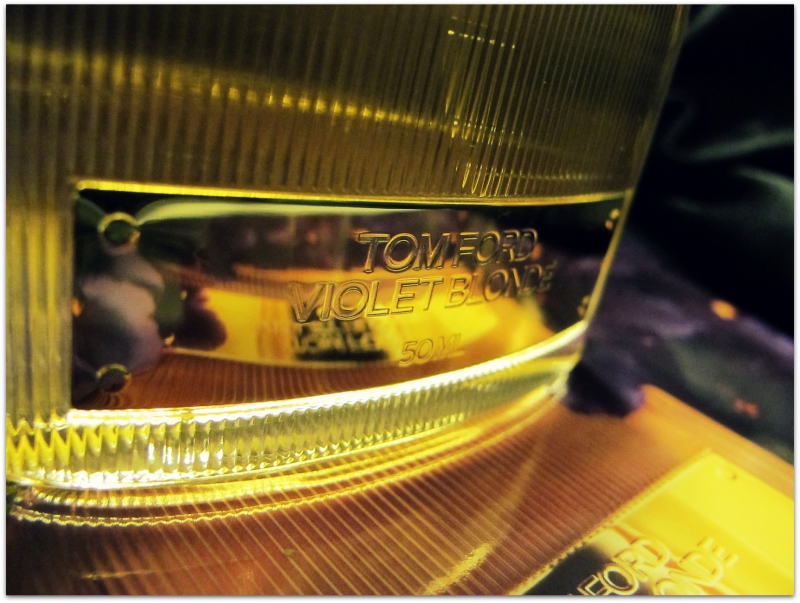 TOM FORD Violet Blonde is the scent I have been searching for my whole life… the one destined to become my signature fragrance.
Finally.
When I say that I couldn't stop sniffing myself the first day I wore it I am not lying.  My enthusiasm for the scent probably scared some people away.
But it is that good.  Soft, sexy and feminine yet completely modern.  Did I mention sexy? How about opulent?
Let's start with the packaging.  Violet Blonde is housed in the signature fire-polished and ribbed TOM FORD fragrance bottle.  This version is transparent, which let's the gorgeous cognac color of the fragrance take center stage.  The name is stamped on a gold plate and attached with rivets.  Simple yet elegant.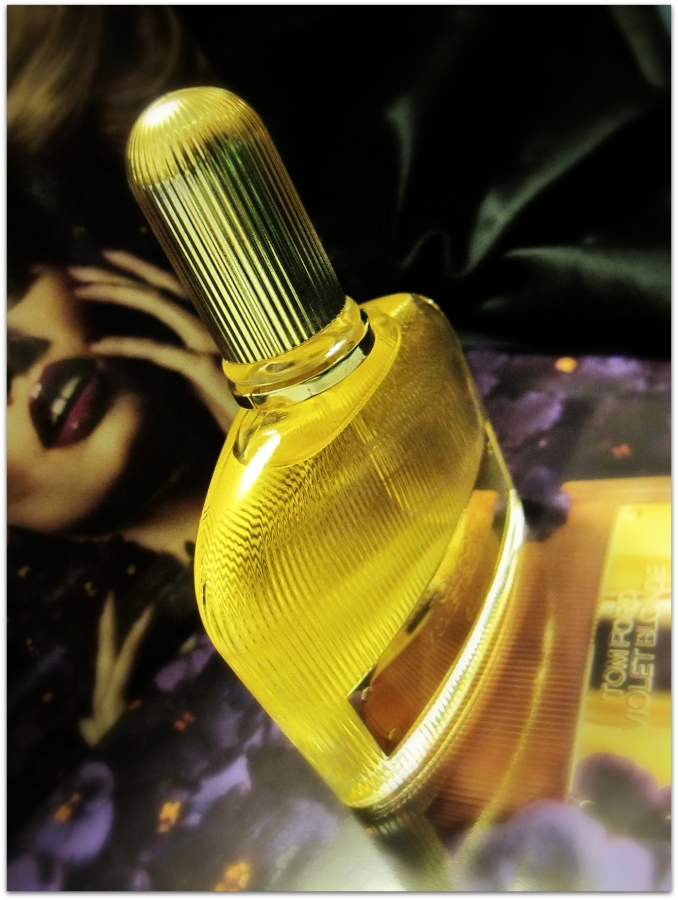 The secret to the scent itself is the melding of Violet Leaf Absolute with two rare types of Orris (the precious root of the Iris Flower).  Found in the hills of Florence and Siena, Tuscan Orris Absolute and Tuscan Orris Butter are seldom used in modern perfumery because of their high cost and complex aging and distilling processes.  And they are the key to this ravishing scent.
For those of you who are experts in perfumery, the CliffsNotes description of Violet Blonde goes something like this:
Violet Blonde opens with notes of Violet Leaf supported by Italian Mandarin and Baie Rose to create a green-citrus first impression.  Tuscan Orris Absolute and Tuscan Orris Butter add a richness and earthiness to the violet, while notes of Jasmine Sambac are added for floral support. Finally, Benzoin, Cedarwood Orpur and Haitan Vetiver Absolute add a wooden medley to the scent, with musk and soft suede adding depth on the dry down.
For those of us who aren't experts in perfumery, like me, but know what we like, the CliffsNotes description goes something like this:
IT. IS. AMAZING.
Tom Ford says "Violet Blonde has the spirit of a classical, European fragrance. It is formal, polished, and yet draws you in closer and closer, like a beautifully dressed woman whose refined presence charms, then fascinates, and ultimately seduces you."
You know what?  He's absolutely right.
This is what perfection in a bottle looks like: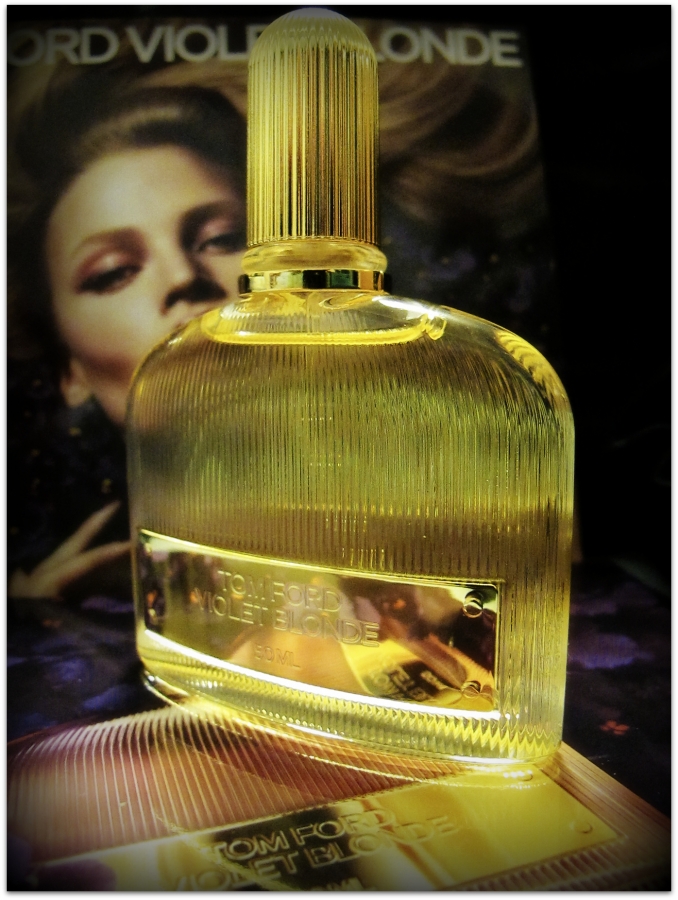 And perhaps the best part?  It won't break the bank!
Many, many thanks to the lovely people at TOM FORD Beauty for sending this my way.  It is truly extraordinary.
What about you – have you tried Violet Blonde yet?  What is your Signature Scent?
Violet Blonde is available at your closest TOM FORD Beauty counter and online at Bergdorf Goodman, Neiman Marcus, Saks Fifth Avenue, Nordstrom and other fine retailers.
Image credits: all taken by me except for Lara Stone Ad via tomford.com
TOM FORD Violet Blonde: courtesy of TOM FORD Beauty