I don't normally wear orange-based lip colors, so when I received a package from TOM FORD Beauty that included Wild Ginger I wasn't sure how I would feel about it.  Orange makes me think of the Cleveland Browns, Halloween and my old high school colors (orange + black, baby!).  Orange has its place—and my lips isn't one of them!
Needless to say, I was nervous about this lip color.
My first impression was that it appeared to be very orange with a slight hint of red: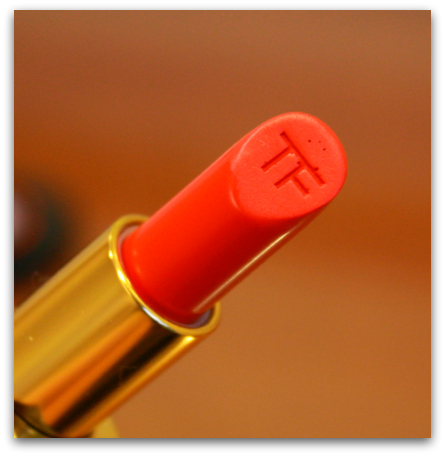 To be quite honest, the particular shade of orange shown in the tube above does nothing for me.  I can guarantee you that if I had come across it at a TOM FORD Beauty counter I wouldn't have even bothered to swatch it considering all the other glorious colors that are available.
Fortunately for me, the TOM FORD gods (aka, the TFB PR lovelies!) sent me a tube to try!
And guess what?  It's a winner!
On the lips, and under natural lighting, the color is a much redder—and prettier—hue than I expected!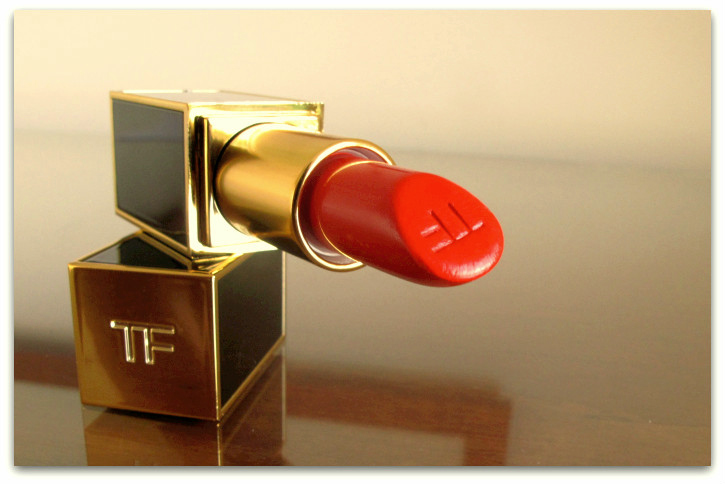 Wild Ginger is anything but a plain orange lip color (I should have known Tom Ford wouldn't let me down!).  It is a warm, bold orange-RED that is unlike any other lip color I own.   On my medium-pigmented lips it generally looks more red than orange, but you can definitely see the orange undertones in the shade.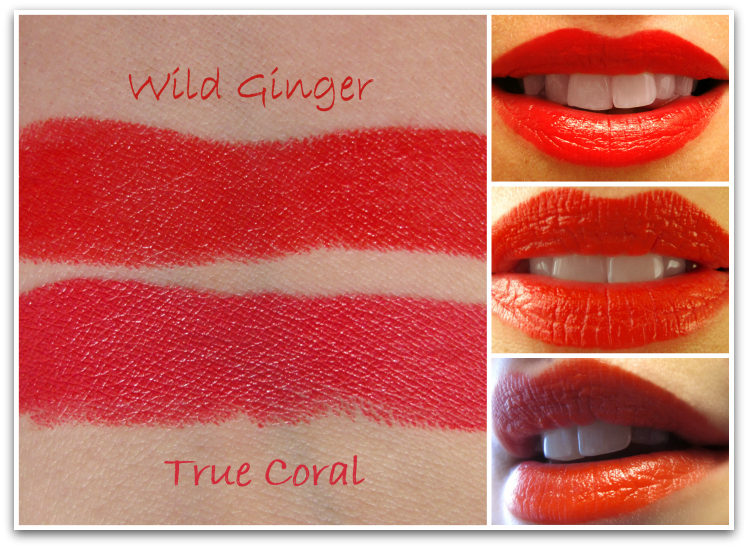 Main: Comparison swatch of True Coral and Wild Ginger.
Top to Bottom: Wild Ginger on lips outdoors, indoors (flash), indoors (fluorescent lighting)
True Coral, one of the most popular TOM FORD Private Blend Lip Colors , is an extremely bright and saturated "hot pink" with red undertones.   In contrast, Wild Ginger is a bright and saturated "hot red' with orange undertones.  Although the orange in Wild Ginger is visible it is not the predominant shade in the lipstick.  It adds just enough lustre and dimension to the color to make it something unique.
The creamy and moisturizing formula contains the same ingredients as the other Private Blend Lip Colors and includes soja seed extract, Brazilian murumuru butter and chamomile flower oil.  The pigmentation is excellent—it will last for approximately 5 hours—and it is lightly scented with vanilla.
The bottom line:  Don't let the orange color scare you.  Wild Ginger is actually a beautiful and unique red with just the right amount of sass, thanks to the orange undertones!
TOM FORD Wild Ginger Lip Color is available now at your closest TOM FORD Beauty counter and online at Bergdorf Goodman, Neiman Marcus, Saks Fifth Avenue, Nordstrom and other fine retailers.
Credits: All images were taken by me. Wild Ginger was provided courtesy of TOM FORD Beauty