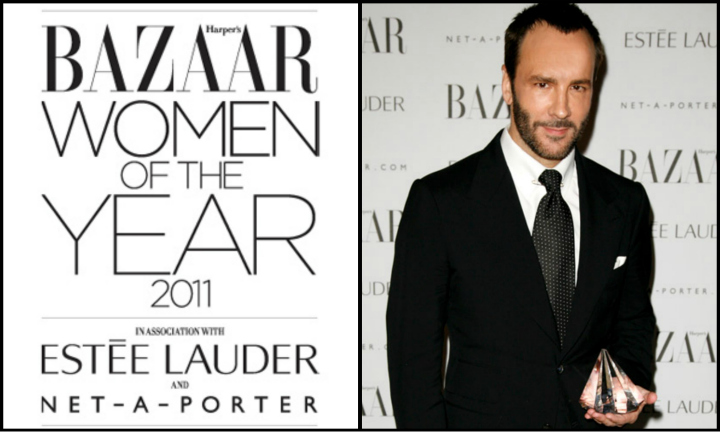 "I think you have to love women, number one, and I do.
And as I said, when you're in this kind of company it's very easy to be a man in a woman's world
and, you know, in my industry and with what I do I meet the most amazing women…
and I think I'm fortunate enough to know some of the great women of our time."
– Tom Ford after receiving the "Man in a Woman's World" Award (click to watch the video)
***************
On the evening of November 7th, 2011, the Harper's Bazaar UK Women of the Year Awards were held in London's Claridges.  Among the female-dominated Role Model of the Year, Breakthrough of the Year, Lifetime Achievement, and Designer of the Year Awards, a few men were also honored.
Tom Ford was awarded the aptly named—and much deserved—"Man in a Woman's World" Award for his contributions in transforming the fashion and beauty industries in 2011.
Longtime muse Natalia Vodianova presented Mr. Ford with the award and echoed the sentiments of many when she remarked "When Tom Ford stopped doing womenswear, I was like, 'what am I going to do?'".  Thankfully, she no longer has to wonder.
Both Vodianova and presenter Lily Cole honored Ford by wearing designs from his collections; Vodianova in a Black Velvet Laced Up Front Cocktail Dress from the Autumn/Winter 2011 Womenswear Collection.  Cole in the black fishnet, hand embroidered, cobalt blue pailletté, python patterned long evening gown from the Spring/Summer 2011 Collection.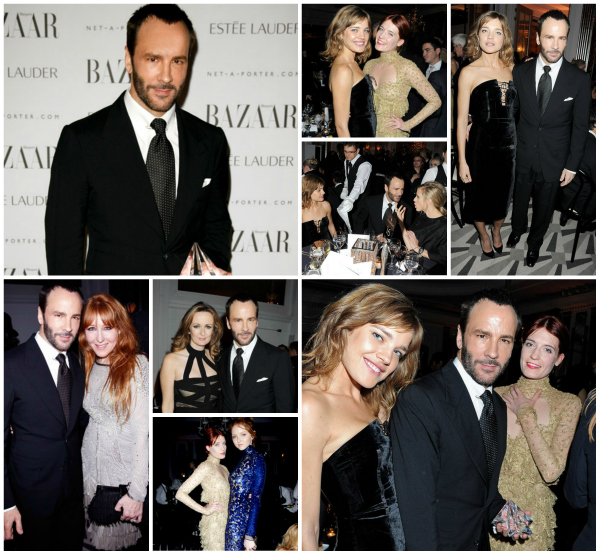 Top, from left to right: Tom Ford with Award; Natalia Vodianova and Florence Welch (top); Vodianova, Ford and Laura Bailey (bottom), Vodianova and Ford  Bottom, left to right: Ford and Charlotte Tilbury; Lucy Yeomans and Ford (top); Welch and Cole (bottom); Vodianova, Ford and Welch
Prior to the ceremony, the winners answered some questions for Harper's Bazaar UK that offer insight into their personalities. My personal favorite is Mr. Ford's motto.  Words to live by!

Man in a woman's world: Tom Ford
What was your highlight of 2011?
Having my first women's collection under my own name arrive in the stores. I felt complete again.

Most valuable advice you've ever been given?
Only work with people who you'd have dinner with.

What is your enduring motto?
Work hard, do your best, and then fuck it. What is going to happen is going to happen. The universe ultimately decides our destiny.

What is your secret weapon?
My sense of humour… I'm great fun at funerals. Tragedy and comedy are very closely linked.

Who is your woman of the year?
I know too many great women. My "bitch of the year", however, is my little female fox terrier India. She is lovely.

What are your ambitions for 2012?
If I listed them all, you would think that I was completely mad, but let's just say that my ambition is to try to have less dreams and ambitions… To be honest, I have everything that anyone could ever want right now.
***************
 Congratulations, Mr. Ford! 
Credits: all images via Harper's Bazaar UK and Getty Images