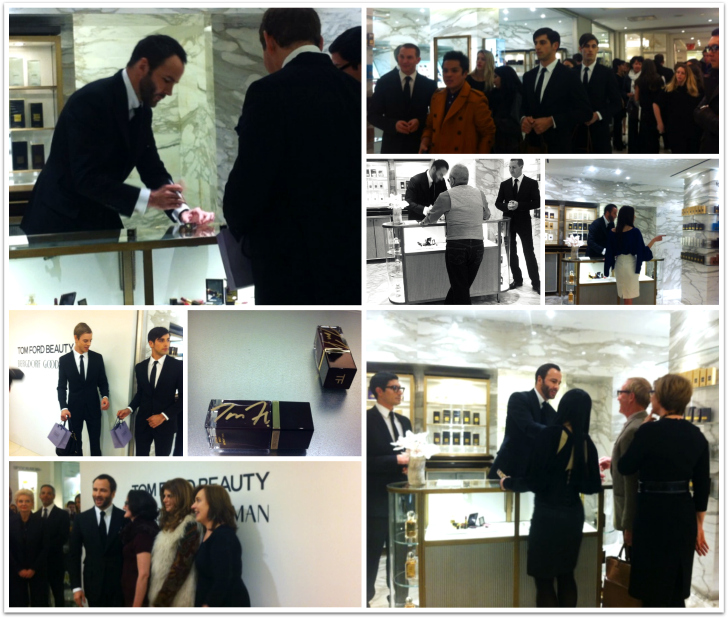 Tom Ford Appearance at Bergdorf Goodman on November 1, 2011
Cha-ching!
An article published on WWD today reports that over $52,000 of TOM FORD Beauty products were sold during Tom Ford's hourlong in-store personal appearance at Bergdorf Goodman on November 1st.  Following that, sales continued at a second private event held at the flagship store on Madison Avenue.  Add this to the $200,000 worth of product sold by Neiman Marcus Direct and Bergdorf Goodman Direct between October 14th and 26th and I would say the expanded Beauty Collection is a success, wouldn't you?
The undisputed best seller was the chocolatey-brown hued nail lacquer know as Bitter Bitch. (Read the reviews of Bitter Bitch and more here.)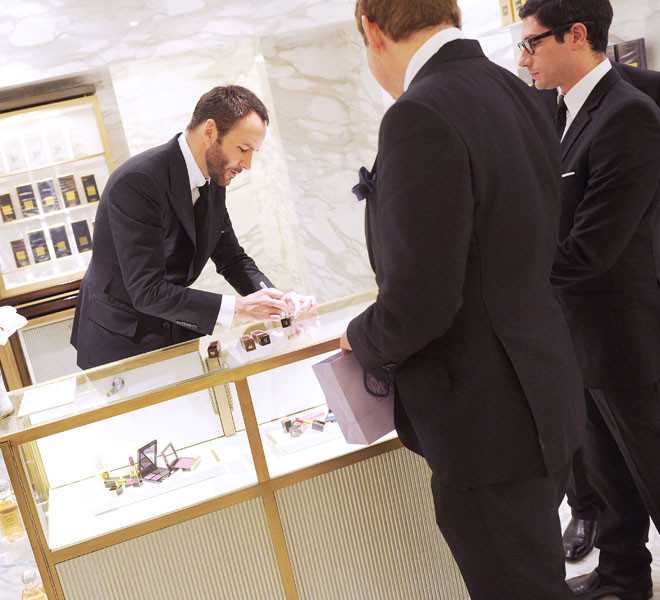 Photo Credit: Billy Farrell Agency
Mr. Ford briefly spoke to WWD about the launch following the private event at the flagship store and offered some insight into his partnership with Estée Lauder:
"When I started working with Estée Lauder, one of the reasons I wanted to work with them to create Tom Ford Beauty was because I wanted a full collection of makeup and skin care. So this is something that was planned from the very beginning, and I'm so glad to see it realized."
Distribution of TOM FORD Beauty—and the growth of the collection itself—will continue to expand and evolve, but there are no plans to make it a mass market product:
"We're going at a slow pace, in the same way we did eyewear.  We have a relatively high price point and a tight distribution. It's the same thing we're doing with our clothes — we're making a luxury product and targeting specific customers. Of course, cosmetics are more accessible for most women. Our customer is the Tom Ford woman, or someone who aspires to be if she could afford it."
I wasn't able to make it to NYC for the event, but I have ordered quite a bit of the collection online and am pleased with the products I have received so far.  I will be reviewing those on Full Time Ford soon, but meanwhile check out these posts from some of the fortunate folks who did get to attend:
Beauty High: 5 Things people Will Do to Meet Tom Ford
Fashionista: Tom Ford Launches His Full Beauty Collection at Bergdorf Goodman, Talks Halloween With Us
Lucky Magazine: Ford Almighty- I met Tom Ford and He Loved my Zara Dress (Really!)
Style.com EXCLUSIVE: Tom Ford On Makeup—And On Camera
The Style and Beauty Doctor: So Tom Ford and I Discussed His Upcoming Collection…
So tell me – did you get to attend? 
If not, what would you have asked Mr. Ford?
Credits: All images used in header collage via Bergdorf Goodman twitter