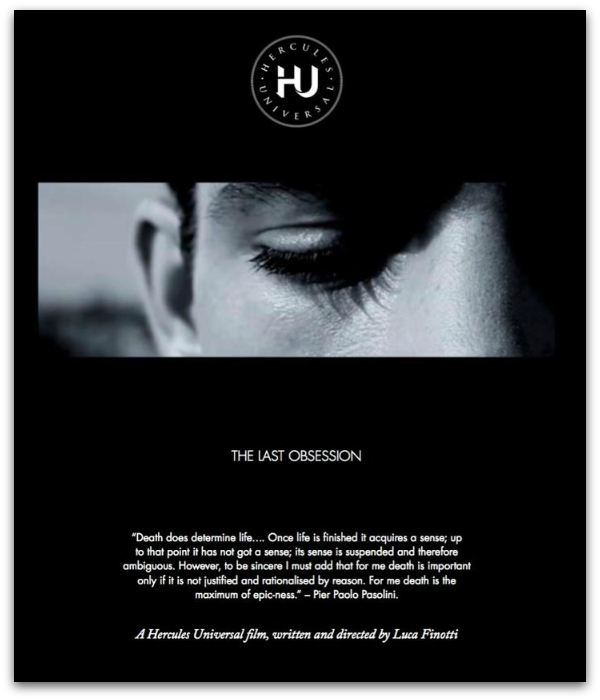 "Death does determine life…. Once life is finished it acquires a sense; up to that point it has not got a sense; its sense is suspended and therefore ambiguous. However, to be sincere I must add that for me death is important only if it is not justified and rationalised by reason. For me death is the maximum of epic-ness."  — Pier Paolo Pasolini.
Every so often you come across something that leaves you speechless with emotion. "The Last Obsession" is one of those things. A short film written and directed by Luca Finotti, it is dedicated to the memory of Vogue Hommes International fashion editor Francesco Cominelli.
Produced for Hercules Universal, the short is not officially affiliated with TOM FORD in any way save for the fact that the stars—Jamie Wise, Sebastian Sauve, and Nick Lacy—are featured wearing pieces from the Autumn/Winter 2011 Menswear Collection.
I am posting it here because I think it's simply beautiful.
See for yourself (Note: some nudity is present):
Amazing, no?
I think it is fitting that pieces from the TOM FORD menswear collection were involved in this tribute given that Cominelli was known for his superior taste and sense of style.  You can't get any better than TOM FORD.
Some behind-the-scenes moments captured on camera via Luca Finotti's Tumblr

But above all, Finotti produced a touching, emotional film that should be seen by all.
It left me speechless the first time I saw it… and I hope you enjoyed it as well. 
Film Details:
Written and Directed by Luca Finotti
Fashion Editor: Nicolas Klam
All clothing and accessories: TOM FORD Autumn/Winter 2011 Collection
Starring: Jamie Wise, Sebastian Sauve, Nick Lacy
Song: "Empty Chairs at Empty Tables" by Micheal Ball and the Royal Philharmonic Orchestra