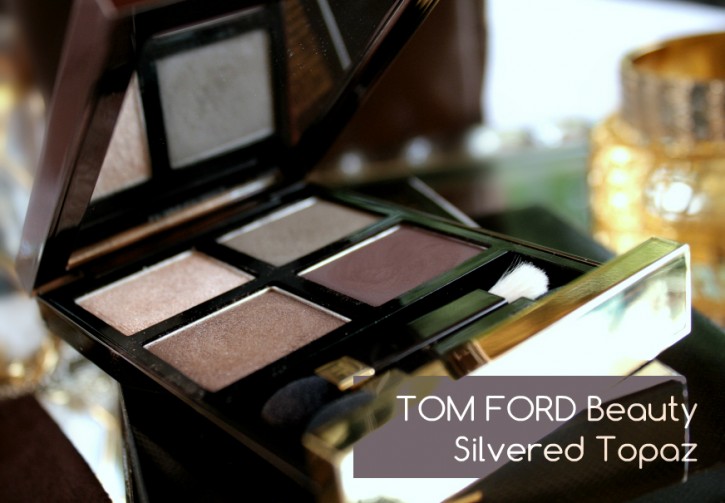 When news of the complete TOM FORD Beauty Color Collection was first released I couldn't decide what I was more excited about. The blushes? Nail lacquers? More lip color choices? Those amazing looking brushes? I wanted one of everything (and still do!). That being said, the items that intrigued me the most right from the get-go were the Eye Color Quads.  The ad campaign and product shots alike made them look so deeply pigmented and luxurious… I simply couldn't resist their allure. The first one I'll be reviewing here is Silvered Topaz.
THE PACKAGING
Before we move on to the color edit, let's talk about the packaging. Without a doubt, the high-gloss dark maroon (almost black) and gold cases that house the shadows are stunning.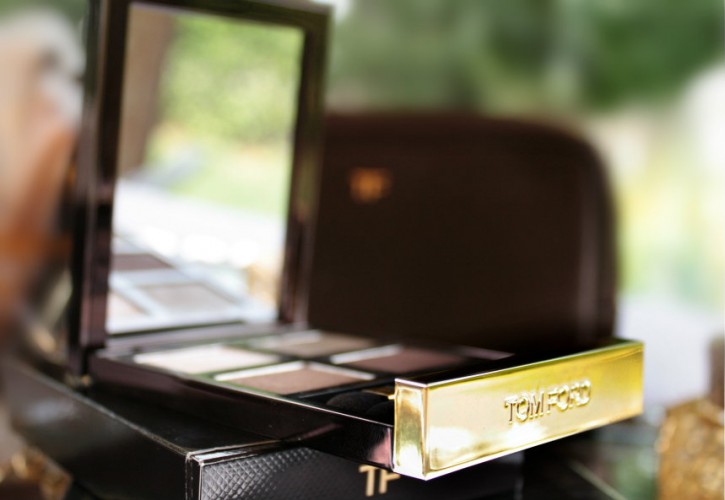 The lines are very clean and almost deceptively simple, but their hefty weight and size makes them look and feel truly decadent. Each quad comes with a brown velvet sleeve which doubles as a cloth that can be used to help remove fingerprints from the outside of the case (and the cases really are fingerprint magnets).  The case has a magnetic closure and houses a large mirror and two standard double-ended applicators.  I've read that some people quite like the applicators, but I always use a brush and/or fingers to apply shadow, and TOM FORD Beauty shadows are no different.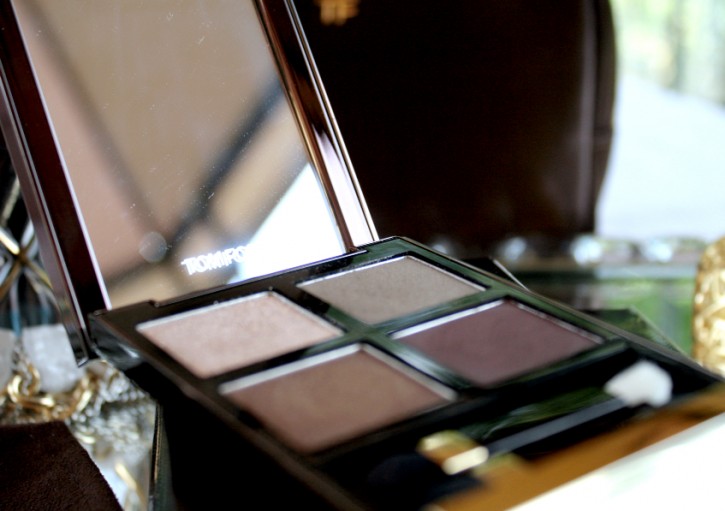 The shadows themselves are protected by a plastic cover that has "TF" stamped into the middle of each corresponding shadow pan.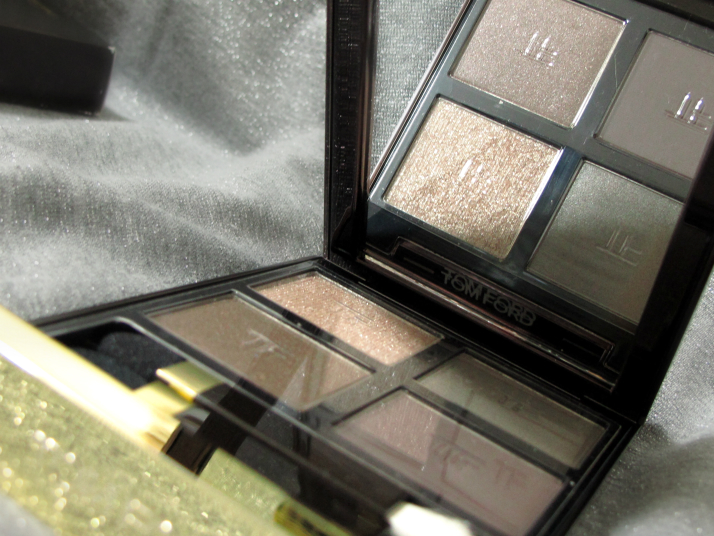 Superb branding.
THE COLOR EDIT
Silvered Topaz is one of the cool-toned offerings in the TOM FORD Beauty Color Collection.  It may not work on everyone, but before you decide "it isn't for me" you may want to delve a bit deeper.  I am fortunate because both warm- and cool-toned color palettes work for me (I can wear either NC25 or NW25) but this quad pulls warm on my face.  The color breakdown is as follows: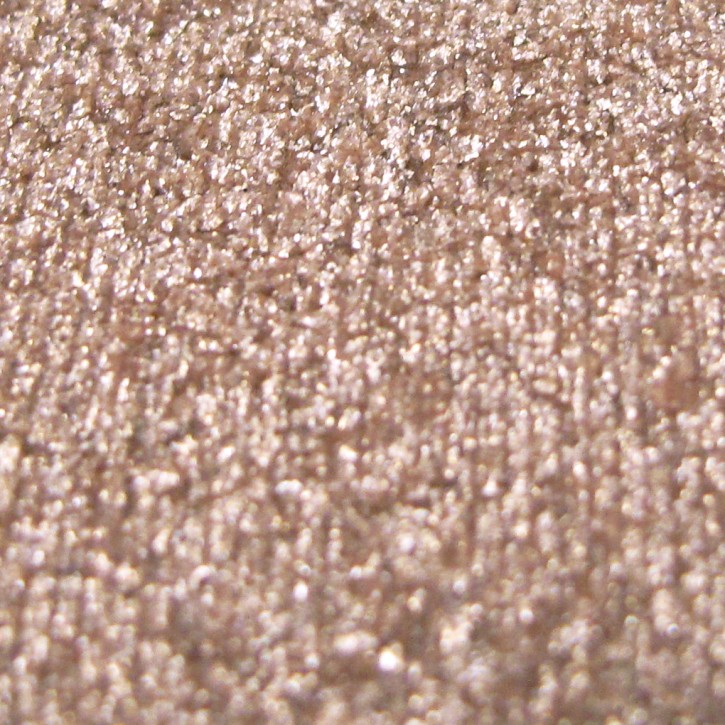 Top left:  sheer, very light champagne with glitter (sequin shade)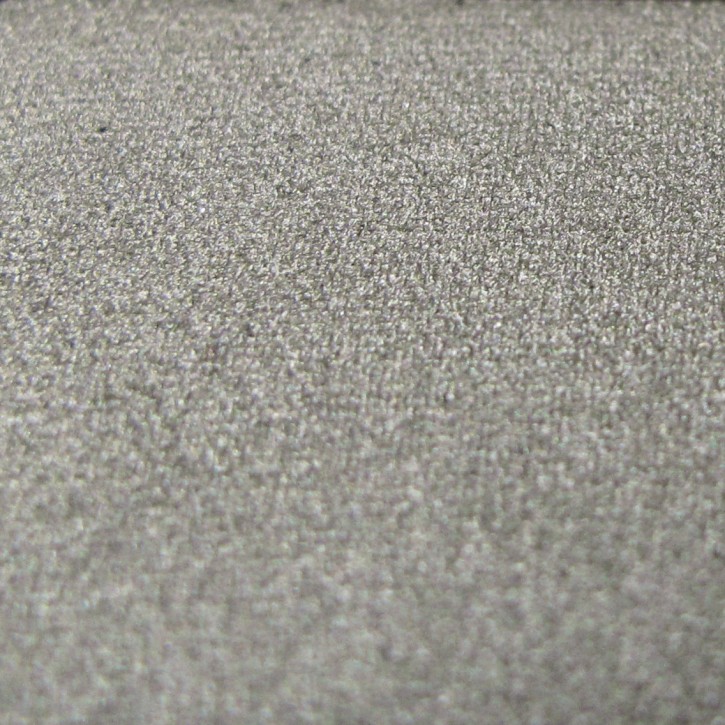 Top right: silver-toned taupe with very fine shimmer (satin finish)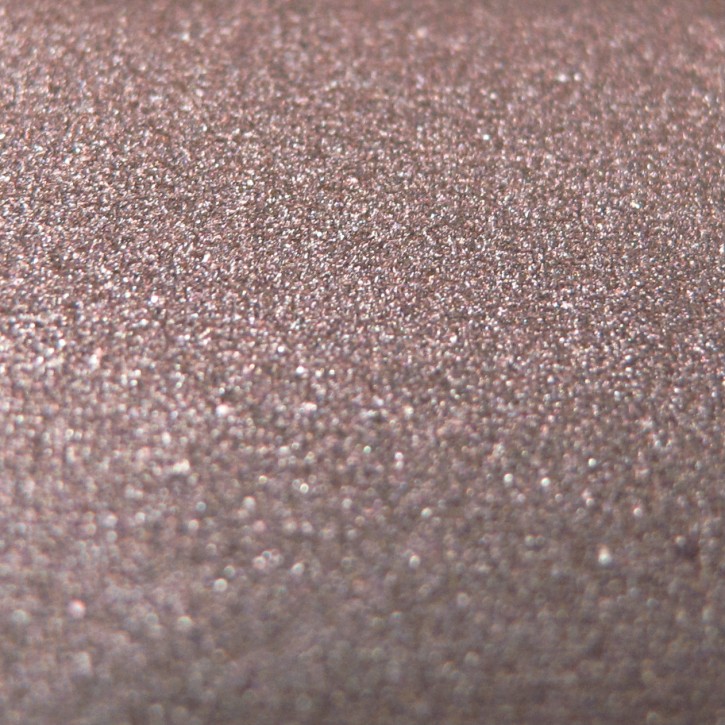 Bottom left: mauve-based taupe with a slight hint of brown shimmer (shimmery satin finish)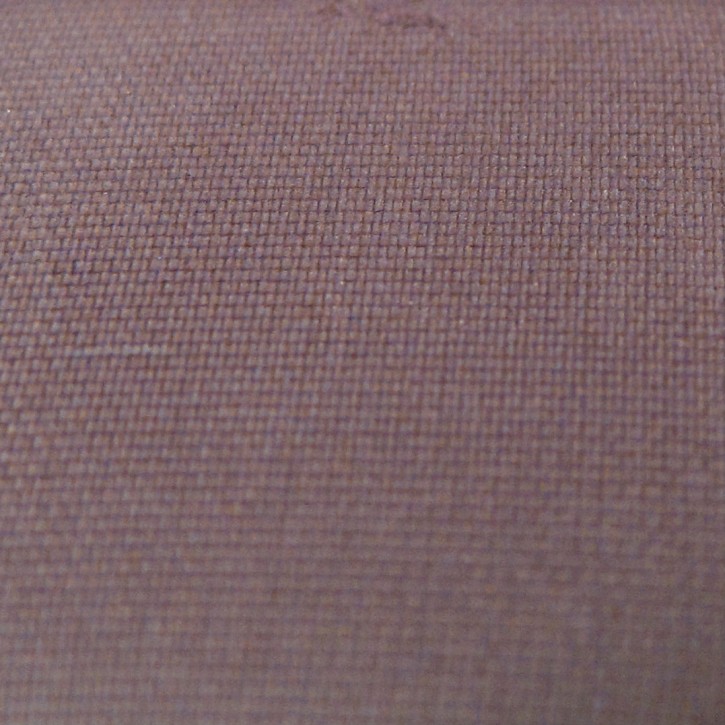 Bottom right: plum-brown shadow (silky matte finish)
Silvered Topaz Comparison
Let's take a closer look at the full color edit and a comparison of swatches in direct sun vs. natural light.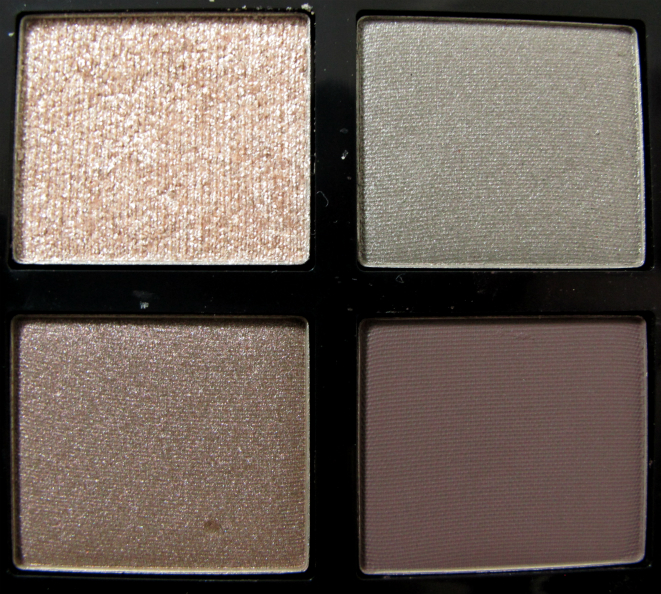 The Complete Color Edit
The shadows in this quad are smooth and nicely pigmented.  The color is rich but buildable, so you can choose to use a heavy hand or go for a softer wash of color.  If you do choose to layer heavily there will be some fallout (especially with the champagne shade), but otherwise application results in a lovely silvery smokey eye.
Personally, I love the bottom left shade and frequently use it both alone for a simple wash of color, or as a base for a more complex look.  Both the satin and matte shades are finely milled and blend effortlessly.  I prefer to pat the champagne shade on with my finger instead of a brush,which seems to help with any fallout you might expect from the glitter.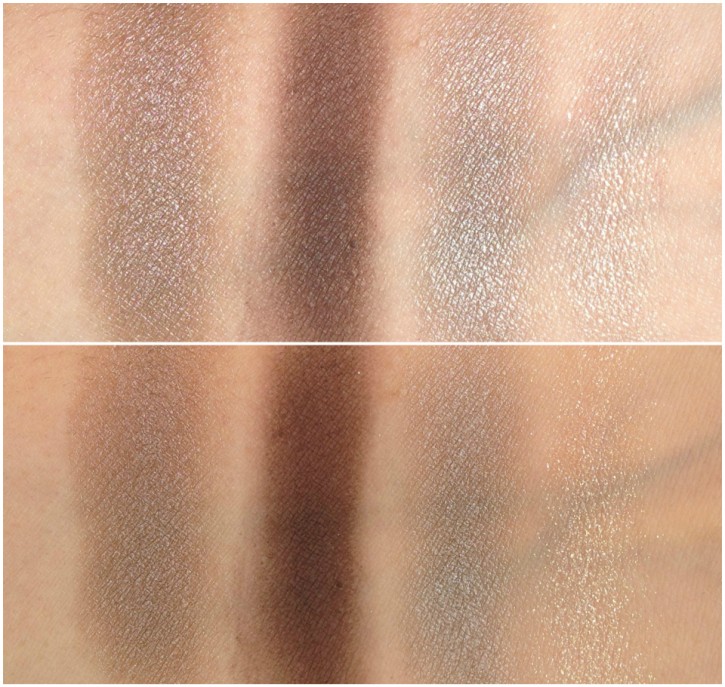 Top: Silvered Topaz direct light (bottom left, bottom right, top right, top left)/Bottom: Silvered Topaz in shade (bottom left, bottom right, top right, top left)
The shadows wear beautifully and are very long-lasting (I'd say about 8 hours). I am really impressed.
Do you own Silvered Topaz? What do you think of it?
All images taken by me and subject to copyright