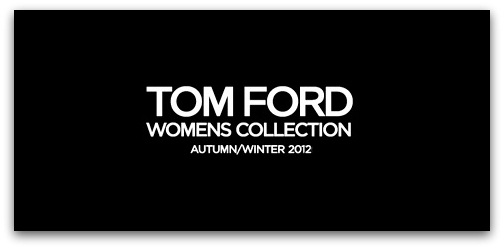 After four seasons, we've all grown accustomed to the secrecy that surrounds the TOM FORD Womenswear Fashion Week Presentation.  We know that Mr. Ford has chosen to forgo the large runway shows of his Gucci and YSL days in favor of smaller, more intimate affairs.  We know attendance is by invite-only and we know photography of any sort is strictly prohibited.  Do I wish we could see images from the presentation right away?  Of course I do!  But, as much as it pains me to say it, I understand the reasoning behind it.
Thankfully, thanks to the internet-age we live in, we have never been completely in the dark about the season's presentation. The attendees always share their thoughts and their comments whet our appetites and give us an idea of what we'll be seeing in a few months time.  The buzz surrounding Ford's presentation is always strong, and the attendees either applaud or criticize each collection, but this season something is… different.  
There is a renewed sense of admiration. Awe. Fulfilled and/or surpassed expectations.
There is chatter on the interwebs that he's finally done the signature collection we all hoped he would do.
There is an air of… dare I say it… perfection?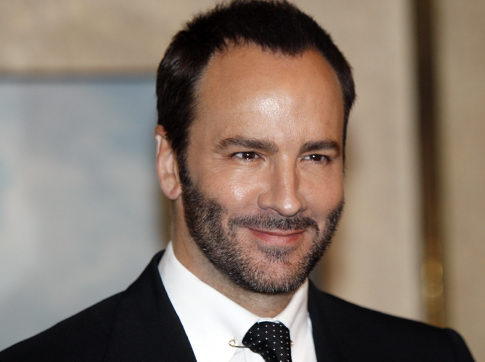 AP Photo via
For the first time since his return to womenswear, Mr. Ford decided to shift his focus from the individual woman to a cohesive collection. Instead of introducing different looks suited for different types of women, this collection focuses on a distinct look and a clear fashion message.
"When I first started this womenswear label, we wanted to emphasize the point that we make clothes for different women, different characters, different ages and we really followed that through with each individual look, each of the hair and make-up – but what that didn't give me was a distinct look – so this season we have that: much more graphic than before, this is The Look – all the way through from the clothes to the shoes to the bags to the accessories."
Though there are no photos available from the February 19th Presentation in London, I  am excited to share with you the absolutely amazing reviews that have been trickling in.  For the first time since Mr. Ford's return to womenswear, the attendees appear to be absolutely unanimous in their praise.
It seems that this is the collection that everyone at LFW 2012 is talking about…
"… a bright red alpaca ("fur – not fabric") coat with a raised collar was announced as the opener, shortly followed by a shorter version in what he calls chrome yellow. This is as near as you'll get to couture, with individual snake and crocodile scales hand embroidered onto form-fitting stretch jersey dresses to make incredibly sexy gold shimmering or black dresses that, despite what they look like, are still officially ready-to-wear.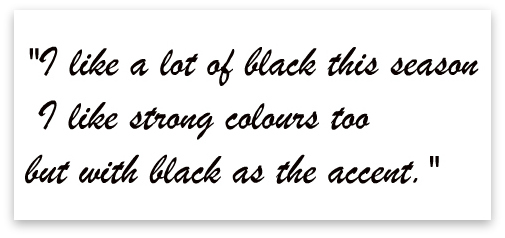 … Lots of black meant lots of leather too – for blouses, pencil skirts, stiff square handbags with large gold front panels (some "small enough for just a Blackberry or iPhone, a lipstick, keys and a wad of cash,"), knee-high boots and gold-tipped, pointed stilettos. "I'm trying to eliminate platforms from the world," he added, before allowing just one pair into collection – the platform and heel of which are bright metallic gold, having been cast with crocodile markings.
Stretchy leather or jersey leggings – that unzip over the ankle to elongate the leg as much as possible over heels – stiff leather bustiers, crystal chandelier necklaces and easy, supremely soft V-neck sweaters hint at high voltage down time, while dresses with shiny gold metal wear at the front of the waist "remind me somehow of what I was doing in the Nineties".
Fabulously sexy menswear-for-women… gave way to what Ford has called the "belle du nuit, rather than belle du jour" section of black velvet  and silk cocktail dresses – bowed at the nape of the neck over bare backs and with subtly raised shoulders in a nod to Forties sirens – and then the Oscar worthy gowns.
The first – more crocodile appliqué over sheer jersey with plenty of bold gold metallic accents – he'd love to see on the Oscars red carpet but knows he won't… and the second – a stunning cream double silk crepe robe that has the same Forties appeal  – that looks a lot more likely. Our money's on Angelina Jolie.
Striped jackets of skunk fur and dresses constructed of black and white feathers brought the collection to an end – there is no expense spared in the world of Tom Ford."
"… we're talking lots of skinny tailoring and chubby fur coats, tight leather and sinuous crepe, bags with polished golden hardware and sharp-pointed stiletto boots. [The look is] serious glamour, very grown-up. Clothes that are too classy to be pigeonholed in any trend, but which look completely contemporary.
I want all of it. Unfortunately, the prices are as fairytale as the super-luxe fabrics, and I can't afford any of it. But it felt fantastic to have Ford's high-class aesthetic as part of London fashion week, and it made me excited for the Oscars, where some of these dresses must surely be headed.  And I loved Ford's commentary. He says things like, "I like a boot with a dress right now, the way it sharpens the look up." And explaining the thinking behind leather leggings with zips at the ankle which allow you to extend them over the heel of your shoe, he said he made these "because I love the skinny leg silhouette, but if you're not tall, your leg doesn't always look long enough." Oh, Tom, I so hear you. Those are made for me. I just wish I could afford them."
Lais Ribeiro and Aline Weber at the TOM FORD show… perhaps wearing some A/W 2012 pieces? One can dream.

"In a series of private appointments on Sunday, Tom Ford quietly showed a collection filled with fur, leather, and snakeskin… There were still no photos allowed—and no one in our group dared remove a phone from their bag to send out a tweet. But the atmosphere was casual, and editors were encouraged to circulate around the showroom after the show. "Feel free to shop!" Ford joked.
… The presentation opened with a thigh-length red alpaca fur coat over a black leather pencil skirt and over-the-knee black leather boots with a sharp toe and slender heel. There was a diverse mix of leather and skin–one full-length dress came covered in white feathers on black tulle, and was paired with an anaconda snakeskin shoe and a luscious two-toned skunk fur jacquard. Another body-hugging gold dress consisted of "every scale of a snake sewn onto jersey."
In a nod to his years at Gucci, there were black cutout dresses adorned with gold plates, sparkling bras under open suit jackets, and several impeccably tailored skirt suits, which he explained came from his experience with tailored menswear.
And in true Tom Ford style, there were several dresses that would feel right at home on the red carpet at the Academy Awards next weekend. A floor-length cream column dress with a matching cape (which Ford said was his favorite because it was "dead simple") had any one of the best actress nominees written all over it."
"The first thing to say about his AW12 collection is that, any, I repeat any, of this collection will change your life. Oscar attendees, get thee to Tom and you'll find yourself looking like a winner, even if you miss out.‬"
"Another Russian spy," Ford deadpanned, as a model entered his London showroom presentation on pin heels, a crocodile bra peeking out from her slim jersey tube dress. Black leather, glossy satin and crocodile scales painstakingly embroidered on silk jersey heightened the danger-laced, sexy Bond girl mood. Demonstrative gold wrestling belts were a wink back to his Gucci heydays, as were the the pencil skirts, the jersey dresses snaked with heavy zippers — and statement-making outerwear. Puffer jackets and capes came in glossy beaver fur. Hairy alpaca coats came in a look-at-me shades of tomato red or taxi yellow.
Ford said he answered a call from customers to deliver men's tailoring — he did so with strong Joan Crawford shoulders, and substantial padding at the hips."
"…Ford admitted that parts of his autumn 2012 collection reference his early work and from the chunky gold hardware to the tailoring, Ford has dialed down to what he does best.
The collection was closely guarded (by dashing men in suits at every door) so without pictures the description will seem crude – but it was the ultimate in luxury dressing, for the woman with the ultimate bank balance, who has the desire to dress in the skin of every animal going.
… Little black dresses sell well for the designer, and for autumn they are punctuated with pitched velvet shoulders and beautiful bow-back detail. Across the collection the level of detail is atomic, with every single scale from a snakeskin appliquéd onto stretch jersey by hand, and over twelve hours of hand stitching going into one suit jacket, there was no room for error here.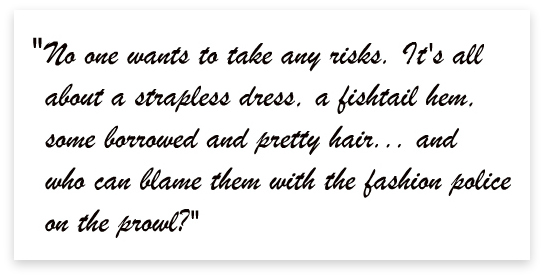 Ford's personal favourite sat at the simpler end of the collection, a white floor-length dress with a detachable cape, and a jersey tube dress embellished with crystals, and a stretch-black tulle dress covered in white feathers had glamorous appeal."
"…red carpet gowns: slinky, sexy (obviously) with sheer inserts and rock heavy gold hardware. They'd add some oomph to the forthcoming Oscars. Or how about gold snake scales, each one individually appliquéd onto a mesh base? That dress will probably retail for about £14,000 – pricey enough to capture a movie star's attention, surely? But Ford's not holding his breath. "No one wants to take any risks. It's all about a strapless dress, a fishtail hem, some borrowed and pretty hair," he sighed, "and who can blame them with the fashion police on the prowl?".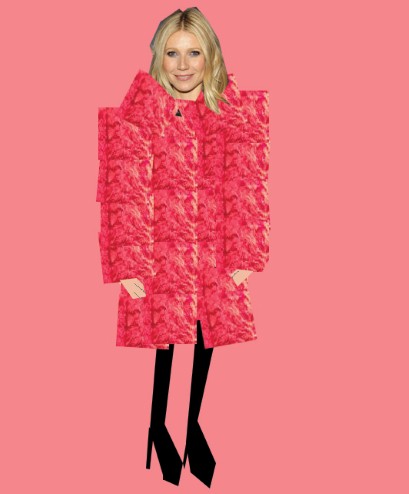 Rendering of a A/W 2012 coat by The Telegraph
Ford had his own prowlers – those lithe models who swished round his showroom in knee high boots, some with animal prints, and a succession of ultra luxe beaver and skunk jackets, or curved, waist-cinching alpaca fur coats. Colour palette: black, red, and some more black, with a beautiful one-shouldered cream floor-length column with matching cape as the stand-out piece.
Come on Julianne (Moore), make Ford a happy man."
"…the collection is (nearly) everything—it drips of sex, early Gucci appeal (huge gold accessories and embellishments, lots of black, and the sort of backless, long-sleeved dresses that conjure up images of steamy sex scenes). It's also pure luxury: crocodile jersey comes from crocodile scales cut out individually, then sewn, piece by piece, onto the best quality jersey.
Quote of the day? "The platform just won't die," said Tom (half an hour with the fashion god is deserving of being on a first-name basis, no?) as a model appeared wearing peg-leg black pants with elongated gold zippers over a pair of pointy-toed stilettos with gold-tipped heels."
 ********************
I know, I know… reading those comments doesn't make the waiting period any easier to handle, but how unbelievably amazing are those descriptions? The models included Saskia de Brauw, Magdalena Frackowiak, Jasmine Tookes, Lindsey Wixson, Lais Ribeiro and Aline Weber.
Let's start praying to the fashion gods NOW that someone is brave enough to wear the gold-snake appliqué gown Mr. Ford was talking about to the Oscars on Sunday!  Rooney Mara, how about you?