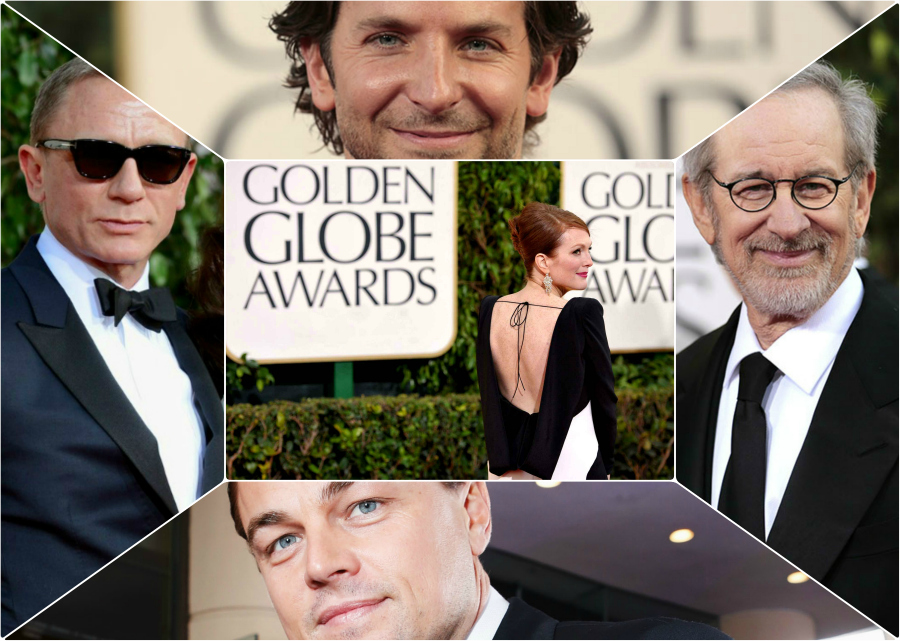 It has become pretty easy to predict which stars are likely to wear TOM FORD to an awards ceremony like the Golden Globe or Academy Awards. The usual suspects are Julianne Moore, Colin Firth, Daniel Craig, Bradley Cooper and Brad Pitt.  Maybe Anne Hathaway.  The men are easy to narrow down because once you go Tom Ford there is no going back: no one does a tuxedo better.  Most actresses, on the other hand, aren't wed to a particular designer. Julianne Moore is an exception to that rule and frequently wears gowns designed by Ford.
This is why it was no surprise to see who wore TOM FORD to the 70th Annual Golden Globe Awards on January 13, 2013.
We have the lovely Julianne Moore in a stunning custom draped back black and white gown in stretch silk georgette.  Rumor has it that Moore sent a quick email to her good friend Tom  and asked him to come up with something for her to wear.  This elegant gown is the result. Moore accessorized her look with a black nappa panama weave clutch with gold metal band and ankle strap evening shoes in black patent ribbon and mesh.
Congrats to Julianne on her win for Best Actress in a mini-series or TV movie for Game Change!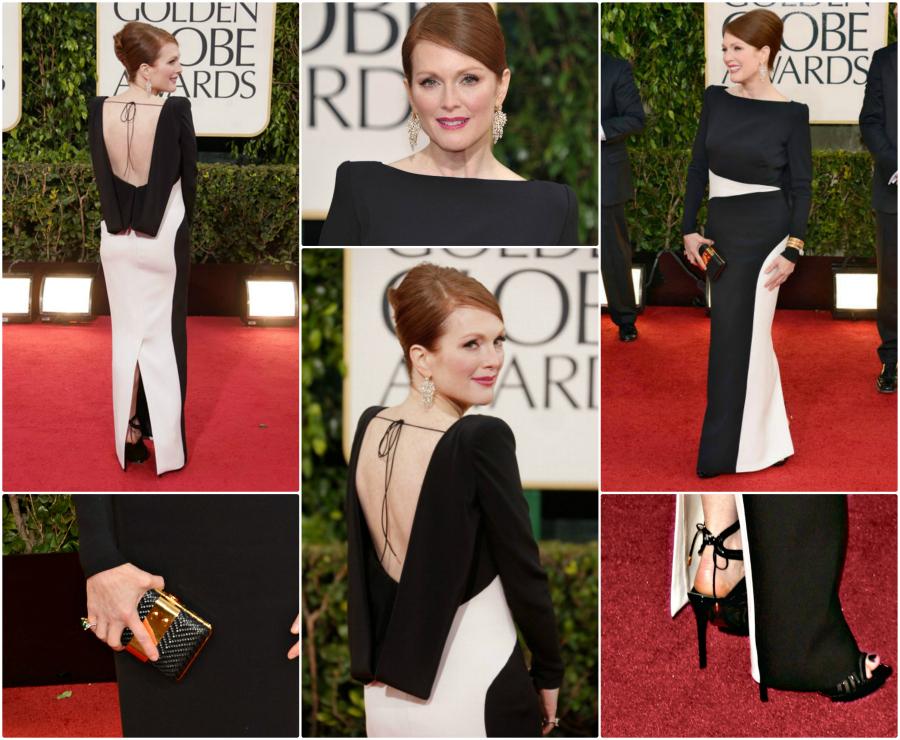 Next is James Bond Daniel Craig mixing it up in a  navy tuxedo with a grosgrain lapel, evening shirt, silk bowtie, silk pocket square and patent leather shoes.  Classic Ford. Tom Ford. His best accessory?  Stunning wife Rachel Weisz.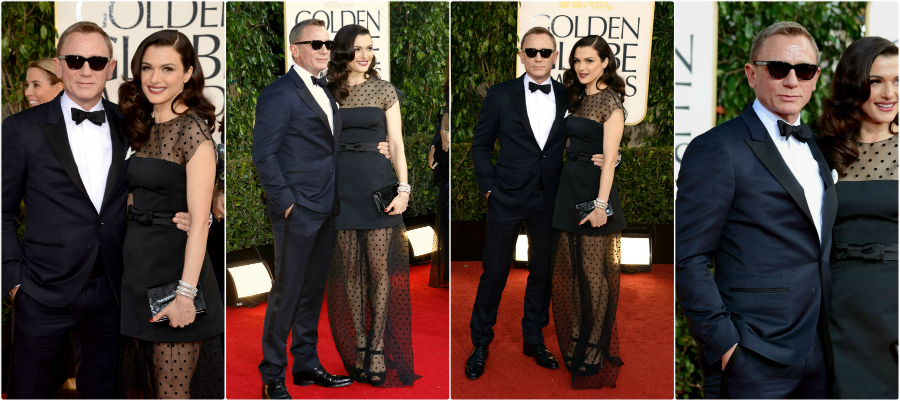 Then we have Bradley Cooper wearing a Tom Ford for the Green Carpet Challenge tuxedo with a grosgrain lapel, evening shirt, grosgrain bowtie, onyx studs and leather lace up shoes. Cooper is the latest celebrity to join Livia Firth's Green Carpet Challenge (GCC).  His custom tuxedo was made from OEKO-TEX® certified, low environmental impact, European spun and woven wool suiting.  If only that bowtie was a teensy bit bigger…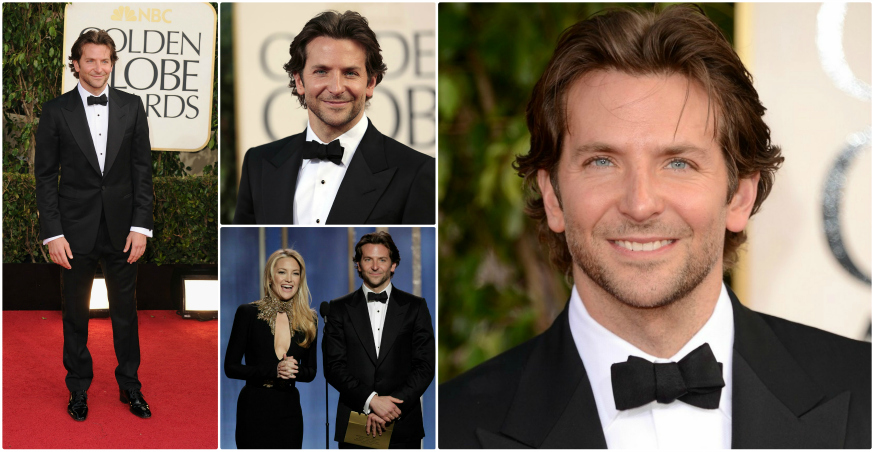 Added to the TOM FORD list this time around was Leonardo DiCaprio. Leo wore a black tuxedo with a notch lapel, evening shirt, silk bowtie and evening shoes. Very debonair. Bradley should take bowtie lessons from Leo. Perfection.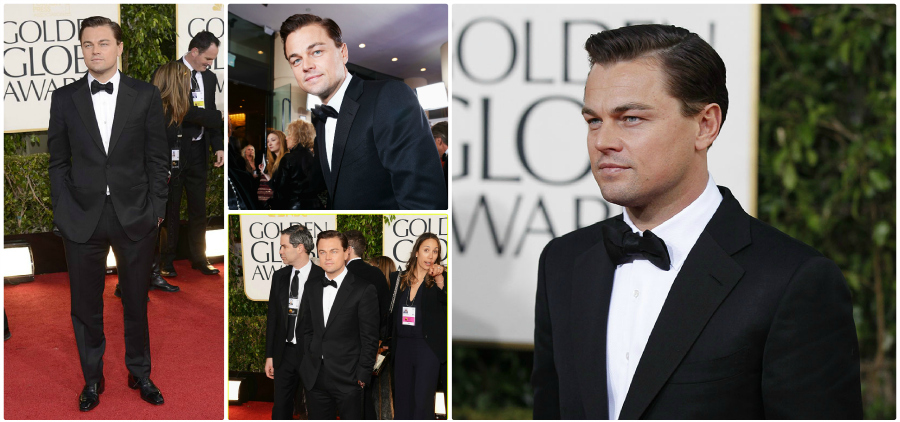 And of course Steven Spielberg, pictured with wife Kate Capshaw, who wore a black TOM FORD tuxedo with a silk tie, evening shirt and leather shoes. I still can't believe he didn't win Best Director for Lincoln. Robbed. Robbed I tell you.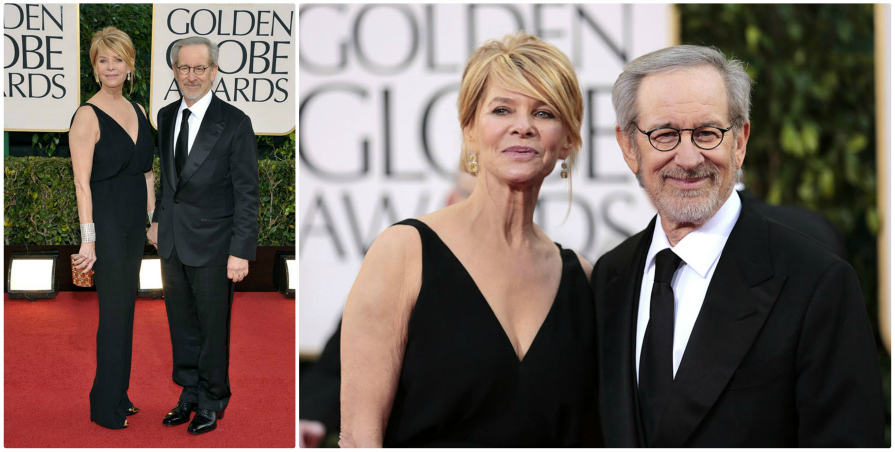 Who do you think wore TOM FORD the best at the Golden Globes? I love Julianne's dress and I think Leo worked that tuxedo like no other. My only complaint is that my Homeland crush Damian Lewis didn't wear TOM FORD as well. That would have been perfection.
Who do you hope to see wearing TOM FORD at the Academy Awards in February? Jennifer Lawrence?  Anne Hathaway? Emma Stone? Gwyneth?  Sound off  below!

Loading ...
Images courtesy of Getty Images and WENN