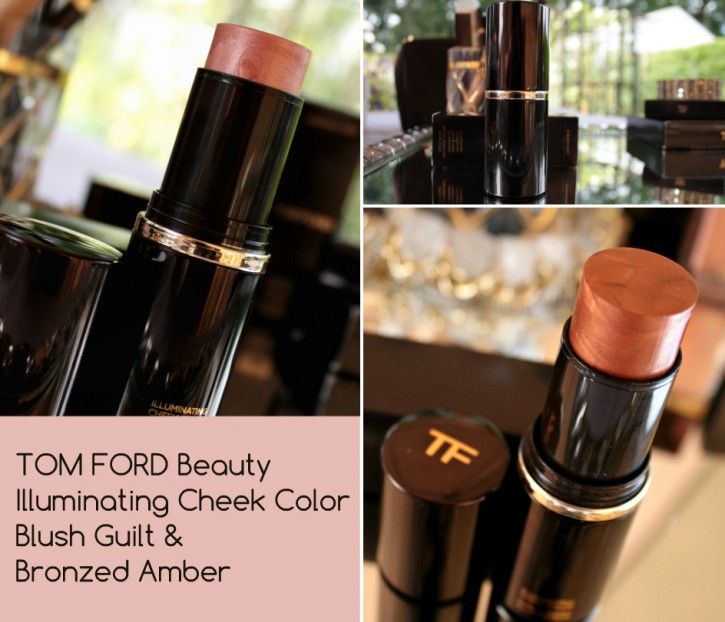 Although Fire Lust is my absolute favorite item from the TOM FORD Beauty 2013 Summer Color Collection, the limited-edition Illuminating Cheek Colors in Blush Guilt and Bronzed Amber ($58) are a close second. Capturing the natural, warm tones the skin reflects at dusk, the Tom Ford Illuminating Cheek Color sculpts and defines cheekbones with a radiant glow. Pearls enhance the formula, giving the cheeks gorgeous luster, added definition, structure and illumination. They impart the loveliest glow to the skin and really help create the "look of skin that is bathed in sunset light in the summer" that defines the summer beauty collection.
It is important to note that Blush Guilt and Bronzed Amber are not intended to be used as blushers – they are illuminators. As such, they are not heavily pigmented and won't provide opaque color.  These products are all about the "glow" and less about color.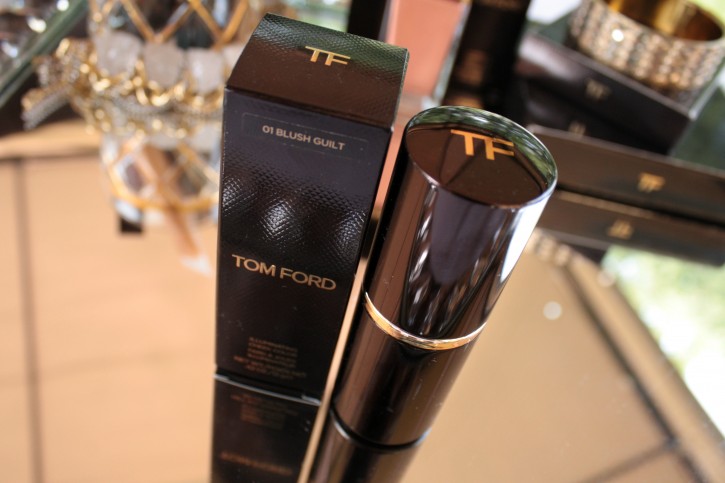 These are housed in the same type of packaging as the TOM FORD Beauty Traceless Foundation Stick and application is simple: apply a few strokes of the stick onto cheeks and blend into skin. To recreate the TOM FORD Beauty 2013 Signature Summer look, pair with a Tom Ford bronzing powder for a sensuous, sun-bronzed effect.
BLUSH GUILT
Blush Guilt is a warm-toned pale peachy-pink color with visible microshimmer.  When applied, Blush Guilt is essentially sheer (unless you are very pale). It leaves my NC25 skin with a lovely dewy finish but very little color. The effect on the skin is very similar to that of Fire Lust, but the liquid illuminator is a bit more pigmented. On the other hand, Blush Guilt is much easier to apply than Fire Lust (which works best mixed with foundation).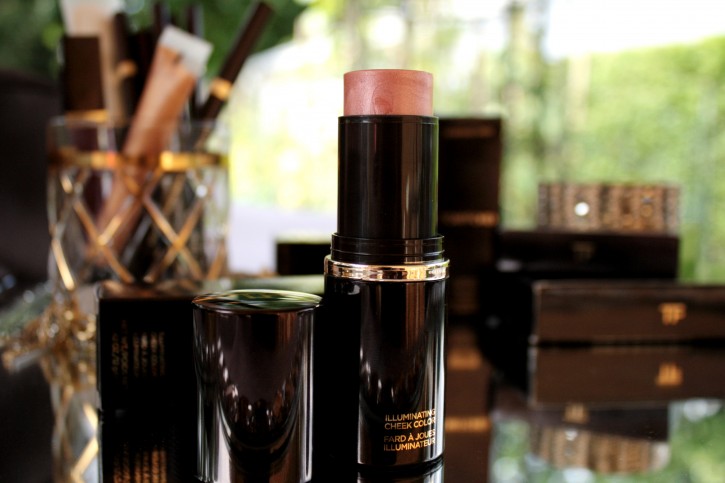 Blush Guilt Illuminating Cheek Color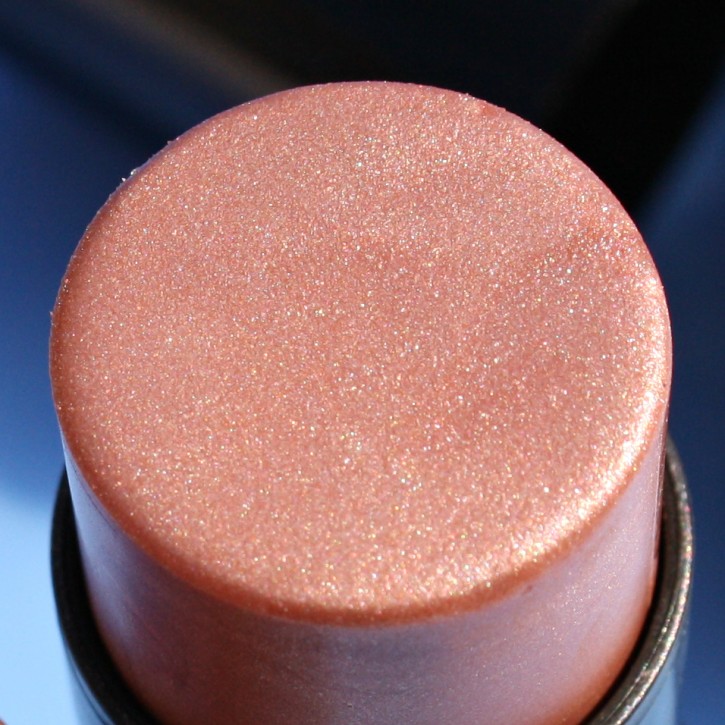 Blush Guilt close-up (visible shimmer)
BRONZED AMBER
Of these two illuminators, I reach most often for Bronzed Amber.  Although it looks almost alarmingly dark in its stick form, when applied it imparts a lovely warm bronze sheen to the skin.  It adds definition to the cheek bones and just the right amount of color to leave you with a sun-kissed glow.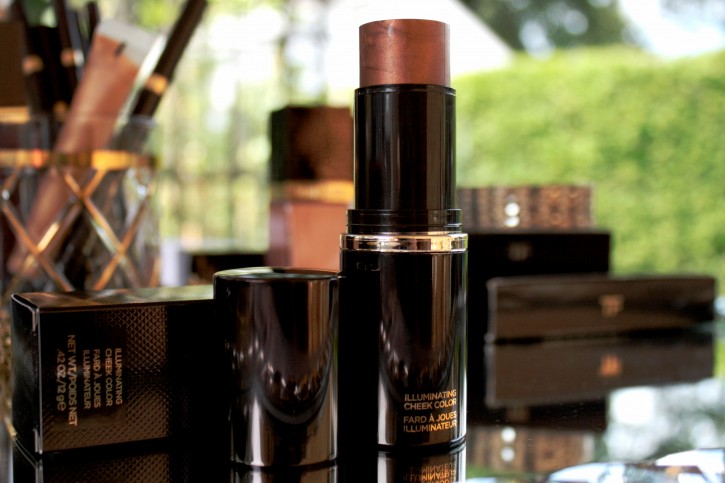 Bronzed Amber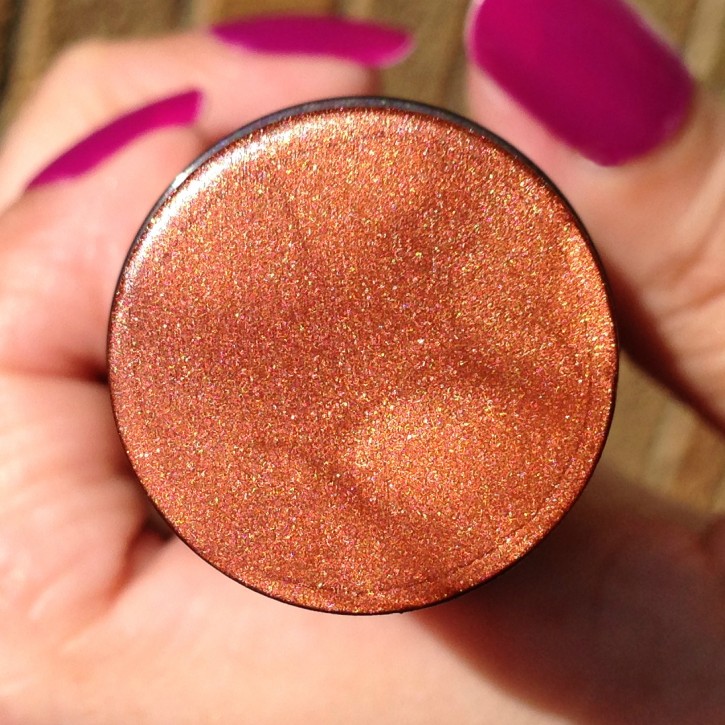 Bronzed Amber close-up (shimmer)
SWATCHES
I had a very challenging time trying to get good swatches of these two products. The shimmer factor in each made it almost impossible for my camera to focus properly. I'll try to re-do these when I have a moment, but here is quick comparison of the two in daylight and shade.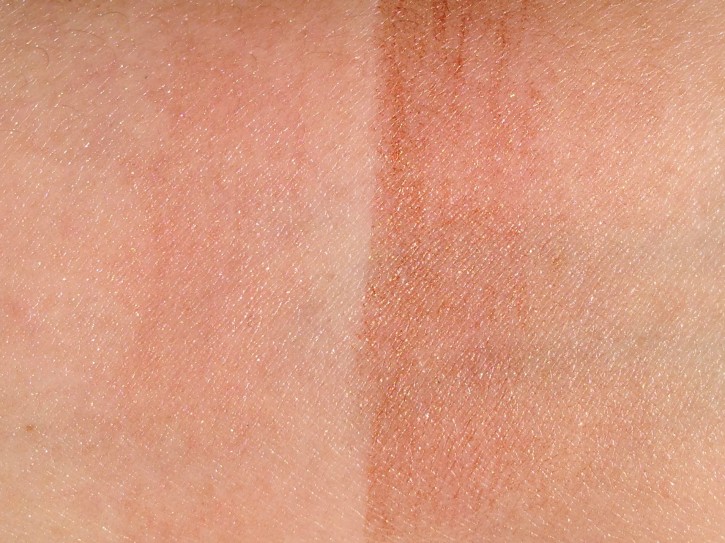 Left: Blush Guilt / Right: Bronzed Amber (heavily swatched Blush Guilt/daylight)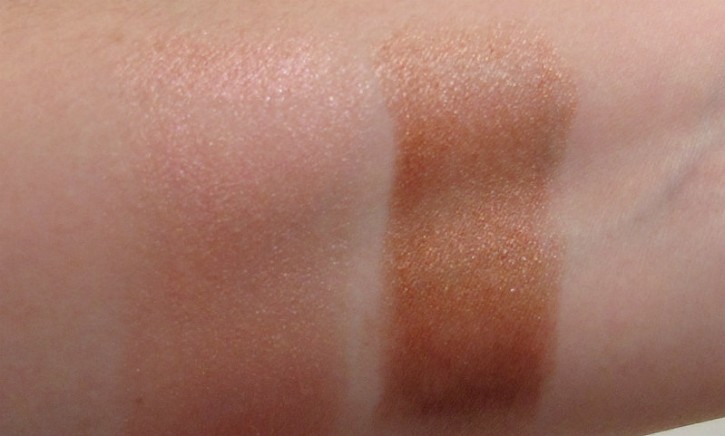 Left: Blush Guilt / Right: Bronzed Amber (heavily swatched Blush Guilt/shade)
FINAL THOUGHTS
The Good: Both Blush Guilt and Bronzed Amber are excellent illuminators that give the wearer a lovely "sun-kissed" glow with a dewy finish. The formula is creamy and smooth and blends easily. In terms of longevity, Blush Guilt lasted about 7 hours on me and Bronzed Amber about 8 1/2 hours.  If your skin is on the oily side you likely won't get as much staying power unless you use a powder on top of the illuminators.
The Bad: I found that Blush Guilt and Fire Lust give me very similar results.  I wish the pigmentation in Blush Guilt was a bit better, but on my skintone (NC25) it really is quite sheer (the above swatches of Blush Guilt are VERY heavily swatched to pick up that much color). If I had to pick between Blush Guilt and Fire Lust, I would pick Fire Lust.
What do you think of the Illuminating Cheek Colors?  Will you be buying either shade?
TOM FORD BEAUTY Illuminating Cheek Colors ($58)