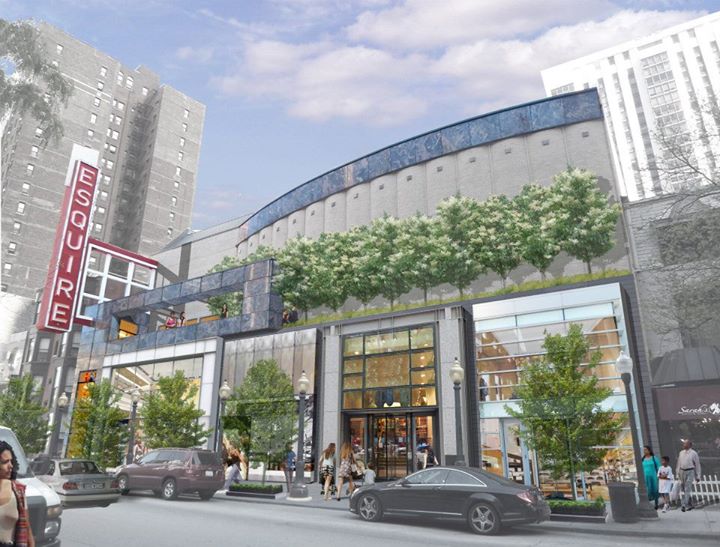 It's official!  The TOM FORD flagship store in Chicago's Gold Cost neighborhood opens today, August 23rd. The luxury fashion boutique is located at 66 East Oak Street in the old Esquire Theater building.  Check out the details below and let me know if you visit – I'd love to hear what you think about it!
August 23, 2013 – Tom Ford announces the opening of the Chicago flagship store today, the fourth directly operated TOM FORD flagship in the United States after New York, Las Vegas and Beverly Hills. Located on Oak Street, Chicago's most prestigious shopping district, the TOM FORD flagship occupies 4,700 square feet over two floors in the luxury retail center formerly home to the Esquire Theater.
Says Tom Ford, "There was no question that my next location for a flagship would be Chicago. It is a city of impeccable style and taste. Our goal with this store is to address an extremely discerning luxury customer who demands the highest quality product and service."
The exterior of the Oak Street store reflects the local design vernacular with Renaissance Grey limestone on the façade and Blue de savoie marble visible on the floors and around the display windows and entry. Painted grey metalwork and a custom designed Makassar Ebony wood door handle define the store's entrance.
Visitors walk into a spacious salon with soaring 15-foot ceilings, mirrored columns, light grey walls and the signature TOM FORD patterned marble floor. The salon, home to TOM FORD Accessories, Cosmetics, Fragrances and Eyewear, features a dramatic focal point with a raised mannequin display. Polished chrome and glass vitrines with grey mist mirror and grey ultrasuede cases contain the collection's Accessories for women and men. TOM FORD Eyewear is presented alongside them on bold, stone plinths. The TOM FORD BEAUTY Cosmetics Collection is housed in a mirrored area surrounded by columns of Newport White marble and fragrances are presented on a grand, marble-top table. Custom made lamps of limestone give the area a private-home feel.
Visitors then enter the TOM FORD Womenswear salon, which creates a mood of feminine elegance with light-grey walls, silk carpeting and glossy, grey lacquer wardrobes with ebony back panels. Clients are invited to relax in a sitting area with silver-grey silk sofas, grey marble drum side tables and a silk area rug. Silver-blue wool drapery in the fitting room completes the mood.
The TOM FORD Menswear salon uses a palette of dark grey with touches of antique bronze trims and ebony accents. Sofas are upholstered in dark brown velvet, and sofa back tables of Moonlight Black marble and blackened steel are topped with custom-made, Quinet-inspired table lamps with bronze tripod legs. A richly colored beaver area rug and grey flannel drapery add to the salon's feel of a masculine private club. The salon features two fireplaces: one clad in grey mist mirror and the other in Kenya Black marble, along with a Calder mobile sculpture that hangs above the seating area.
The second floor is home to a luxurious VIP Salon. Walls are covered in ivory ultrasuede and floors are covered in brown carpeting. Clients may also enjoy the salon's private bar. The centerpiece of the VIP Salon is a curved, polished chrome fireplace with a black marble hearth and a rock crystal display inside. The sumptuous sitting area includes marble-top tables and an inviting white sofa with a soft beaver rug. The mood of rich comfort extends to the brown velvet drapery in the fitting room. Clients visiting the VIP Salon also discover an exquisite powder room
made of marble and glass.
Press release courtesy of TOM FORD
Rendering by Booth Hansen