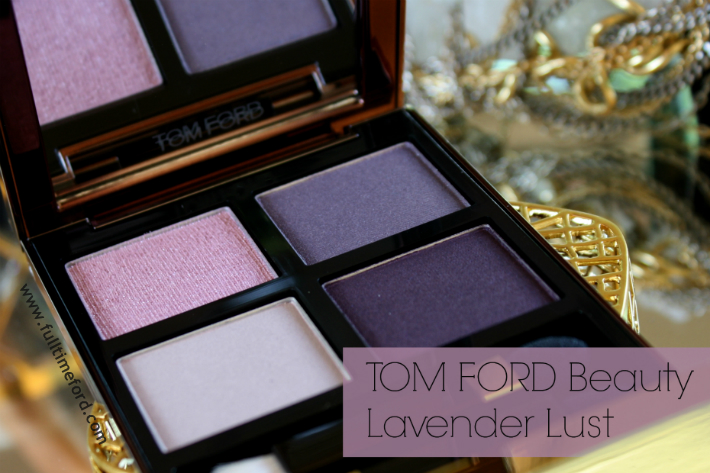 Let's take a look at Lavender Lust.
This eye color quad was first released in Spring 2013 as an Asian exclusive along with another quad named Seductive Rose. I believe Seductive Rose was likely the more popular of the two but I really really wanted to check out Lavender Lust for myself. This wasn't an easy task — it involved begging a friend who lives in Singapore, arranging to have some funds transferred, and stalking the post office and my mailman daily for about 2 weeks straight.
Turns out that was all completely unnecessary as Lavender Lust is joining the permanent collection this Fall as a replacement for Violet Dusk. Who knew?!? (Note: Seductive Rose is joining the permanent collection as a replacement for Crushed Amethyst).
Before we dive into the shadows, can we take a moment to admire the case, please?
TOM FORD Beauty packaging is — by far — my favorite cosmetic packaging. The eye color quads don't come in some cheap plastic case. They come in the same beautiful high-gloss black/maroon packaging as the rest of the collection.  Each quad is encased in a brown velvet sleeve which doubles as a cloth you can use to help remove fingerprints from the outside of the case.
The detail is beautiful… all the way from the TOM FORD emblazoned on the side of the quad…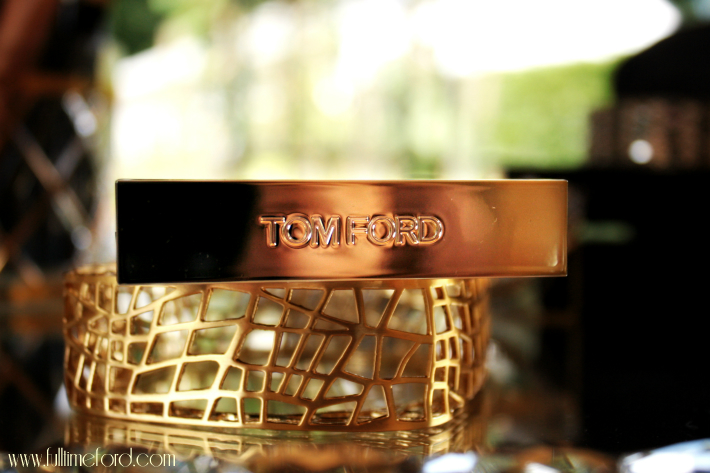 … to the large mirror on the inside…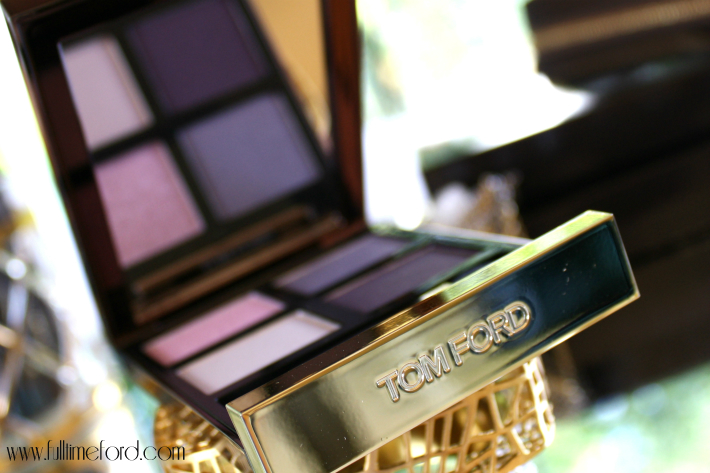 …. to the shape of the quad itself…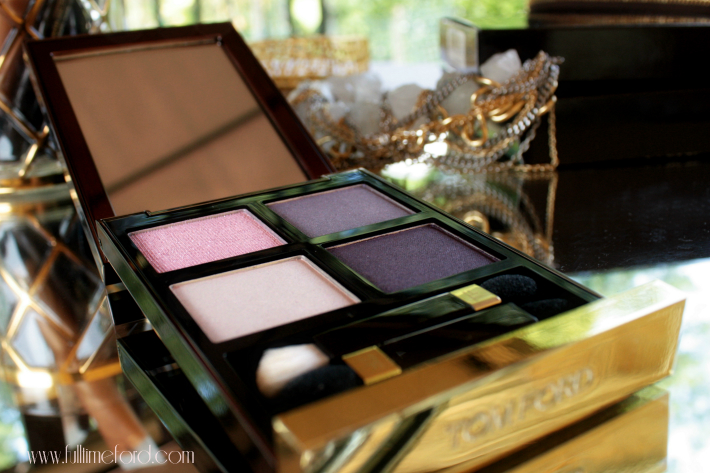 But we aren't here to admire the packaging, right?
We are here to examine the shadows!
So let the drooling commence.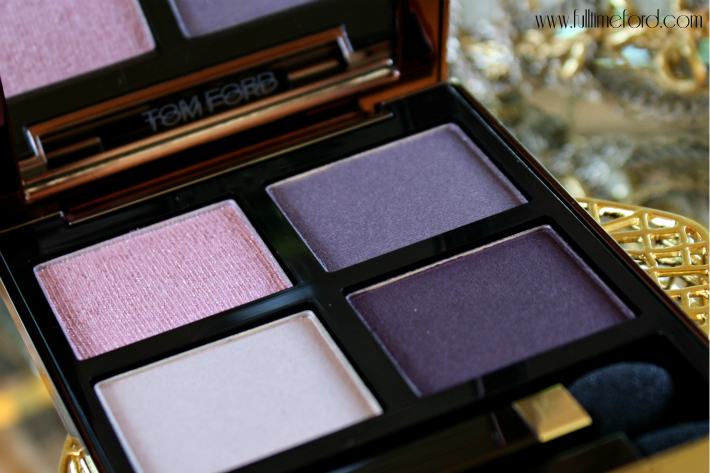 Remember the crazy, super-pigmented purple shadows that were popular during the 1980s?
Yeah.
This isn't like that.
Lavender Lust is a very subtle quad… it is beautifully pigmented but it is delicate.
It is sensuous. It is opulent.
All four shades compliment one another and work together to create a very soft cool-toned smokey eye with just a touch of sparkle.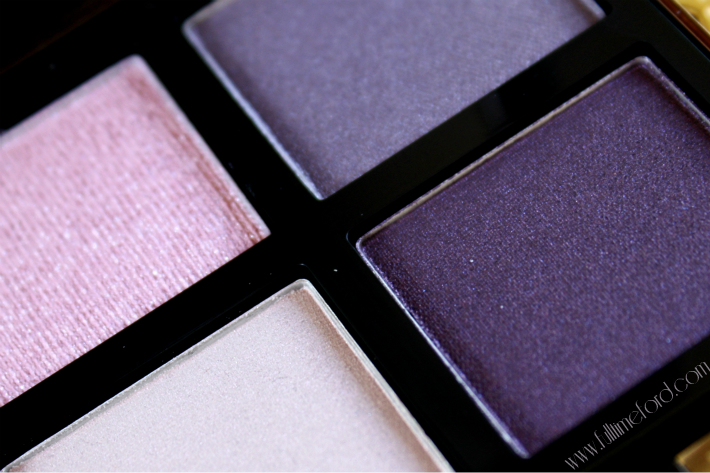 The color edit is:
Top left:  sheer, very light pink sparkle with a hint of silver
Top right: pale plum with a touch of dove gray (soft satin finish)
Bottom left: sheer light lavender with a hint of gray (soft satin finish)
Bottom right: deep aubergine with micro shimmer (soft satin finish)
Lavender Lust Comparison
These close-ups should give you a better idea of what the colors look like and offer a comparison in direct sun vs. natural light: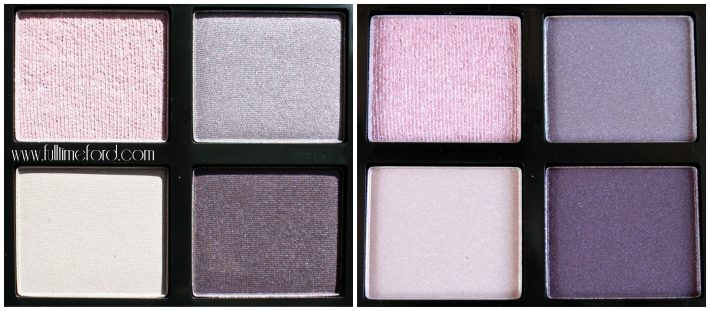 Left: direct sun/Right: natural light
I mentioned above that Lavender Lust is replacing Violet Dusk in the permanent collection. They definitely aren't dupes of one another, but I own both and can see why this decision was made.
Lavender Lust is a softer quad and the color edit is more sophisticated. I think it is also more wearable.
Lavender Lust vs. Violet Dusk
For an in-depth look at Violet Dusk you can read this post, but here is a comparison of the two shades: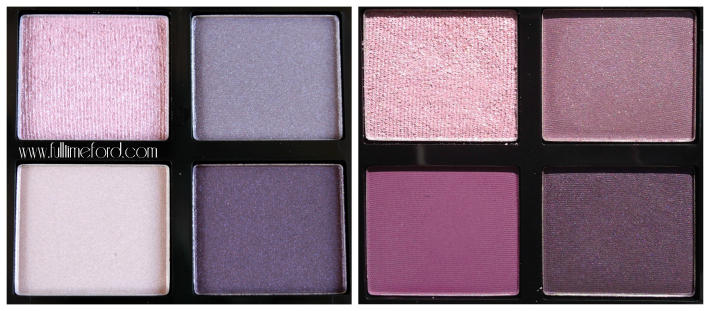 Left: Lavender Lust/Right: Violet Dusk
There are definite differences in the color edit, the most noticeable being the bottom left shade followed by the top right.
Top left: both are glittery, but Lavender Lust is a more pigmented pink
Top right:  Violet Dusk is a lighter and more pink while Lavender Lust is somewhere between pale plum and dove gray
Bottom left: Violet Dusk is purple while Lavender Lust is a sheer lavender
Bottom right:  very similar colors in both. Violet Dusk is perhaps a bit brighter and warmer but they are virtually identical on me.
Swatches: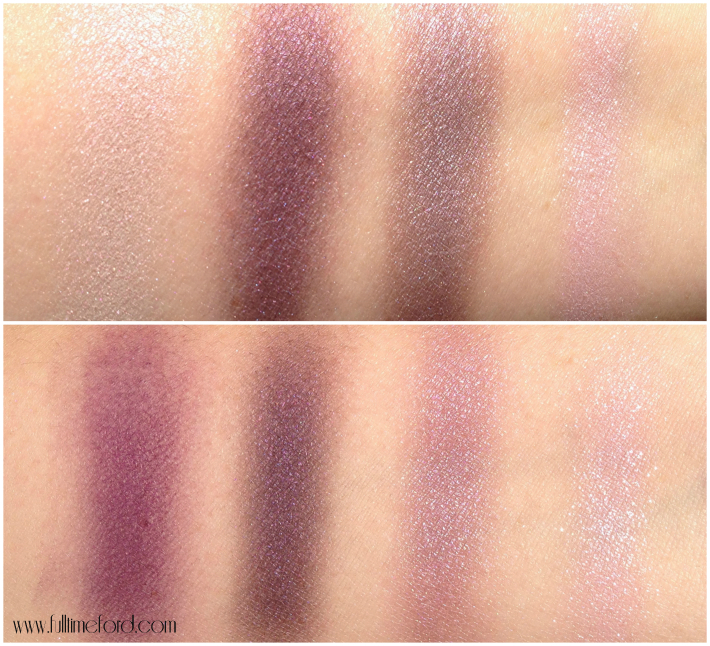 Top: Lavender Lust (bottom left, bottom right, top right, top left)/Bottom: Violet Dusk  (bottom left, bottom right, top right, top left)
I still haven't mastered the art of eyeshadow self-portraits so I apologize in advance for the quality, but here are a couple of close-ups of me wearing Lavender Lust so you can see what it looks like with blue eyes. I have the sheer lavender color on as a base and the pale plum as a contour color. The light pink sparkle is applied on the inner corner and center of the eyelid. I lined my upper lashes with the Eye Defining Pencil in Bruise and ran the dark aubergine shade over it and finished the look with the Brow Sculptor in Taupe and Extreme Mascara in Raven. I wish you could see more of the definition in the look but this is the best I can do for now when it comes to selfies!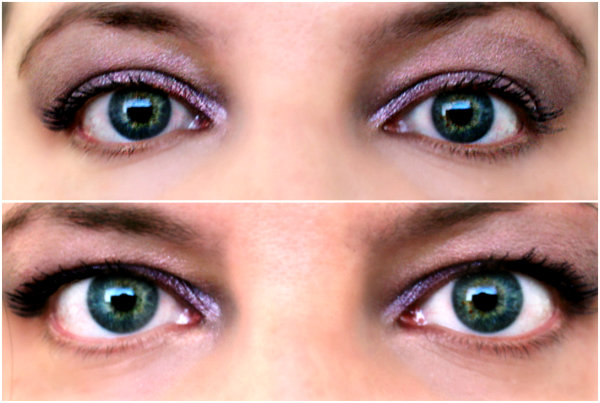 The shadows wear beautifully and are very long-lasting (they last through a work day and into the evening hours, no problem). The 0nly issue you run into is there is some fallout from the sparkle/glitter shade but that is to be expected.
I definitely love Lavender Lust though I am a fan of Violet Dusk as well.  This one is just a bit more… elegant.
Do you own either quad? Which do you prefer?
TOM FORD BEAUTY Eye Color Quads ($78)

Image Credit: All images taken by me