The TOM FORD Beauty 2014 Spring Collection introduced us to new retro-chic ivory and gold packaging reminiscent of the first generation of TOM FORD Private Blend Lip Colors. I was a huge fan of the original white and gold packaging, and felt some disappointment when it was replaced with the sleek mahogany cases we all now know and love.  I think I was almost as excited about the packaging for the Spring 2014 beauty collection as I was the products! I'm happy to share that the ivory and gold look is still going strong in the Summer 2014 Color Collection.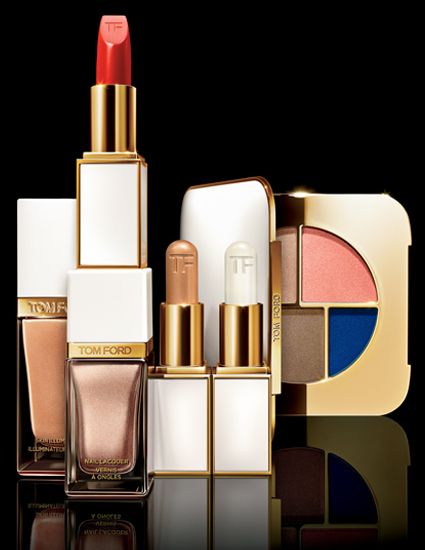 UPDATE April 14, 2014:
Currently in the U.S., the Unabashed palette is available online ONLY on tomford.com. It's already sold out online everywhere else. If you would rather shop at a bricks and mortar location, it is also available and ready to ship at the Chicago TOM FORD Boutique. If interested, call Constance to order at (312) 288-1449 or email her at cms@tomfordinternational.com and tell her Full Time Ford referred you.
TOM FORD Beauty Summer 2014 Color Collection
"Sun-kissed skin with a hint of daring color has a powerful simplicity that is effortlessly stunning." – TOM FORD
The highlights of the collection are a stunning Limited-edition Eye and Cheek Compact (shown below in Unabashed) and two  Lip Shimmers designed to help capture that sultry, hot-weather look.
EYE AND CHEEK COMPACT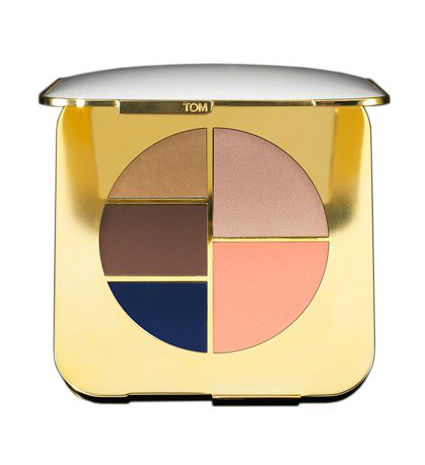 "This palette offers an effortless summer look with a twist of color… eyes are enveloped in a blend of soft pearl and satin finish neutrals and a bold accent of cobalt… cheeks are illuminated with light rose and peach coral shades for a warm and sexy glow."
Inspired by the look of natural, glowing skin, touched with a splashes of vivid colors, this all-in-one compact contains three eye shadows and two cheek colors. Featuring sumptuous Tom Ford formulas, the neutral shadows with the light rose blush give a gorgeous vibrancy, while the cobalt blue eye shadow and the coral blush give a dramatic look. The striking case in a reflective ivory finish is accented with the Tom Ford logo on the front gold band and frosted inside mirror.
Eye and Cheek Compact: Cost: $95/£68 (Buy It Online Now: TOM FORD Online / Bergdorf Goodman (SOLD OUT!) / Neiman Marcus (SOLD OUT!) / Nordstrom (SOLD OUT!)  / Saks Fifth Avenue (SOLD OUT!) / Harrods / Selfridges)
The compact is approximately the same size as the Bronzing Powder (here or here), while the Lip Shimmers take their design inspiration from the popular Lip & Cheek Stain released back in Fall 2012.
LIP SHIMMER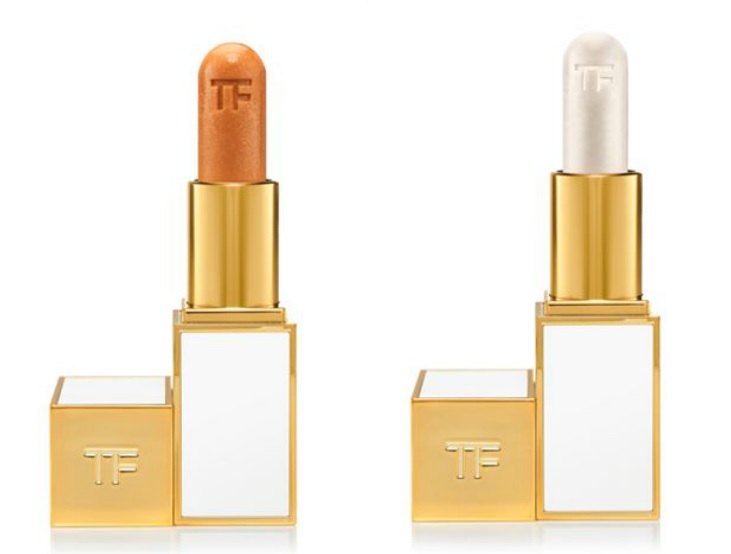 TOM FORD Lip Shimmer: Solar Gold (l) and Moonlight (r)
Tom Ford Lip Shimmer in Moonlight and Solar Gold can be swept onto bare lips for a sultry, glimmering effect, or veiled over Tom Ford Lip Color to add radiant shimmer to a spectrum of nude and vivid shades. Infused with Vitamins C and E and Shea Butter, this moisturizing lip glaze in a domed bullet is packaged in the limited edition, ivory- and gold-colored Tom Ford case.
Lip Shimmers: Cost: $49/£36 (Buy It Online Now: TOM FORD Online / Bergdorf Goodman (Solar Gold and Moonlight) / Neiman Marcus / Nordstrom / Saks Fifth Avenue / Harrods / Selfridges)
SKIN ILLUMINATOR
In addition to these items, the other selection sure to be a sell out is the Skin Illuminator in Fire Lust.  If you missed this last year (and it was sold out almost instantly in stores and online), this will be your chance to pick it up again.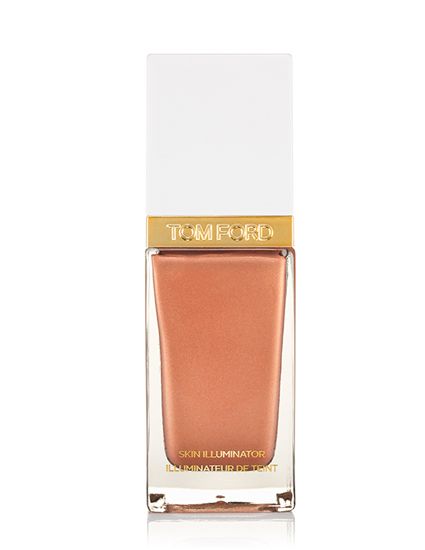 Tom Ford created the Skin Illuminator to give the face a naturally enhanced, sun-kissed look while moisturizing and soothing the skin. The shimmering, peach-pink shade flatters every skin tone, as highly micronized pearls diffuse light around the face. It can be applied all over on its own, or mixed with Tom Ford Traceless Foundation, to achieve the look of balanced skin. The Illuminator can also be used as a highlighter under or over makeup.
Skin Illuminator in Fire Lust: Cost: $65/£45 (Buy It Online Now: TOM FORD Online / Bergdorf Goodman / Neiman Marcus / Saks Fifth Avenue / Harrods / Selfridges)
We have all this to look forward to, plus the nail lacquers and lip sheers (reviewed here) from the Spring 2014 Color Collection will help to round out the collection.
Gorgeous no?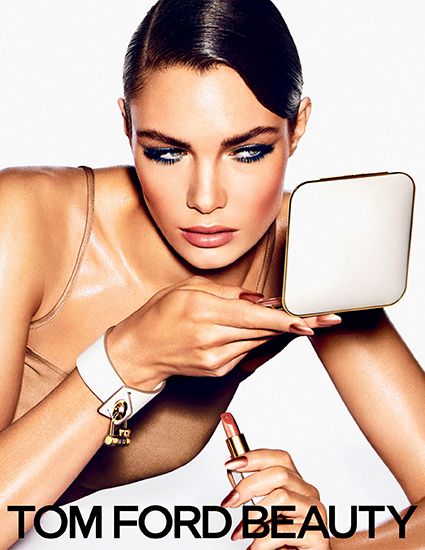 Alexandra Martynova for TOM FORD Beauty Summer 2014 
The collection was technically due to be available in the US on May but you can order now from the links above.
What will you be buying?
Images via TOM FORD