"Where can I find the Nude Dip Eye Color Quad?"
This is the question that is flooding my email account right now. Every time it is available online, it sells out within an hour or two, and it's selling out in stores.
So… where can you find it?
Right now your best bet is bricks and mortar stores, as online availability is spotty at best (and who really wants to stalk websites all day?).
The purpose of this post is to share locations that have the eye color quad either in stock or are waiting on a delivery. I will continue to update and add more shopping options as I confirm them (and feel free to add any availability you know of in the comments below).
Right now, let's start with this:
TOM FORD CHICAGO
Constance at TOM FORD Chicago is wonderful. They have restocked Nude Dip (but as always, quantities are limited). Call her at (312)888-1449 or email at cms@tomfordinternational.com. If they are sold out again, you may want to join the wait list! $10/shipping.  Tell her FULL TIME FORD sent you.
BLOOMINGDALES
The Quad is SOLD OUT available online.
HARRODS
The Quad (and rest of the collection) is now available online.
THOMAS RUIZ AT BERGDORF GOODMAN NYC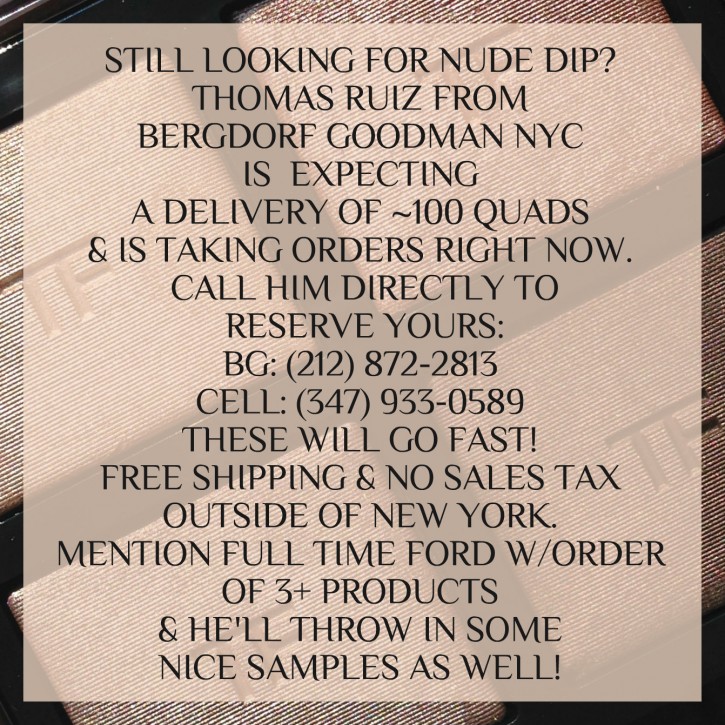 Call Thomas Ruiz at Bergdorf Goodman NYC (Store: (212) 872-2813 or Cell: (347) 933-0589). He is expecting a delivery of approximately 100 Nude Dip Quads and has the rest of the Fall Collection in stock as well. If you purchase 3 or more item and mention FULL TIME FORD, he'll even throw in a few surprise samples for you!
NEIMAN MARCUS (Free shipping)
Online: the Quad keeps going in and out of stock.  You can check back every so often if you are determined to buy online. Direct link here.
Bal Harbour: Call (305)865-6161 to order QUAD IS SOLD OUT (but they still have the rest of the collection, including cheek duos)

Palm Beach: Call (561) 805-6150 and ask for Mary. 
SAKS FIFTH AVENUE
Dadeland location: Call (305) 662-8655 Ext. 353 to order (SOLD OUT)
More to come!