"Sensuous for me is one of the most important words I would use to describe my cosmetics collection.  Beauty that is sensuous is touchable and powerful." – Tom Ford
I think it's safe to say that if you are visiting this particular blog you are a fan of Tom Ford.
As such, you are probably pretty excited about the upcoming release of the Complete TOM FORD Beauty Collection.  Am I right?
I have to admit the anticipation is slowly driving me mad…
I gave you a sneak peek of the promotional images earlier this month and by now you have probably seen quite a bit of additional coverage around the web.  The lucky folks living in Ireland and the UK have access to the collection before we do, so images of the actual products (with swatches and all) are appearing all over.
I wanted to take a minute to cover some basics you should know before you check out the collection in stores.
So, what is actually IN the Collection?
"The ultimate goal of these products is to enable any woman, no matter her age or features, to create a complete look in which her individual beauty is amplified and she appears to radiate from within." – Tom Ford
The promo shots were a great way to wet our appetites, but you are probably wondering what the actual content of the collection is… how many eyeshadows, lipsticks and brushes will you be able to choose from?  Let's break it down.
Eyes:
10 Eye Color Quads
1 Extreme Black Mascara

This combines the darkest black carbon and lash-filling powders to create a blacker-than-black shade.

6 Eye Defining Pencils
1 Noir Absolute Gel Liner for Eyes

With "a unique spark of blue optics to catch the light and brighten the eyes."

4 Brow Sculptor Pencils

Feature a unique calligraphy tip and built in sharpener
Lips:
18 Lipstick Shades

(Scroll down for review links)

10 Ultra Shine Lip Lacquers (Glosses)
1 Clear Lip Lacquer for High Shine
Face:
6 Cheek Colors
12 Liquid Traceless Foundations with SPF15
10 Traceless Foundation Sticks
4 Concealer Pens
4 Translucent Finishing Powders
2 Shade and Illuminate Palettes

This is a duo product with a dark cream shade for contouring and a light illuminate shade for highlighting.

1 Illuminating Powder
8 Illuminating Highlight Pens
Brushes and Skincare:
12 Luxe Makeup Brushes

Eyes and Lips (Eyeshadow, Blending, Contour, Smokey Eye, Eyeliner/Definer and Lip Brush)
Face  (Concealer, Foundation, Cream Foundation, Cheek,  Shade and Illuminate and Bronzer)
Brushes are made of white horse hair, super goat hair and synthetic fibres.
Skincare Range

Purifying Gelee Cleanser
Purifying Creme Cleanser
Intensive Infusion Daily Moisturizer
Intensive Infusion Ultra Rich Moisturizer
Infusion Concentrate Extreme Serum
Intensive Infusion Eye Treatment
Makeup Remover
Illuminating Protective Primer SPF 12
Fragrances:
Private Blend: Santal Blush (read the review here)

Created by Yann Vasnier.
Woody fragrance with notes of ylang ylang, cumin, cinnamon bark, carrot seed, jasmine, rose, cedarwood, Australian sandalwood, oud, musk, benzoin.

Private Blend: Jasmin Rouge (read the review here)

Created by Rodrigo Flores-Roux.
Fruity floral composition with notes of bergamot, mandarin, cardamom, cinnamon, ginger, black pepper, white pepper, broom flower, jasmine sambac, neroli, ylang ylang, clary sage, Mexican vanilla, leather, woody notes, amber, labdanum.

Signature Series: Violet Blonde (read the review here)

Notes of violet leaf ibsolute, Italian mandarin, baie oose, Tuscan orris absolute, Tuscan orris butter, jasmin, sambac, sampaquita, benzoin, cedarwood, vetiver absolute, musk, soft suede
Nail Lacquer:
16 Nail Lacquer shades (12 won't be available until December)
Out With the Old, In With the New
There are a total of 18 lipsticks in the collection (and they are all available NOW on Saks Fifth Avenue, Neiman Marcus, Nordstrom and Bergdorfs!), but not all of the existing Private Blend Lip Colors made the cut and the packaging will be changing from white/gold to black/gold.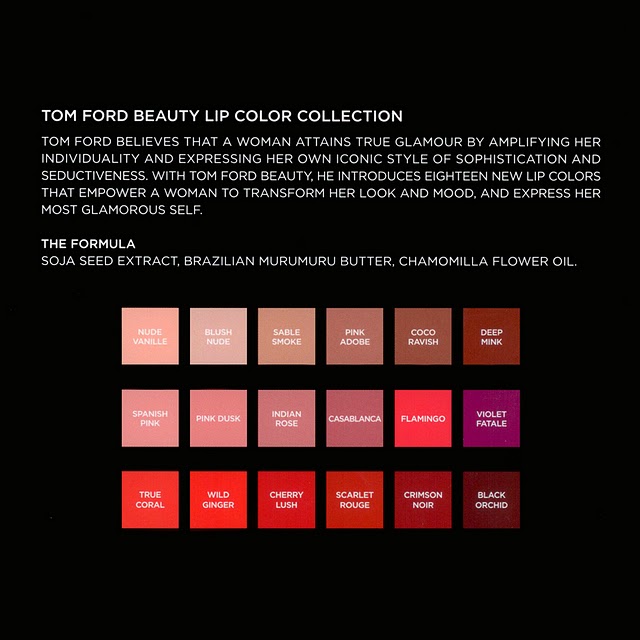 Here is where things stand:
New Shades:
Nude Vanille (review soon!)
Sable Smoke
Pink Adobe
Coco Ravish
Deep Mink (review soon!)
Spanish Pink
Indian Rose

(review)

Casablanca
Flamingo
Violet Fatale

(review)

Wild Ginger

(review)

Scarlet Rouge
Crimson Noir (review)
Original Shades That Remain:
Blush Nude
Pink Dusk
True Coral YAY! (review soon!)

Cherry Lush (review soon!)
Black Orchid YAY! (review)

Is your favorite missing?  If you are a fan of any of the colors that are being discontinued (or of the white packaging!), get them now before its too late!  For a limited time you can still order online at Bergdorf Goodman and Neiman Marcus, or reserve via phone at Bergdorfs.
Original Shades Being Discontinued:
Bruised Plum
Ginger Fawn
Moroccan Rouge
Pure Pink  BOO!! I love this color 🙁
Smoke Red
Vanilla Suede
Warm Sable
Again, the NEW Lip Color line is available for order NOW at Saks Fifth Avenue, Neiman Marcus, Nordstrom and Bergdorf Goodman!
More From Around the Web:
If you want to take a look at various swatches and reviews from around the web, check these sites out:
I have decided I want everything.  Time to renew my makeup and skin care collection!
What about you?
All images via Beat.ie, Tom Ford Facebook Page or Models.com