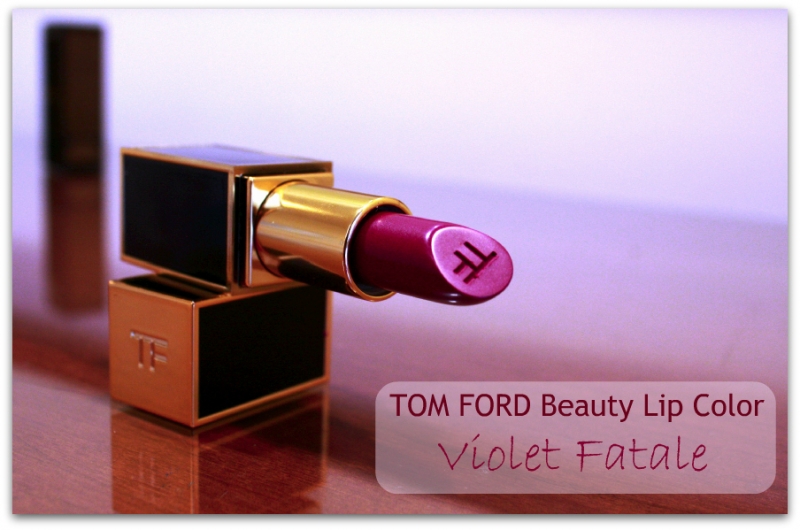 I started wearing TOM FORD Private Blend Lip Colors in 2010.
First was Black Orchid.  Then Pure Pink.  Finally, True Coral.
To say I am a fan of the TOM FORD Lip Color line would be an understatement: True Coral and Pure Pink have been my go-to shades since the day I purchased them, and Black Orchid remains in regular rotation.  I love them.
The colors are astoundingly beautiful and they wear better than any other lipstick I have tried, including my beloved MAC and Bobbi Brown shades.   Seriously, people.  When you apply a TOM FORD Private Blend Lip Color first thing in the morning, it will last for a good 6 hours.  As the formula wears throughout the day it doesn't just disappear from your lips – it evolves into a stain that leaves your lips touched with color for hours.
Not to mention, the lippies have a lovely vanilla scent and are extremely rich and emollient.  Some are more moisturizing than others, but most will leave your lips feeling and looking sexy.
When the news about the expanded Private Blend Lip Color line broke, I was both excited and disappointed. Excited to learn about the new shades, but devastated that Pure Pink, my go to pink lipstick, was being discontinued!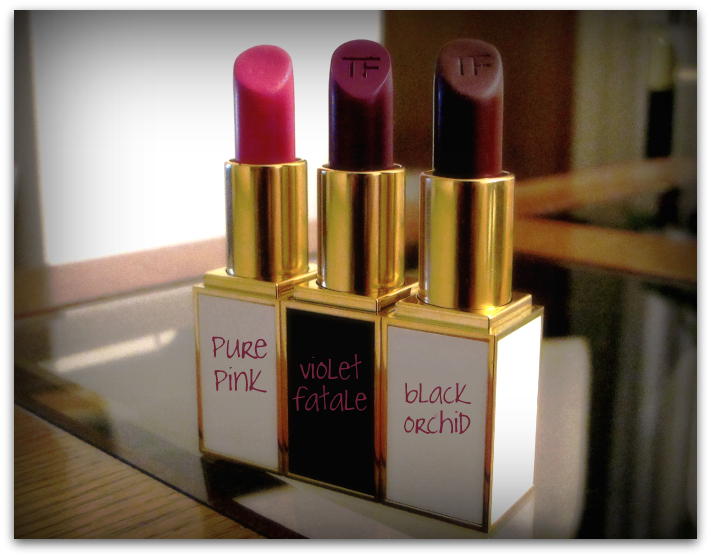 Oh no! Not Pure Pink!!!!
The news about Pure Pink was extremely upsetting, but I consoled myself with thoughts of the new shades that would be available.  When the new colors finally became available to order online, I wasted no time in purchasing Violet Fatale, Cherry Lush and Indian Rose.  Out of the three, I wasn't sure if Violet Fatale would be wearable for me, but I knew I had to try it.  And you know what?
It is officially my favorite Lip Color E.V.E.R.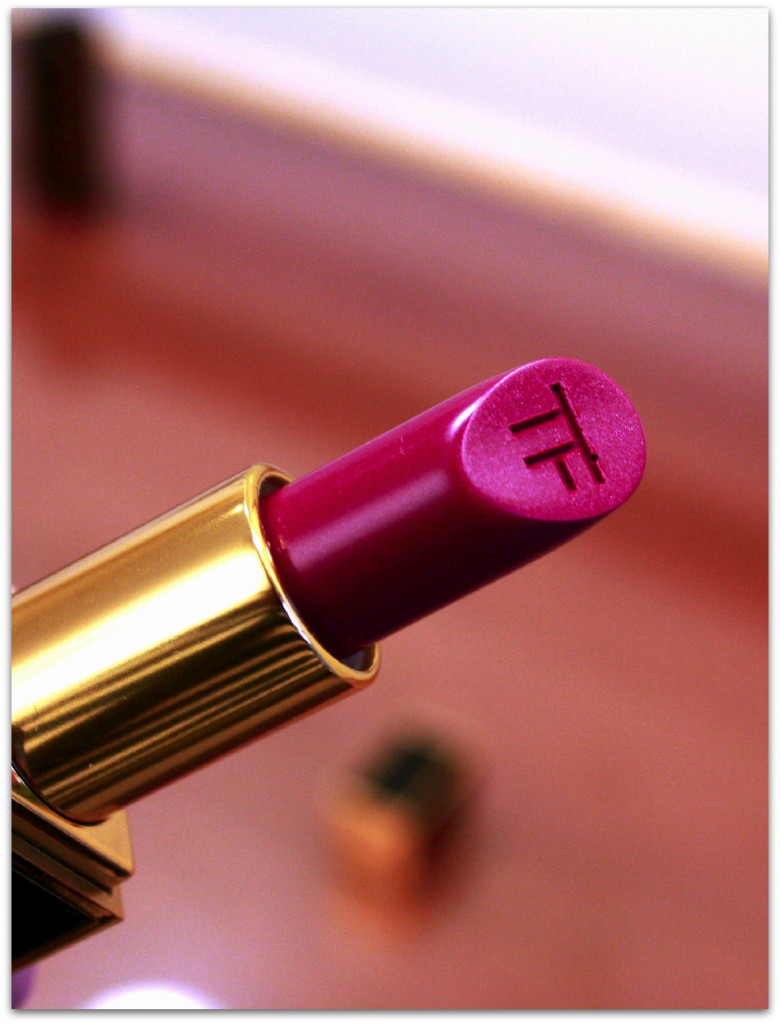 I swear I took about 100 pictures of this lipstick before I finally captured the true color.  That is it, my friends.  Amazing, no?
How about another angle?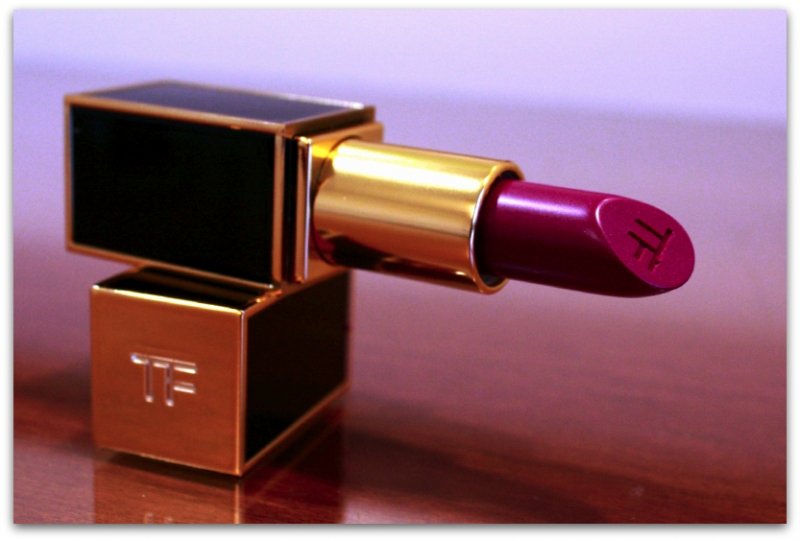 And another?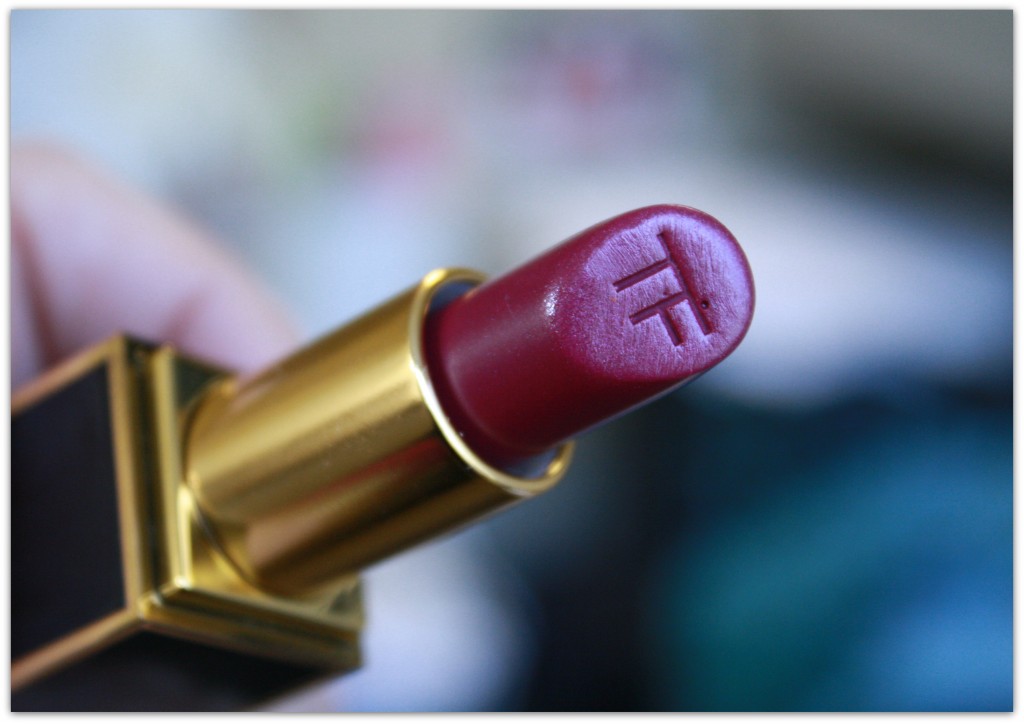 Know what else?  It looks beautiful on!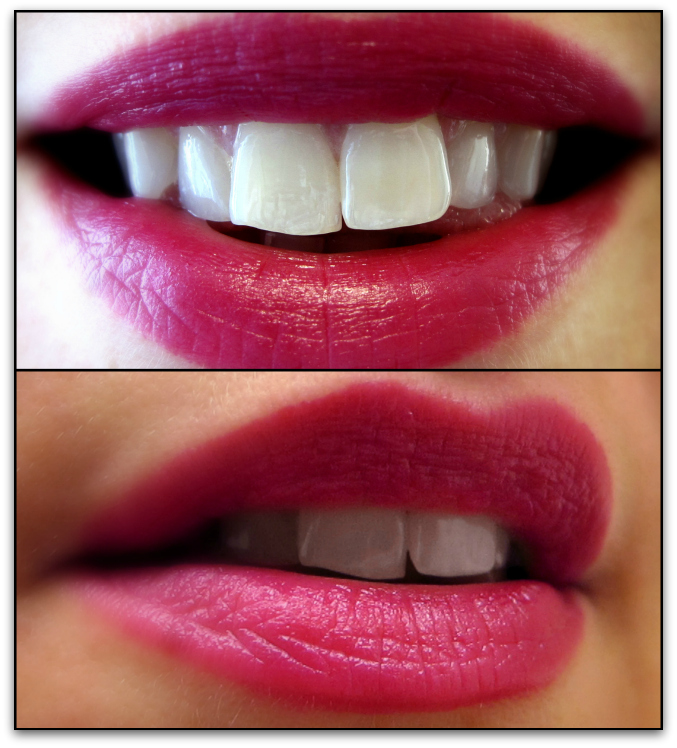 Top: multiple layers/Bottom: single application
It isn't quite as dramatic on me as it is on Lara Stone (I think Lara is actually wearing a gloss on top that makes the color even more striking) but it's amazing nonetheless.  The color can be ramped up by applying a number of layers until it's fairly true to the way it looks in the tube.  That is my preferred method.
After a few hours it fades to a lovely stain: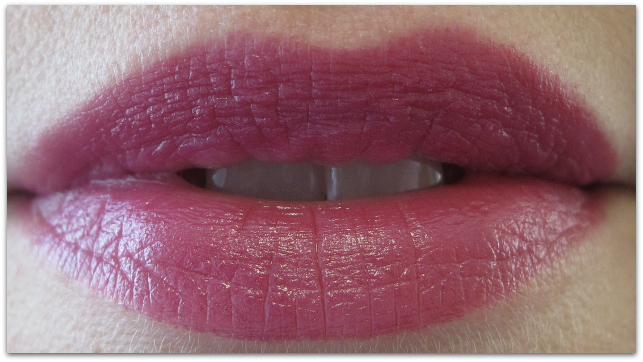 After 4 hours/lunch/coffee/etc.
 As an added bonus, it turns out that a single application of Violet Fatale can serve as a decent substitute for the now discontinued Pure Pink!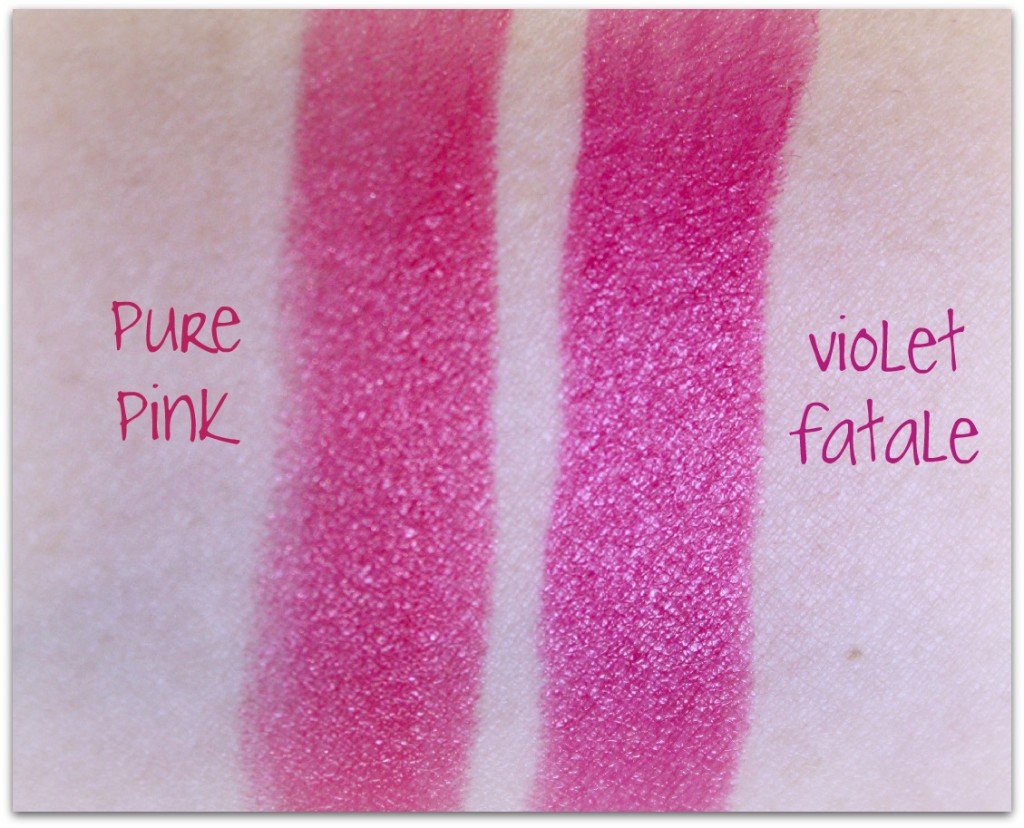 Violet Fatale is a bit more on the blue/violet side of the spectrum compared to Pure Pink, but that is perfectly OK.  I love the fact that you can increase the intensity by simply layering a few applications: that way you decide if you are in the mood for pink or purple!
As if that wasn't enough, this lipstick is also one of the most moisturizing in the line.  As a Midwesterner, this time of the year takes a toll on my lips.  Typically, if I miss a day of moisturizing with my lip balm, my lips declare war on me.   I missed a few days this week  and, so far, my lips are still smiling when they are wearing Violet Fatale!
Finally, the packaging is absolutely stunning.   Admittedly, I have a soft spot for the original white packaging you can see above, but the new darker version has grown on me.  This isn't a cheap lipstick case.  It's weighty and it's luxurious.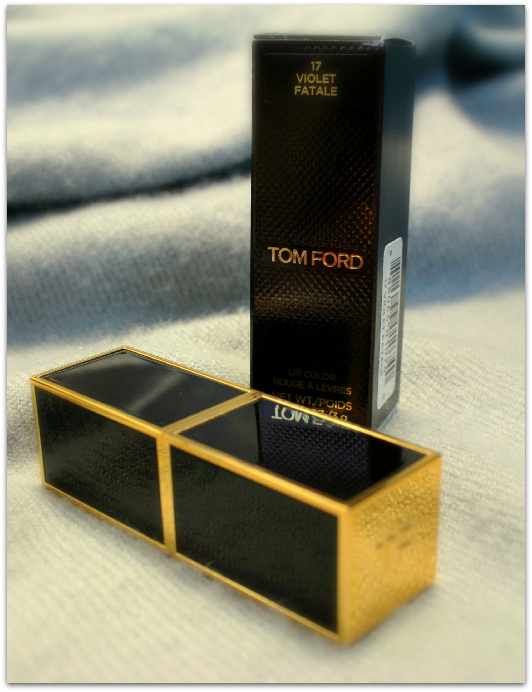 The case actually isn't black.  It's a stunning dark mahogany color that looks more black than red, but when the light hits it you can see the red/brown tint clearly.  You can see the tiniest hint of it in the image below, but I wasn't able to capture the true color with my camera.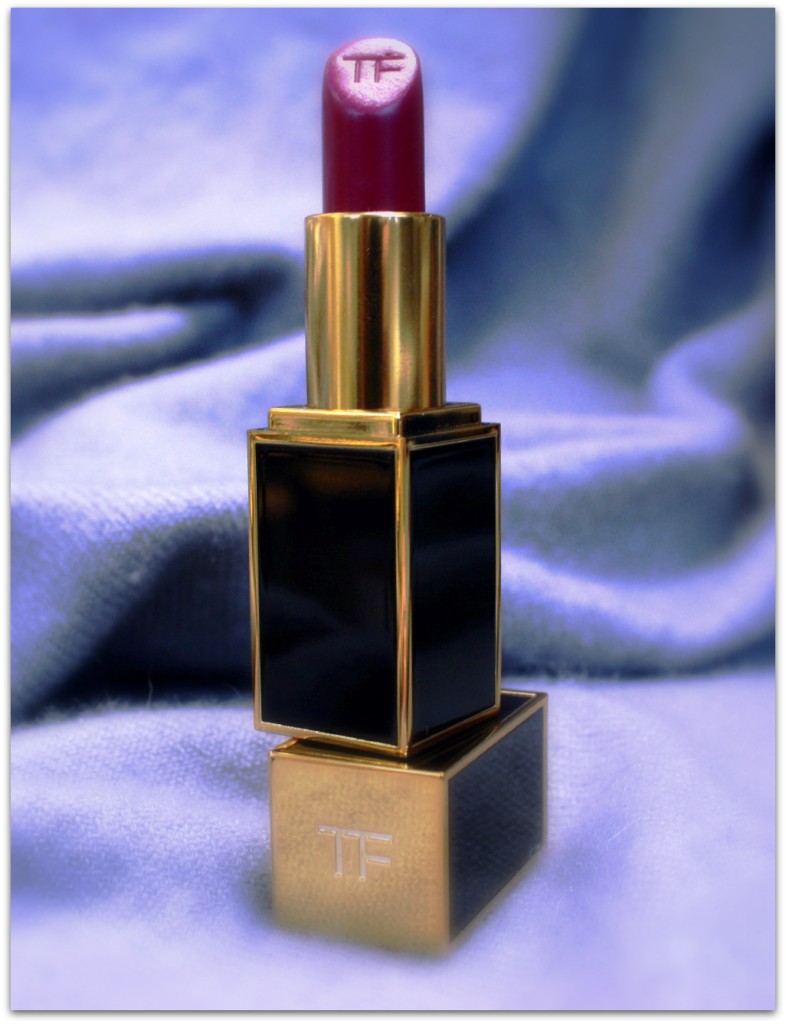 In case it isn't evident by everything I wrote above…
I LOVE THIS F@#!NG LIPSTICK!  It is Amazing with a capital "A".
Not to mention, Sexy with a capital "S".

Is it pricey?  At $48, the answer is "yes".  But it is absolutely worth the money and it's going to become my signature lip color!
What do you think of this shade?
Are you planning to buy it?
TOM FORD Violet Fatale Lip Color is available now at your closest TOM FORD Beauty counter and online at Bergdorf Goodman, Neiman Marcus, Saks Fifth Avenue, Nordstrom and other fine retailers.
Credits: All images were taken by me and Violet Fatale was purchased by me.