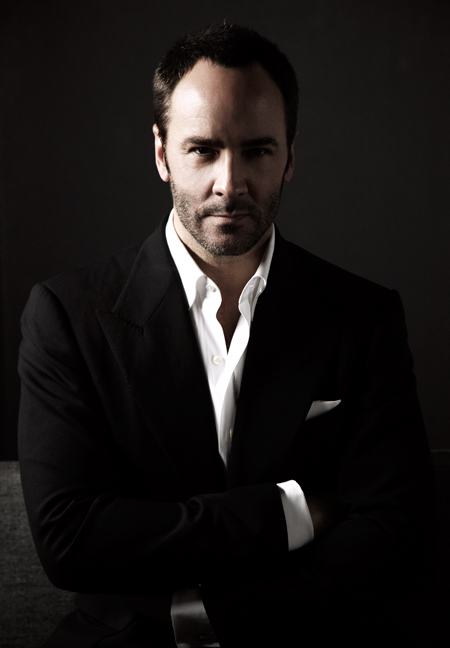 Tom Ford by Simon Perry
Back in 2008, TOM FORD entered into an exclusive partnership with Harrolds, Australia's luxury department store for men.  This October, that partnership culminated in the opening of the first Australian TOM FORD in-store shop.  To celebrate the opening in Sydney, respected journalist and author Mitchell Oakley Smith sat down with Tom Ford for his first Australian interview in nearly three years on behalf of WISH Magazine.
This particular interview had me hooked from the get-go.  Oakley Smith started by presenting a quick history of Mr. Ford's life while also highlighting the factors that have made him so influential. One of my favorite parts of the introduction was this observation:
"Ford, now 50, is really two people. There's Tom Ford: The Brand, the buttoned-down, chest-exposed man whose mere smirk can sell luxury goods. Then there's Tom Ford: The Man, a quiet businessman who finds more joy spending time with his partner and two fox terriers (the same dogs that appeared in his debut film A Single Man) than in the never-ending fashion cycle that consumes his peers."
I may not know Mr. Ford personally, but that is certainly the impression I have of him as well, and it is reinforced with each interview/documentary/story I come across.
Oakley Smith asked Mr. Ford some questions I haven't seen posed recently and these are a few of the highlights:
On his relationship with the press:
"Believe it or not, I am a very shy person and do not like being in the limelight at all. That being said, I learnt quite a while ago that my image does represent the brand and helps to sell products, so I have featured myself in quite a few fragrance and cosmetics ads. While I am sometimes weary of the press when it comes to reviewing my work, I have a number of very close friends who are journalists and to whom I am very grateful as they have helped me build my career."
On his relationship with Richard Buckley:

"Richard is my rock. We have been together for 25 years and he knows me better than anyone else in the world. He is very supportive of everything that I do but is also quick to criticise something that is not right. I value his honesty and his commitment to me as I know I am not always easy to live with."
On fashion versus film:

"Fashion and film satisfy completely different needs that I have as a creative person. Fashion is very fast-paced and immediately gratifying.  A film can take years to complete, but completing A Single Man, my first film, was the most satisfying and fulfilling thing that I have ever done... I treat fashion and film as completely separate careers. They operate parallel to each other but fashion for me is a commercial artistic endeavor and film is my most pure form of expression."
On why he launched TOM FORD with a menswear collection:
"I launched menswear because I couldn't find anything to wear. I was having my suits made on Savile Row (the tailors do a terrific job) but it was challenging to get them to do anything different – cut a lapel extra wide or give my jacket shoulder a bit of a roll. I realized that there was a big niche in the men's market and decided to start my own menswear business. The women's [line] happened organically following the growth of the business. I had been watching women's wear for five or six years and finally decided what Tom Ford women's wear would be about. I launched my first women's collection last year in New York."
On what "luxury" means to him:

"Luxury today means quality and authenticity. I am creating a product that is not hollow. In an age when disposable culture is literally killing us, a product has to be steeped in integrity and authenticity. We are building a portfolio of beautifully made things that are crafted to last and not trendy or time-stamped, which is a dramatic change to what is happening elsewhere in the industry… Tom Ford clothing is made with inordinate attention to detail and each garment is the result of hours and hours of hand-stitching and finishing. It is imperative, however, that the customer's experience in the store also be of the same quality as that is all part of the Tom Ford experience."
On the designers he admires:
"Yves Saint Laurent was a genius and his work in the '70s was amazing.  As far as contemporary designers, there are so many that I admire that it is difficult to list them all. Miuccia Prada always has a strength and point of view that is visible in all of her work. I also think that [Balenciaga's] Nicolas Ghesquiere has an incredible talent."
On the inspiration behind his designs:

"For menswear, I am my own muse. Of course, I have to imagine my 20-year old self and my 70-year old self (and what I would wear if I were blond with blue eyes), but everything I design is something that has my DNA in it and that is missing from my own personal wardrobe. For women's wear, I have many muses, some of whom walked in my first runway show under my own label – Lauren Hutton, Marisa Berenson and Beyonce, among many others. I am always inspired by women who have a very strong personal style and are unafraid to make bold fashion choices."
On what items a man should include in his wardrobe:

"Every man should have a well-cut dark suit, a pair of classic black lace-up shoes, black loafers, a blazer, a perfect pair of dark denim jeans and lots of crisp, white cotton shirts. It is also important to always have the perfect sunglasses and a great scent that can become a signature. Lastly, every man should have a daily read of the newspaper and a sense of humor, as these go a long way."
On what drives him to design clothing:

"What I have enjoyed most about designing for my own label and not for the press is that I am creating clothes that are beautiful, that look great on the body, that make the man or woman wearing them feel amazing.  They are of the highest quality and the most luxurious make and this, to me, is the most important thing… It is always challenging to create something new while remaining true to what my brand is all about.  That being said, the process of designing is one that comes naturally to me and that I love."
On what the future holds for Tom Ford the man and TOM FORD the brand:
"I am lucky to be able to say that I love what I am doing and I hope to continue for many years to come. I also hope to expand my brand to include all product categories. Why think small?"
**********
You can read the article in its entirety here.
Have you read the article? 
What do you think of Ford's thoughts on luxury?  His inspiration?  What about his future plans for the Brand?  Sounds like the sky is the limit, no?
Image credits: Image by Simon Perry via WISH Magazine