If someone were to ask me what my favorite beauty product is I would say nail polish, with lipstick coming in as a close second.  I think about nail polish the same way I think about shoes: they can make or break an outfit/look.  It doesn't matter how beautifully made-up your face may be—if your nails look awful it will absolutely ruin the look.  Especially if you are a jewelry (ring!) addict like me.  In that case in particular manicured nails are always a must.
One of the most-buzzed about items in the new TOM FORD Beauty Collection is the Nail Lacquer.  The colors, which cover the full range of neutrals to brights, are beautifully saturated and high shine.  And with names like Bordeaux Lust, Naked and Carnal Red they certainly are attention grabbing.  There is one particular color, however, that seems to be garnering the most attention.
Meet Bitter Bitch: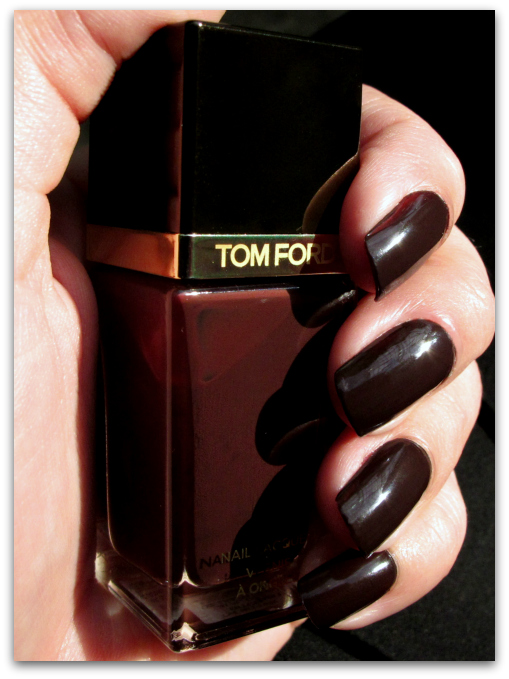 The perfect Fall color, isn't she?
At first glance, Bitter Bitch is a rich, chocolatey-brown nail lacquer with a red base.  It is a vampy, seductive shade that is already selling out everywhere.  Instant cult-classic, anyone?
But Bitter Bitch is complicated.  She isn't a Chanel Vamp-wannabe.  She is much more than that.
She is a chameleon.
The formula is so saturated that, at times, Bitter Bitch seems almost black: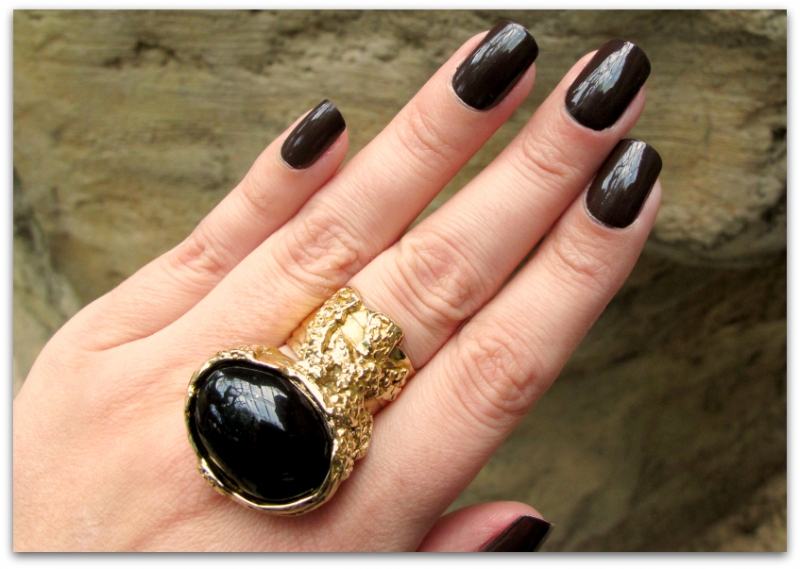 That is very different from how she looks in the bottle, no?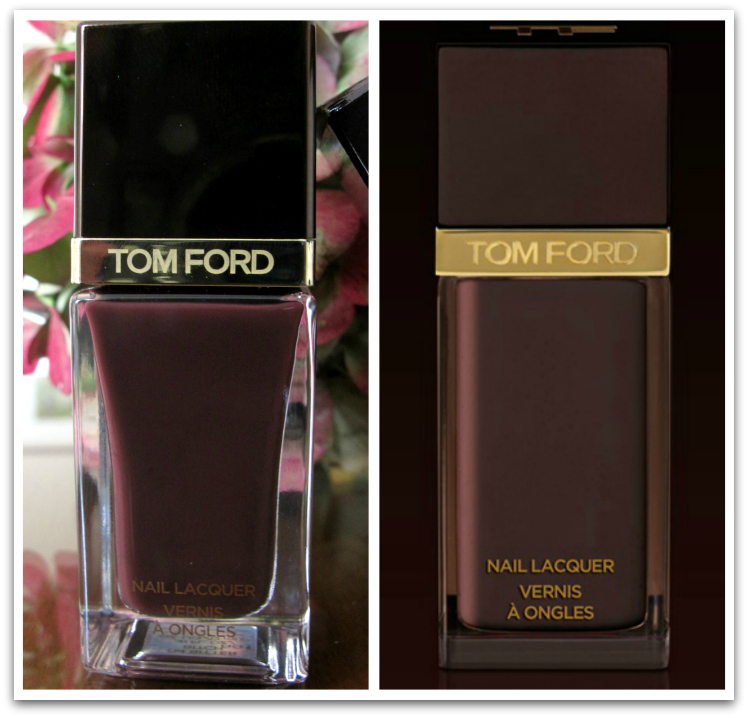 My photo on left/Stock photo on right
But you know what?  In natural light, she looks lighter.  Softer.  Not quite as bitter, perhaps?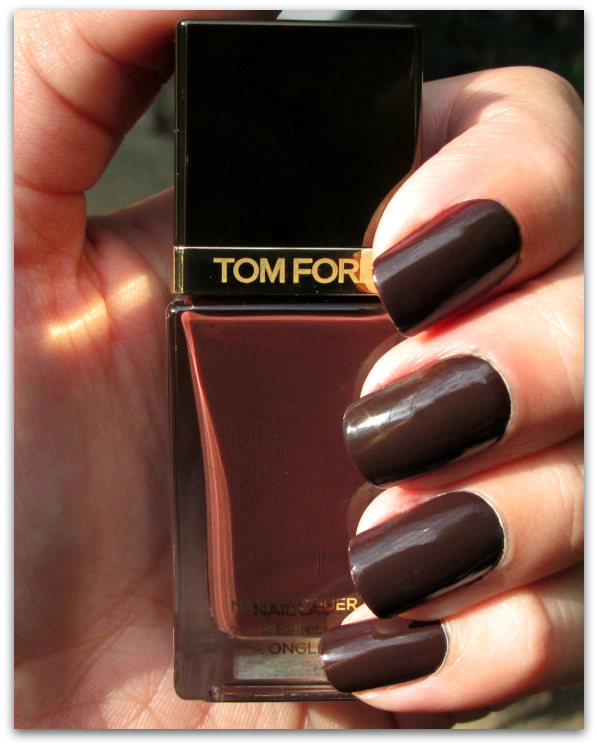 The official description of the TOM FORD Beauty Nail Lacquer's reads: "To Tom Ford every detail counts. This extra-amplified, gloss and shine nail lacquer, in a wardrobe of shades from alluring brights to chic neutrals, lets you express your mood and complete your look. Its groundbreaking, high-performance formula with bendable coating delivers high coverage and shine while staying color true throughout wear."
Here is what I say.
The packaging is luxurious and decadent, just like the rest of the product line.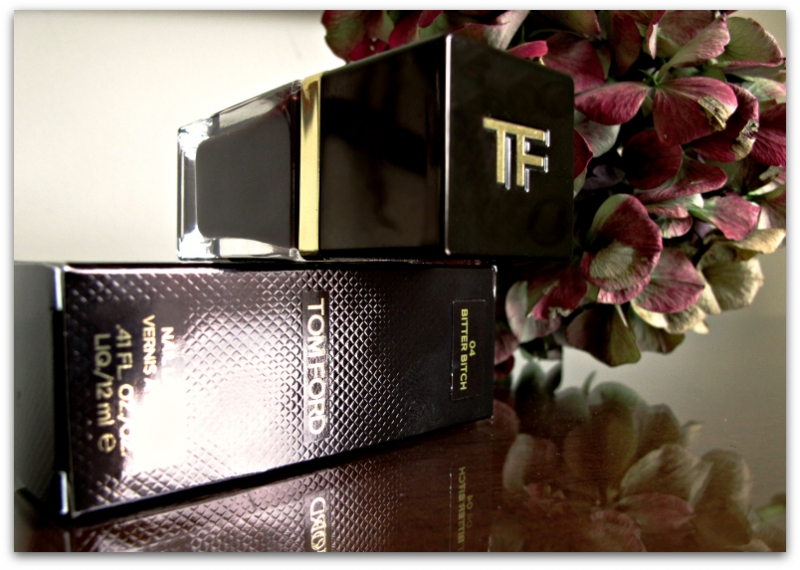 The brush is well made and designed to cover the nail beautifully.
The formula is highly saturated and glossy.  I only used two coats in this manicure… a third was absolutely NOT necessary.  The shine is evident in the photos above as well—I was getting a reflection in my nails whenever I tried to take close-up!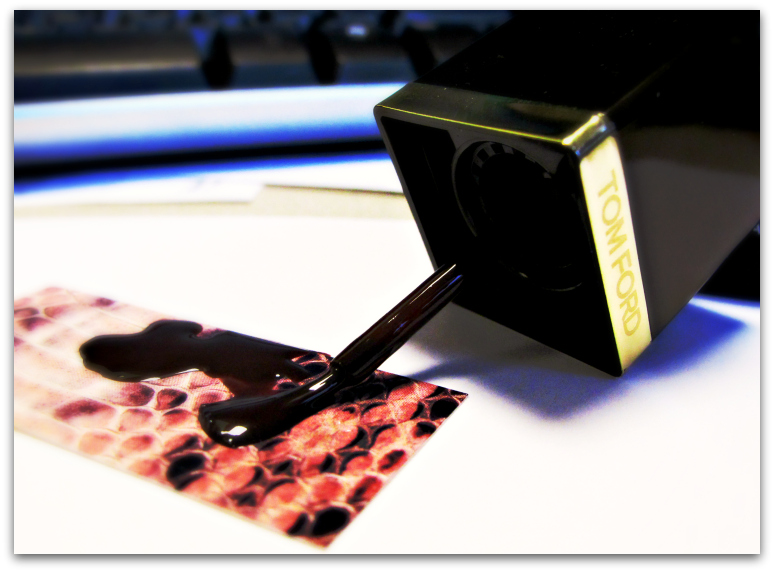 The finish isn't glittery and there are no shimmer particles visible but, somehow, it shines.  As for wear, I have only had it on one day so I can't tell you that yet.  But so far so good!
The bottom line: Light. Dark. Red. Chocolate.  It doesn't matter—Bitter Bitch is absolutely stunning no matter the hue.
What do you think? Love it? Hate it? Want it?
TOM FORD Beauty Bitter Bitch Nail Lacquer ($30) is available now at your closest TOM FORD Beauty counter and online at Bergdorf Goodman and Neiman Marcus.
Credits: All images were taken by me except for stock photo via TOM FORD. Bitter Bitch was purchased by me.