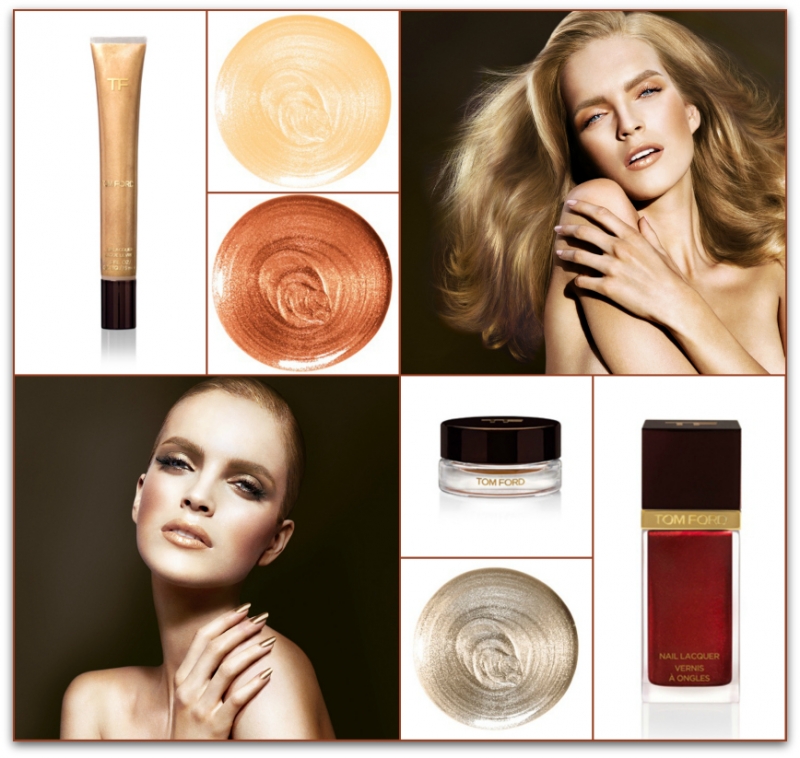 When I woke up this morning I thought the highlight of my day was going to be the announcement for the new iPad.
Leave it to Tom Ford to change my focus.
Though the new iPad does sound absolutely amazing to the techie in me… news about something else broke that speaks to me even more.  News about the Limited Edition TOM FORD Spring 2012 Metallic Beauty Collection!
I repeat.
Metallic.
I know what you are thinking: "But metallics aren't very spring-like… aren't they more of a Fall trend?"
I say: Tom Ford knows what he is doing.  And these molten metal colors are, in my opinion, appropriate for all seasons.
I broke the news in February that the Cream Color for Eyes was used in the Spring 2012 Ad Campaign, but now the full details have been released to the public. The new collection consists of:
TOM FORD BEAUTY Cream Pot For Eyes ($30): an ultra smooth, non-creasing cream shadow with a long-wearing finish.
Spice
Platinum
Guilt
Illicit
TOM FORD BEAUTY Nail Lacquers ($30): the high-performance formula, sure to last for days on your nails, contains mirror pearls to get that molten look.  These colors correspond to the cream shadows above
Burnt Topaz
Silver Smoke
Gold Haze
Burnished Rouge
TOM FORD BEAUTY Lip Lacquer ($30): pulverized pearls in a clear and lustrous gloss that hydrate your lips while giving them a golden glow.
TOM FORD Beauty Bronzing Powder (available in May)

Refinery29 was fortunate enough to have the first look at the Spring 2012 Beauty Collection Ad campaign, shot by Ford himself, but the images can now be found below, along with some stock photos and swatches of the products themselves.  I love the look of this collection and Mirte Maas is sultry, sexy, and beautiful… molten iridescent heaven.
The full collection won't be in stores until April (bronzing powder in May), but
the

nail

and

lip

lacquers are available for pre-order on Saks Fifth Avenue right now. 
So what are you waiting for?!?! Go order before these molten beauties are gone!
Images courtesy of Tom Ford and Saks Fifth Avenue