If you happened to pay very close attention to the latest TOM FORD Beauty or World of TOM FORD videos (check them out in the sidebar if you haven't watched them yet) that were released a few months ago you may have spotted the latest offering from the TOM FORD Beauty collection. The blink-and-you'll-miss-it teasers looked something like this: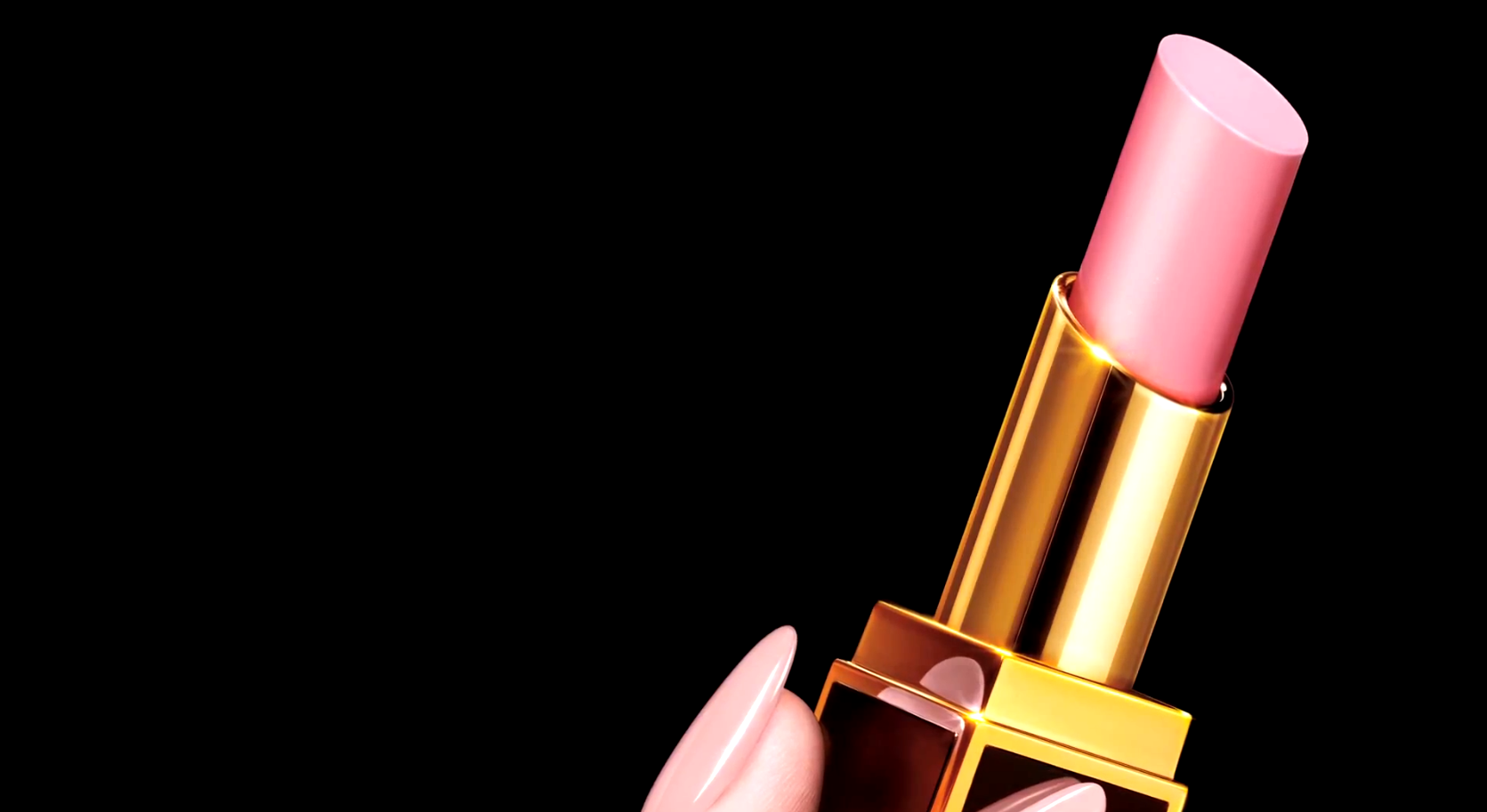 "What's that?" you ask? That, my friends, is a TOM FORD Beauty Lip Color Shine.
Think lip balm + lip color. It's sheer, buildable color in the guise of a moisturizing and luxurious lip butter. Each Lip Shine promises shiny, moisturized lips with as little (or as much) color as you want.
When speaking about his cosmetics collection, Ford often refers to sensuous and touchable beauty. This is a theme that extends to the Lip Color Shine Collection as well. "Lips are a woman's most alluring and sensual feature," he says. "Luminous, semi-transparent lip color is seductive in a very kissable way."
Who doesn't want lips that Tom Ford thinks are kissable?  Gah.
Update 2/15/13: I received my order from Saks today and couldn't be happier. Review to follow, but here is a quick sneak peek: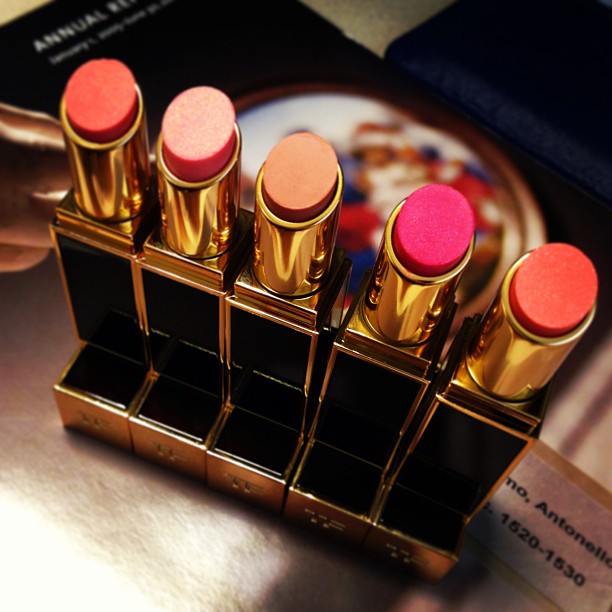 via instagram
Lip Color Shines will be are available in 10 colors and can be purchased now at the usual locations, including Neiman Marcus, Bergdorf Goodman, Saks Fifth Avenue, Harrods and Selfridges. The formula includes Tom Ford's signature blend of rare ingredients, including Soja Seed extract, Brazilian Murumuru butter and Chamomilla flower oil.
As of now, it seems that the Lip Shines are the only new offering for the Spring 2013 Beauty Collection (note: there WILL be some additional new items for Summer 2013  – stay tuned for more info on that.) . The rest of the Spring collection focuses on existing items that will help you master the smokey eye look that is the cornerstone of TOM FORD Beauty. Check out the selections below and let me know what you think below!
TOM FORD Beauty: The Spring 2013 Collection
TOM FORD BEAUTY Lip Color Shine ($48/£36)
Chastity (blush pink)
Smitten (honeysuckle pink)
Insidious (apricot)
Frolic (peach pink)
Ravenous (cerise pink)
Quiver (light blue pink)
Willfull (orange red)
Bare (beige nude)
Nubile (nude rose)
Abandon (light tan)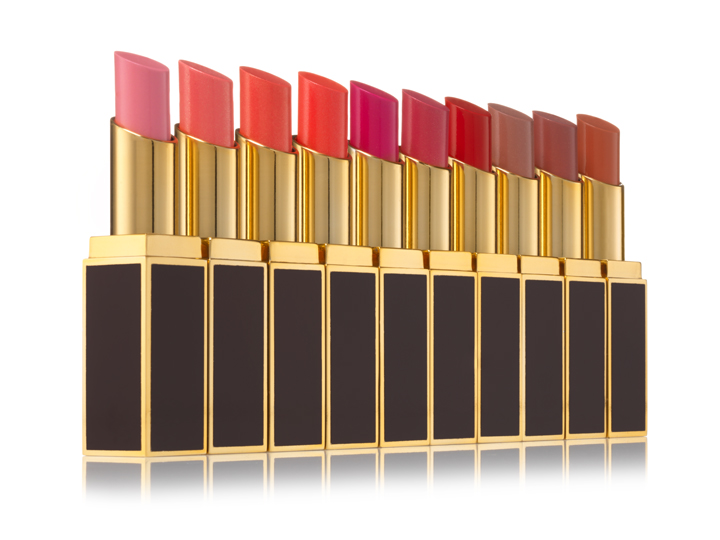 Left to right: Chastity, Smitten, Insidious, Frolic, Ravenous, Quiver, Willfull, Bare, Nubile, Abandon
Buy Now:  Bergdorf Goodman/Neiman Marcus/Saks Fifth Avenue/Selfridges/Harrods/Harvey Nichols
TOM FORD BEAUTY Traceless Foundation Stick ($78/£60):
Alabaster
Bisque
Caramel
Chestnut
Fawn
Natural
Pale Dune
Praline
Sable
Tawny
Toffee
Warm Almond
Buy Now:  Bergdorf Goodman/Neiman Marcus/Saks Fifth Avenue/Selfridges/Harvey Nichols
TOM FORD BEAUTY Illuminating Highlight Pen ($52/£40):
Amber Eclat
Bronze
Citrine
Dusk Bisque
Lavender Voile
Naked Bisque
Peach Blush
Sable Intense
Buy Now:  Bergdorf Goodman/Neiman Marcus/Saks Fifth Avenue/Selfridges/Harvey Nichols
TOM FORD BEAUTY Illuminating Powder ($75/£55)
 Buy Now:  Bergdorf Goodman/Neiman Marcus/Saks Fifth Avenue/Selfridges/Harvey Nichols
TOM FORD BEAUTY Eye Color Quad ($75/£62)
Silvered Topaz
Titanium Smoke
Buy Now:  Bergdorf Goodman/Neiman Marcus/Saks Fifth Avenue/Selfridges/Harrods/Harvey Nichols
TOM FORD BEAUTY Eye Defining Pencil ($35/£25)
Buy Now:  Bergdorf Goodman/Neiman Marcus/Saks Fifth Avenue/Selfridges/Harrods/Harvey Nichols
TOM FORD BEAUTY Brow Sculptor ($42/£32):
Blonde
Chestnut
Espresso
Taupe
Buy Now:  Bergdorf Goodman/Neiman Marcus/Saks Fifth Avenue/Selfridges/Harrods/Harvey Nichols
TOM FORD BEAUTY Extreme Mascara ($42/£32)
Buy Now:  Bergdorf Goodman/Neiman Marcus/Saks Fifth Avenue/Selfridges/Harvey Nichols
Source: Tom Ford Beauty