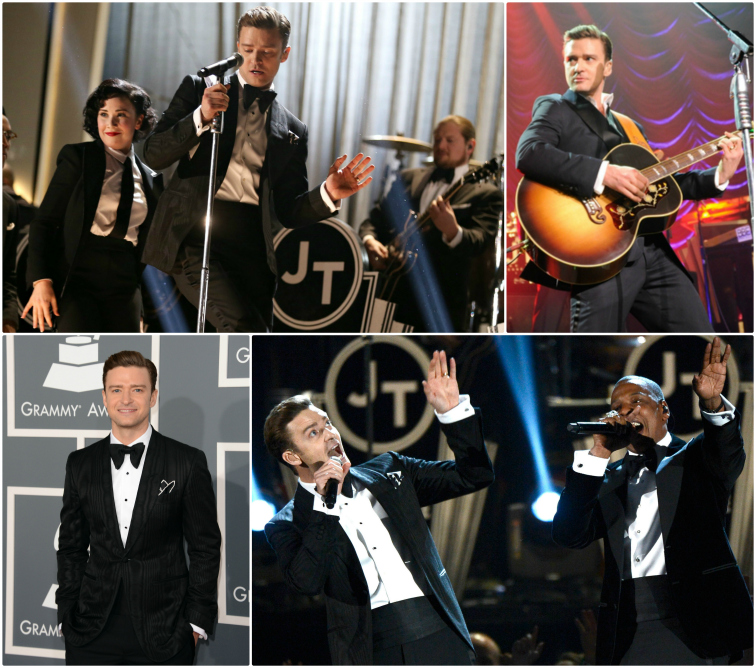 Justin Timberlake stole the show at the 55th annual Grammy Award's in more ways than one.  The singer returned to the Grammy stage after a four year absence and, joined by fellow artist Jay-Z, brought the house down with a show-stopping rendition of his new single "Suit & Tie".  The performance had a definite retro vibe that was emphasized by the sepia-toned broadcast and the back-up band and dancers that hearkened back to the Big Band days of old.  "Suit & Tie" was followed with the premiere of "Pusher Love Girl," the second song from his upcoming album The 20/20 Experience.
It was so good people have created gifs of the performance.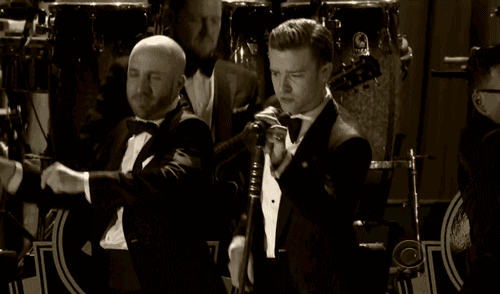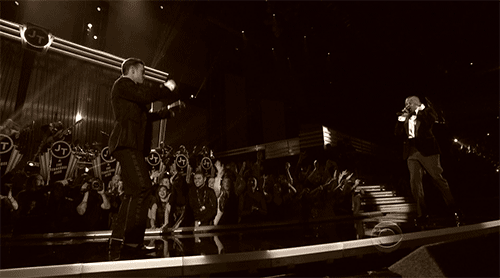 However, the fun didn't stop there. JT followed up his Grammy performance with a concert at the Hollywood Palladium late Sunday night. The evening offered guests their first real taste of the full 20/20 Experience as a more casual JT entertained the sold-out crowd.
The best part of all of this (to me anyway)?
He looked incredibly suave decked out in head-to-toe TOM FORD.  You can not beat that.
Justin spent in the evening looking dapper in a black moire TOM FORD cocktail jacket, evening shirt, evening pants, silk bowtie, silk pocket square, onyx studs and cufflinks and black and white loafers. Jay-Z joined him in the TOM FORD love by wearing a black velvet TOM FORD cocktail jacket with a grosgrain lapel, evening pants, evening shirt, silk bowtie and evening shoes. If that wasn't enough, even the backup singers, dancers and band wore TOM FORD tuxedos.
He mixed it up a bit for the gig at the  Hollywood Paladium and changed into a navy TOM FORD tuxedo with a satin peak lapel, evening shirt, open bowtie, white silk pocket square and black and white spectator loafers.
Clearly, there can be no The 20/20 Experience without TOM FORD.
And I love it.
What did you think of JT's performance?  How about that tuxedo? Gorgeous, no?