If you happen to follow me on twitter you probably saw the barrage of TOM FORD related tweets about tonight's runway show at London Fashion Week. If there was any doubt that designer Tom Ford has truly decided to put the secretive days of fashion presentations behind him, the elaborate display at Lancaster House in St. James Palace put that to rest. As guests approached the larger-than-life venue they were teased with just a hint of the decadence that awaited them inside.
Even though there was no livestream of the show (to the dismay of fans worldwide), the non-stop tweets and instagram photos illustrated first hand that this show was unlike all others. There was no ban on photography. No secret agreements to sign. This was full access TOM FORD and the world was able to see the looks at the same time as attendees thanks to the internet. There is even some video available (First looks, Mashup, Coats and fringe, Tom Ford bow) thanks to @TeleFashion!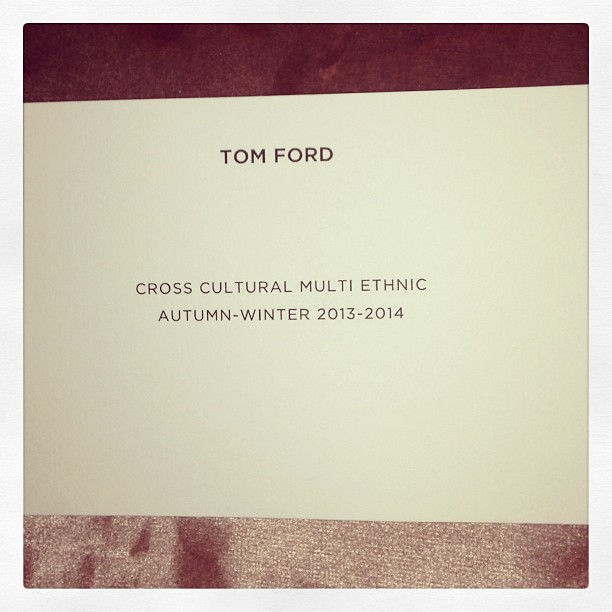 The show descriptor found on each seat in Lancaster House read "Cross Cultural Multi Ethnic" and hinted at what was to come. This collection is a departure from the predominantly neutral TOM FORD palette that we have grown accustomed to the last few seasons.  Sure, we've seen some jewel tones in almost every collection since his first eponymous offering but this is different. This is beyond jewel tones… this is technicolor. Bold. Brash. Bright.
And it's signature TOM FORD sexy.
Lace. Animal print. Beading. Furs.
Fringe.  I love the fringe.
Love.
It's opulent and decadent.
It's over-the-top and fun.
It's pure TOM FORD and it's anything but simple.
"Cross cultural and multi ethnic… that's what the world is," said Ford after the show. And that is exactly what this collection is.
I've already heard some people saying that they feel like this collection is too over the top. Vulgar even. The thing is, this is how TOM FORD does runway. Last year, Tom Ford told Grazia Magazine "when you do a runway show you have to amp things up in a way so that they read from a great distance – so that they are designed for photography rather than for a consumer. So you can exaggerate things to the point where they don't actually function in real life for most peoples' lives."  This show most definitely meets those requirements!  This collection wasn't what I expected from TOM FORD…. which is exactly why it is so perfect for his return to the runway.
Taken as it was presented today… in its full runway regalia, I can see how it could be a bit much. But if you take a look at the individual elements and I think you'll find yourself thinking positive thoughts. Look at the detail. The beading. The lace.
Take a deeper look at the images below and share your thoughts in the comments below!
All images sourced in slideshow