A quick heads up for all my fellow TOM FORD Beauty fans!
The TOM FORD Beauty Fall 2014 Flawless Complexion Collection very softly launched this evening with the appearance of the new Traceless Perfecting Foundation ($80) and Concealing Pen ($52) on the Neiman Marcus, Bergdorf Goodman and Nordstrom websites.  [Editor Note: the new Correcting Pen ($44) is now available. This is a different product from the Concealing Pen.]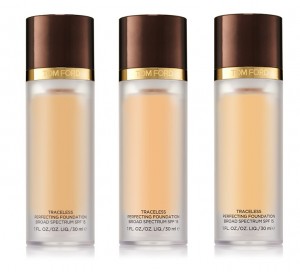 Traceless Perfecting Foundation SPF15 ($80 USD)
For Tom Ford, A Flawless Complexion is the essential first step to a balanced and symmetrical face. This natural-finish, longwearing, humidity-resistant foundation hydrates and evens skin tone, creating a flawless, supple and pore-less canvas on which to sculpt the features. Its state-of-the-art formulation includes the skin-nourishing Tom Ford infusing complex to help smooth and renew skin and help diminish the appearance of fine lines and wrinkles. Buildable medium-to-full coverage SPF broad-spectrum sun protection shields skin from UVA/UVB damage.
NOTE: You can view the shades from lightest to darkest here. In addition, The Beauty Professor posted some fabulous swatches on her site and provided an excellent analysis of the new colors. Check it out here.
BUY IT NOW: Neiman Marcus / Nordstrom / Bergdorf Goodman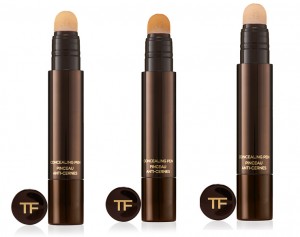 CONCEALING PEN ($52 USD)
Tom Ford believes in balance and symmetry. Designed with a unique applicator, the Tom Ford concealing pen delivers an undetectable finish as it camouflages under-eye circles and areas of uneven skin tone and redness. Its luxurious formula, which includes the Tom Ford infusing complex to rejuvenate skin from within, creates the appearance of a smooth and flawless complexion. Use alone or with Tom Ford Traceless Perfecting Foundation. Available in six shades.
BUY IT NOW: TOM FORD Online / Neiman Marcus / Nordstrom / Bergdorf Goodman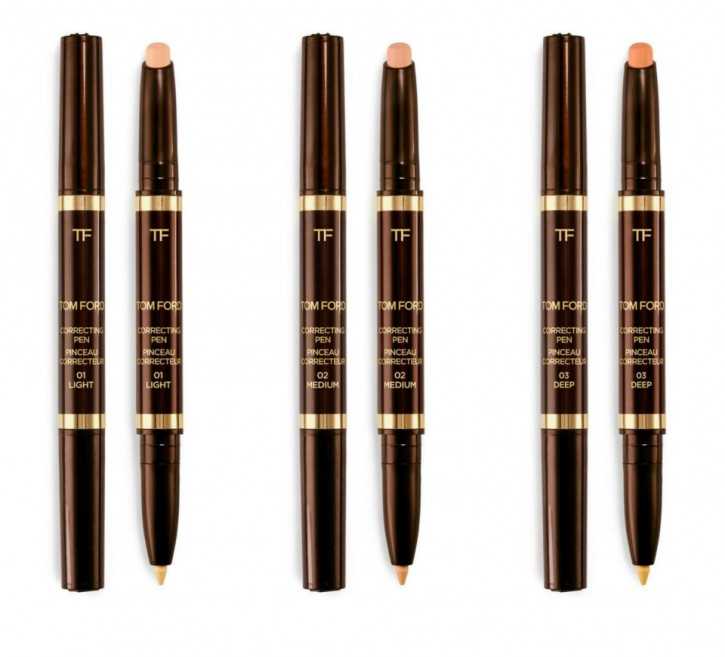 CORRECTING PEN ($44 USD)
This sleek, dual-ended, easily-transportable Correcting Pen is the ultimate on-the-go touch up corrector. One end is the oval-shaped corrector which is a pink based shade to neutralize under-eye darkness. The other end is a fine point yellow tipped concealer used to precisely camouflage any imperfections. Easy to apply, this blendable formula instantly brightens dark circles. For heavier coverage, use the Concealing Pen on top. The Correcting Pen is available in three different shades to match any skintone.
BUY IT NOW: TOM FORD Online / Bergdorf Goodman / Saks Fifth Avenue
*************************
EDITOR NOTE: This is a great time to make a purchase on Neiman's and Bergdorf because you can receive a free travel size Illuminating Primer with a TOM FORD Beauty purchase of $100 or more PLUS one of the available samples when you order is the recently launched Velvet Orchid.