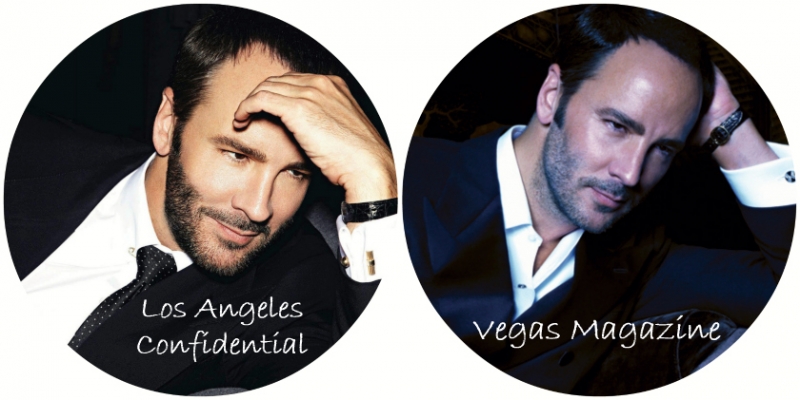 I promised I would update you when I found out more about the feature on Tom Ford in the November issue of Los Angeles CONFIDENTIAL.
I'm sorry to say that the best part of the piece is actually the Simon Perry lensed cover shot of Mr. Ford.  Save for the introduction and a handful of quotes from model Amber Valletta, the rest of the article is virtually identical to the piece by Laurie Brookins which was published in Vegas Magazine last month.  Even the imagery is similar.
Given that Vegas Magazine and LA CONFIDENTIAL are essentially the same publication and owned by the same publishing company, that makes sense – I just had hoped there would be more new info to share with you. As it stands, here are some thoughts on Ford that were shared by Amber Valletta:
On walking in Ford's iconic 1995 Gucci show:
"I'm not one to dwell on things, but I recognize the importance of that moment. Fashion has changed so drastically since then. But we knew when we saw those clothes that they were special. We all looked so incredibly sensual and powerful, and there just wasn't anything like it at the time. I remember walking that runway and feeling the power of that room."
On walking in Ford's September 2010 "The Return to Womenswear" show:
"Tom said [to me], 'It makes sense you're here; you're a good-luck charm. That show was extremely personal, and you were so close to the audience that they could reach out and touch your clothes. And Tom announced all of us, just like old-school runway."
On Ford's evolution as a designer:
"Tom has evolved with the times, but he has not left who he is behind; that's what makes him so special. He has a very clear viewpoint of women and design, and he's held fast to that, even as you see his ideas expand. His clothes have gotten more intelligent, sharper and more focused, and more exquisite."
***************
You can read  article in its entirety via the digital edition or check it out online here.  Details on the Vegas Magazine article can be found here.
I can't help it. I am disappointed the interview was a repeat. 
What about you?