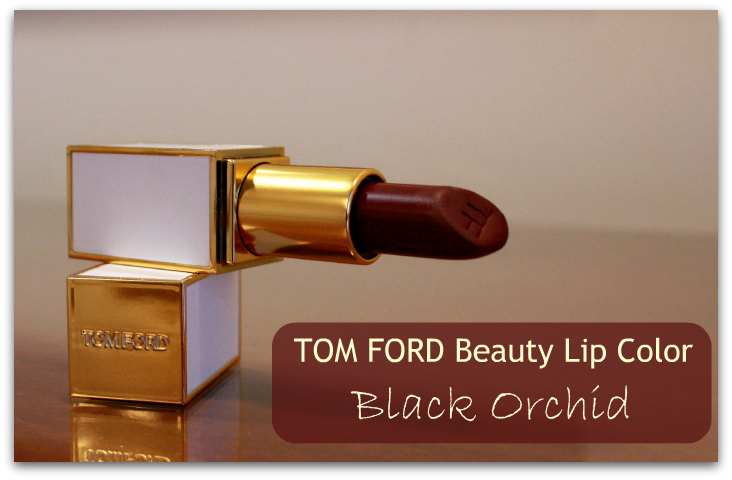 I had originally planned to save my reviews of the three "original/white packaging" TOM FORD Beauty Private Blend Lip Colors I own for last.  It never occurred to me to review them last year and, now that the packaging has been discontinued, I was concentrating on the new additions to the Collection.
That being said, I have decided to focus on Black Orchid today after receiving a comment from my gorgeous friend Bere Parra, who wanted to know "if there are blackish-red shades (blood-like) in the TOM FORD lip palette."
Why yes, my dear Bere, there certainly are!  Let me introduce you to Black Orchid: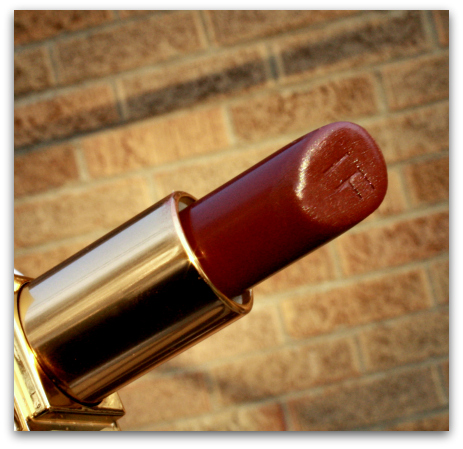 Black Orchid – Outdoor Lighting
Although Black Orchid is more of a brownish-red color with just a hint of blackened plum, it's definitely the closest thing to blood-red you'll find in the TOM FORD line. It is a slightly matte, full coverage lipstick with extremely high pigmentation.
First, let me say that I adore this lipstick.  It's the perfect vampy red shade and I wear it a lot in the Fall and Winter months when I am feeling a bit vampy myself!  That being said, it isn't without its challenges. I find it to be the most difficult TOM FORD Lip Color to apply because the color goes on dark from the get-go and just builds from there.
This is what it looks like on me with just one application using a lip brush. (Note: I can't wear this one without a lip brush and clear lip liner—it bleeds due to the heavy pigmentation.)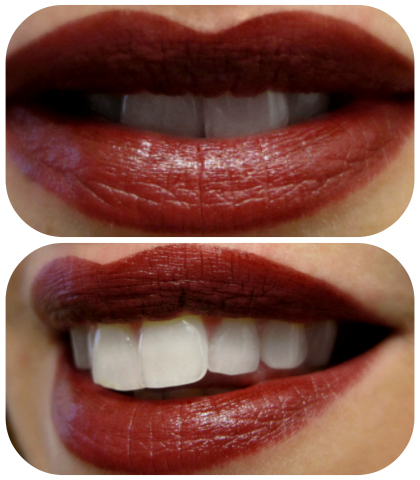 If you want to deepen the color just apply a second layer!
Wear time is phenomenal on this lipstick and is the best of all the TOM FORD colors I own—it lasts for about 8 hours—I repeat, 8 hours!—and wears to a lovely brick stain before it disappears: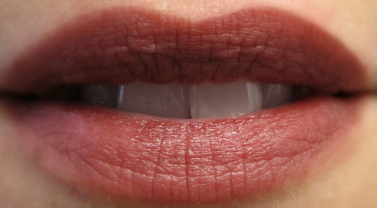 Amazing, really.
The formula isn't quite as emollient as some of the others shades available.  This can dry your lips out a bit if they aren't prepped properly, but as long as you have some gloss or balm handy, you will be fine.
Now, back to pigmentation. If you still think the pigmentation can't possibly be all that, let me prove you wrong.  The below is a comparison of three lip colors that look "blood red" in the tube:  NARS Fast Ride, Benefit Ms. Behavin' and TOM FORD Black Orchid.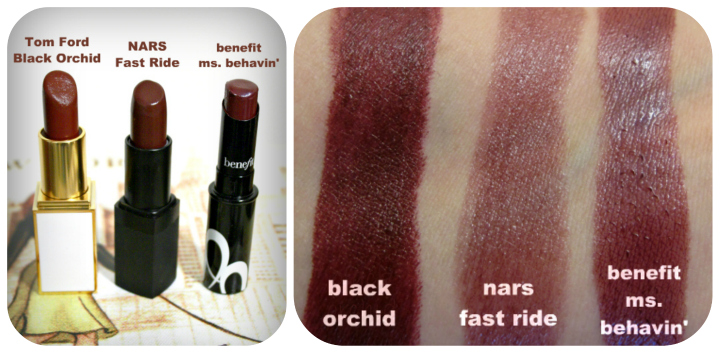 As you can see, they all look pretty similar in the tube.  Despite that, the formulas are completely different and Black Orchid outperforms them all where pigmentation is concerned.  Fast Ride, which is actually the darkest of the 3 in the tube, goes on sheer.  Ms. behavin—which is a bit more purple than the others—used to be one of my favorite shades, but one swipe of Black Orchid does what 3 swipes of ms. behavin' does.
So… Black Orchid wins where pigmentation is concerned.  It also wins for its staying-power and its signature TOM FORD vanilla scent.
Finally, I want to focus on the packaging for a second.  Although I love the new mahogany/black packaging, I do have a soft spot for the original white.  There is something very elegant and classy about it… and I really do wish it was still an option.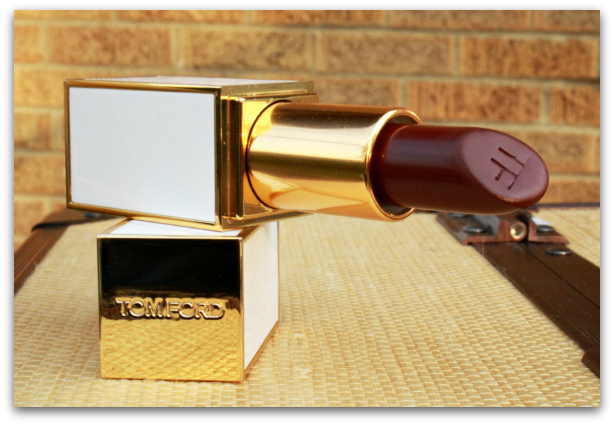 The "TOM FORD" on the cap has now been replaced with a simple TF that matches the stamp on the lip color itself.  The gold detailing remains, but the white is no more.  What matters, however, is that the lip color formula remains one of the best available today.
And Black Orchid remains one of the best reds available today!
The bottom line: if you are on the hunt for a vampy blood-red lipstick, add Black Orchid to the top of your list!
Now… do you have a blood-red shade that you love?  Tell me about it!
TOM FORD Black Orchid Lip Color is available now (in the new packaging) at your closest TOM FORD Beauty counter and online at Bergdorf Goodman, Neiman Marcus, Saks Fifth Avenue, Nordstrom and other fine retailers.
Credits: All images were taken by me and Black Orchid was purchased by me.